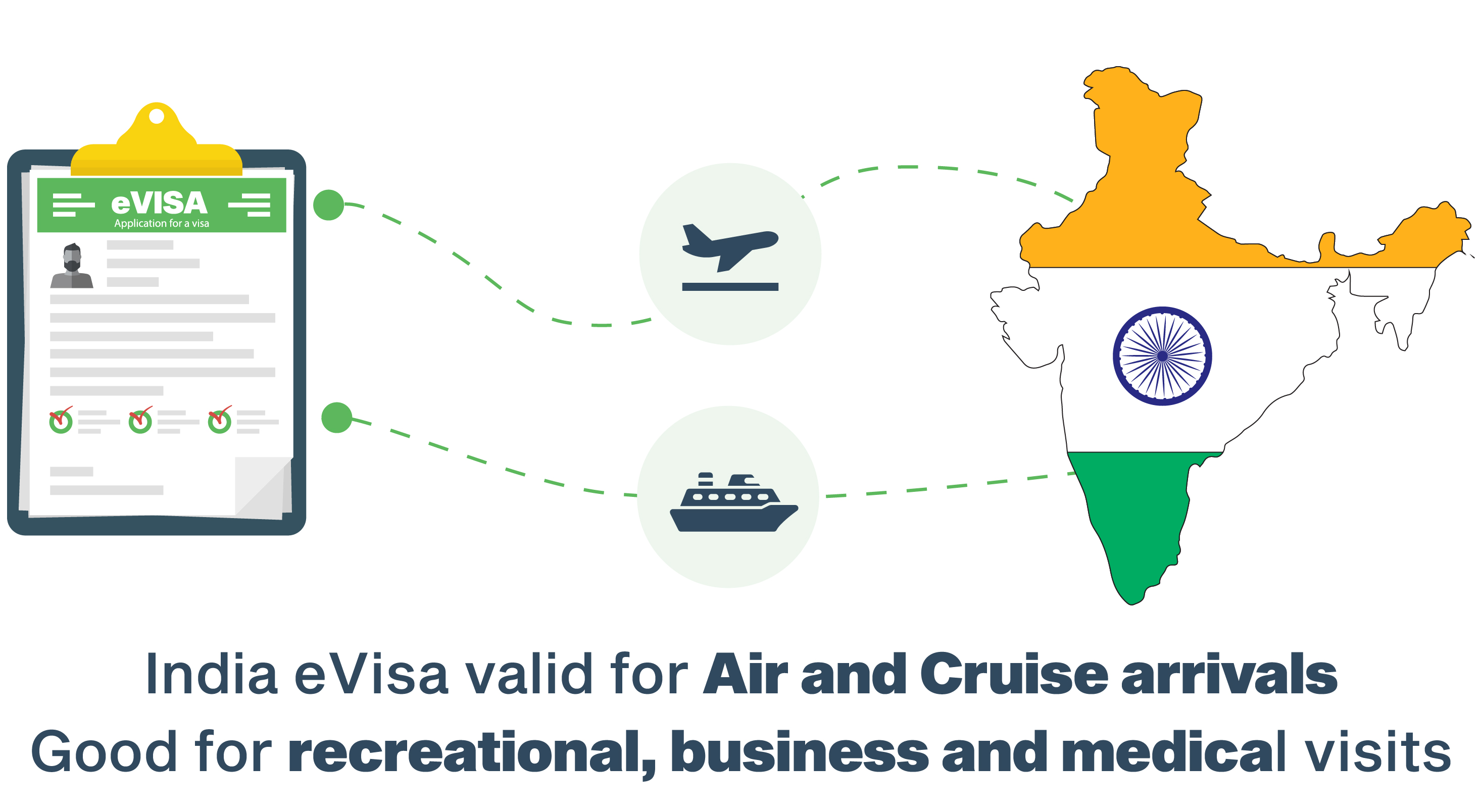 Many travelers to India ask us the same questions over and over. We have collated our responses to those questions so they can get the answers they need faster! Check here first if you're wondering about getting a visa to India.
What are Common Questions Regarding the India Visa? 
Many people want to know how to get their visa to India, how long it is valid, and how to use it. We cover all of that in the answers below.
How Long is my Visa Valid? 
There are three options when travelers apply for an evisa to India. They can choose to get one that is valid for 30 days, one that is valid for 1 year, or one that is valid for 5 years. Long-term visas cost a bit more but are cheaper than getting a new visa for every trip.
Can I Use a New Passport with my Old Visa? 
If a traveler's passport expires during the term of his or her visa to India, the traveler can still use that old visa. All they need to do is bring both the old passport and the new passport with them when they travel and explain the situation to Indian authorities upon arrival.
How Long Does it Take to get my Visa? 
Travelers should hear back about their visa status within 1-4 business days of submitting it. They will receive this notification via email. At that point, they need to print off a hard copy of the visa to carry with them when they enter India.
How Will my Visa be Delivered? 
The India evisa will be delivered electronically. Travelers will receive an email notification. At that time, they can log back in to India's evisa website to print-off the necessary documentation. They must hand-carry a hard copy of this data with them when they enter India.
I am an Indian Citizen. Do I Need a Visa to Travel to India?
No. You do not need a visa to travel to India. If you are an Indian origin person holding a passport of a foreign country, you need an Overseas Citizen of India card to travel to India. This is a multiple entry lifelong visa.   
What is the Visa Policy for Cruise Passengers? 
India's visa policy for cruise ship passengers can get complicated.
Travelers who fly to India to embark on a cruise that does not stop at another Indian port only need an evisa.
Travelers who join a cruise that only stops at the following ports will only need an evisa. These ports are:
Mumbai
Chennai
Cochin
Mormugao (aka Goa)
New Mangalore (aka Mangalore)
travelers whose ship is stopping at ports other than these will need to get a traditional visa to India. This involves submitting paperwork to the Indian government and possibly having an interview before the visa is granted.
Note: Traveler's whose ship is stopping at more than 2 ports will not be able to use the 30-day evisa as it only allows for two entries into the country. Instead, they will need to apply for a 1-year evisa because it permits multiple entries. This only works if all of the ports are on the allowed list, though. If even one is not, they will need to get the traditional visa anyway.
What Data Does India Collect? 
Travelers who enter India need to be ready to offer biometric data. This can include retinal scans, fingerprint scans, and more. The system will not be online for cruise ship passengers until at least December 31, 2020.
What Are the Different Types of Indian eVisas?
The Indian government issues the following eVisas
e-Business visa
e-Medical attendant visa
e- Conference visa
e-Emergency X-Misc visa
What is an e-Business Visa?
An Indian e-Business visa is a legal authorization granted to citizens of eligible foreign countries to conduct business or to attend business meetings in India. The validity of an Indian e-Business visa is 365 days.  
How Long can I stay in India with an e-Business Visa?
The e-Business visa is issued for a period of one year. However, you are allowed to stay in the country for a maximum of 180 days at a stretch. If you want to stay longer than that, you will need to register with the Foreign Regional Registration Office within two weeks days after completing 180 days. 
What is a FRRO/FRO?  
A foreign registration office is an Indian government agency entrusted with the responsibility of registration of foreigners and other immigration related functions. Foreign nationals who are visiting India will have to register with regional FROs within the time stipulated in their visa conditions. 
How Many Times Can I Visit India with My e-Business Visa?
An Indian e-Business visa is a multiple entry visa. Foreigners opting for this visa can enter or exit the country as many times as they want during the validity period. However, they can stay for only 180 consecutive days at a time. 
What is an e-Conference Visa?  
An Indian e-Conference Visa is an authorization given to foreigners to attend conferences, seminars and meetings organized by the union government, state governments, public sector entities and universities. 
Can I apply for an e-Conference Visa for Attending Business Meeting?
No, you cannot attend business meetings with an e-Conference visa. An e-Conference visa is issued to attend meetings organized by the government or public sector entities. To attend business meetings, you should apply for an e-Business visa.   
What Is the Validity of an e-Conference Visa?
This visa is generally issued for the period of the conference. Foreigners holding this visa can stay in India for a maximum duration of 30 days from the date of arrival. 
Can I Re-enter India with My e-Conference Visa?
An Indian e-Conference visa is a single-entry visa and if you leave the country during the visa validity period, you cannot re-enter. To visit India again, you need to apply for a new visa. 
Can I Extend My e-Conference Visa?
No, you cannot extend an Indian e-Conference visa. However, if you possess an Indian e-Tourist visa, you can club your e-Conference visa with that. 
Do I Need Any Permission from the Indian Government Before Applying for an e-Conference Visa?
No. However, the organizers need to get prior permission from the Indian home affair ministry to invite citizens of a foreign country to an international conference. You need to submit a copy of the invitation letter from the organizers at the time of visa application. 
What is an e-Emergency X-Misc Visa?
It is an emergency visa issued to the citizens of Afghanistan. The application process is completely online. This visa is valid for six months and Afghan citizens staying in India on this visa cannot work. 
I Have an Indian e-Medical Visa. Can My Family Members Accompany Me?
No. Family members of a foreign patient arriving on an e-Medical visa will have to get an e-Medical attendant visa. 
How Many Attendants Can Accompany a Foreign Patient to India?
Only two close relatives can accompany a foreign patient arriving for medical treatment in India. They have to get an e-Medical Attendant Visa.  
Can I leave India While on an e-Medical Attendant Visa?
You can leave and re-enter the country a maximum of three times during the visa validity period of 60 days. 
Can an e-Medical Visa be Extended?
No. An Indian e-Medical visa cannot be extended in most cases. However, in special circumstances, the government extends the visa after verifying the medical certificate issued by the hospital. The applicant needs to submit this document in the FRRO to get the visa. The decision is based on the discretion of the officials at the FRRO.  
Can I Extend My India e-Business Visa?
No. However, you can apply for a regular business visa at the nearest Indian mission. This visa is extendable for ten years if you are a citizen of the US, Japan, Canada and other eligible countries.   
Where Can I Apply for an Indian eVisa?
You can login to the official website of the India government to apply. The site is best viewed in Google Chrome and Mozilla Firefox. You must also install Adobe Acrobat Reader 7.0 to download and print the application form or visa. The website works on both Android and IOS devices. 
What Does the eVisa Document Look Like?
See below for a sample eVisa document.