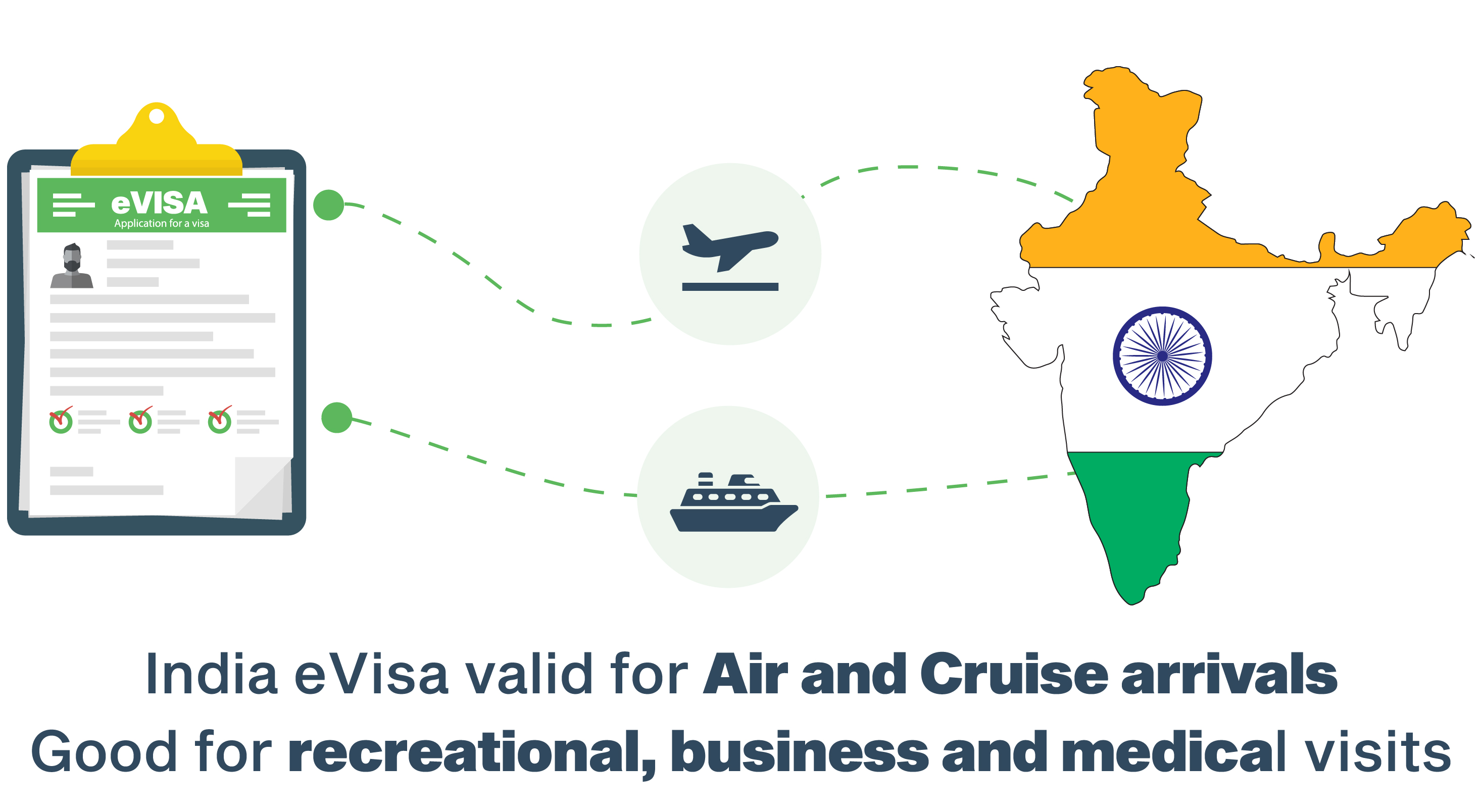 Business is booming in India and there's never been a better chance to get a foot in the door of one of the most talented and populous countries in the world. If business owners want to expand their business to India or are looking to recruit talent there, now is the time to go.
All a traveler needs to do business in India is an India business visa. It's easy to obtain one of these online, through India's eVisa website. Here's what business travelers need to know to get their visa for India.
Once travelers enter all of this information, they can submit their application for a visa for India. They should receive a Reference Number, which they can use to look up the status of their application.
Most applications are approved within a few days so business travelers can expect to see proof of approval in their email.
What is a Business Visa for India?
An Indian business visa is an official travel authorization granted to foreign nationals to visit India for the primary purpose of business.
Foreigners who wish to apply for this visa should have enough financial means to support their visit and stay as they are not allowed to engage in paid employment. 
This is a multiple-entry visa and validity varies based on the nationality of the applicant. Indian missions issue business visas valid for up to ten years to citizens of the United States of America who wish to visit India for trade and commerce.  
This visa is not convertible, but extendable. The decision is left to the discretion of the Indian ministry of home affairs. 
Keep in mind that to get a business visa extended the gross turnover of the applicant's venture should exceed 10 million in a year.  
What Can't Be Done with an India Business Visa?
This visa is exclusively granted for conducting business in India. 
Foreigners arriving on this visa cannot work or engage in paid employment. 
Note that their expertise in the field of intended business and financial standing will be verified thoroughly before issuing a business visa. Dishonesty here can result in visa denial. 
Foreign nationals also cannot engage in the business of money lending. They cannot visit the country on this visa for petty business or trade. 
They cannot also take up courses in Indian universities, attend yoga programs, undergo Ayurveda wellness treatment or medical treatments. 
They cannot also visit restricted/ prohibited areas in India. For this they need to get an e-Tourist visa with a special permit. 
Citizens of a foreign country on a B-visa in India should have to comply with visa conditions like paying tax. They are also liable to bear the cost of emergency medical care while in India.     
What Companies are Doing Business in India?
India has continuously improved its rank in the World Bank's ease of doing business. 
Businesses from around the world are eager to set up shop in India. Here is a list of foreign business houses that have opened ventures in the country. 
Google
Indian software exports are valued at $148.3 billion in 2021. Almost all major US tech giants have launched their India branch. Google's India office is located in Bangalore in the southern state of Karnataka. Google India Private Limited is a subsidiary of Google Inc and its business includes computer programming products and services. 
Ford   
Headquartered in Chennai, Tamil Nadu, Ford is one of the major players in the Indian small car market. The company is a subsidiary of the US-based Ford Motor Company.  
IBM 
It is an Indian subsidiary of IBM and has opened offices in several Indian cities such as Bangalore, Delhi and Mumbai. One of the top tech giants in the US, the company exports software products from its India branch. 
Coca Cola 
The widely popular US-based company majorly sells aerated drinks and juices in India. The company that claims to have been supporting sustainable development in India is headquartered in Gurugram. 
Dyson Technologies
Apart from the US, the United Kingdom too has major business ties with India. As per the reports more than 570 British companies including Dyson Technologies have its subsidiaries in the Indian sub-continent. 
The British consumer electronics company headquartered in Gurugram has recently crossed 100 million pounds business in India and is planning to expand its retail business to other cities of the country. 
Aviva Life Insurance Company
Aviva, a British insurance company, started its Indian wing in 2002 as a joint venture with Indian conglomerate Dabur group. Apart from selling life insurance products, the company also has offshored a large part of its workforce to India. 
India eBusiness Visa (eVisa)
The India eBusiness Visa category allows you to enter India for business purposes only.
This covers business meetings, sale, trade and/or sale goods, set up a business venture, recruit people to work, participate in a exhibition and/or business fairs, join a ongoing project as a specialist/expert, manage a tour, and to deliver a lecture under the GIAN initiative.
Once the visa is approved, you can enter India with the Business Visa multiple times 180 days from the first arrival. Travelers who want to stay longer can register with the Foreigners Regional Registration Office once they are in the country.
This office will give them instructions on what to do next. You are allowed to apply for the India Visa Online (eBusiness Visa) three (3) times within a calendar year. For example: January - December counts as one (1) calendar year.

The business visa for India is only good for travelers who are conducting business for an international company in India. Those who expect to work for or earn income from a business located inside India need a different type of visa.
Their employer should be able to help them get this approved. Keep in mind that travelers who are from or have lived in Pakistan, or whose parents or grandparents are from or have lived in Pakistan, will need to get their India business visa approved at an Indian consulate. They are not permitted to apply online.
When business travelers want to go to India, all they need is a ebusiness visa for India. Once they have that, they can conduct their business as normal, enjoying everything India can offer their company.
Read on to know more about what subcategories are available for the eBusiness Visa.
To Start a Business  
The Indian government issues business visas to eligible foreigners who wish to start new business ventures or expand his/her business with a subsidiary in India. The country is rich with resources including manpower and is one of the largest consumer markets in the world.  
Foreigners who want to partner with Indian companies can also apply for an Indian business visa. 
For Sale and Trade 
Foreign nationals arriving on this visa are allowed to sell/buy consumer durables as well as industrial products. They can also make business transactions with suppliers, evaluate the quality of the products and place orders. 
They can also visit India for pre-sale or post-sale activities that may not result in actual execution of any contract.  
For Manpower Recruitment
One of the many things that India offers to foreign businesses is the country's very skilled manpower. 
Foreigners can visit India on this visa to conduct placement drives in educational institutions or recruit skilled employees.    
To Participate in Trade Fairs and Business Expos 
Representatives of foreign companies can get an Indian business visa to participate in business expos/trade fairs that are being conducted in India and showcase their products and services. 
Foreign businessmen can also visit India for consultation with regard to such exhibitions and fairs on this visa. 
To Evaluate Project Progress
Foreign experts and subject specialists can visit India for a short term for verifying the progress of an ongoing project in India.
They are allowed to conduct meetings with their Indian counterparts and can also provide expert guidance to Indian customers.  
To Organize Tours  
Foreign tour operators and travel agency representatives can visit India on a business visa. However, they can only organize business tours or trips related to commerce/trade on this visa.
For tourism purposes, the Indian government issues e-Tourist visas. 
For Academic Networking 
The Global Initiative for the Academic Network (GIAN) is an initiative by the Indian government to improve the quality of higher education in India. GIAN aims at tapping into the talent pool for foreign academia. 
Foreign academicians, researchers and experts who are visiting to attend different events and lectures organized under this program can get an Indian business visa.   
As Part of PLI/SPECS/EMC 2.0 Schemes 
PLI (Production linked Incentive Scheme), SPECS (Scheme for Promotion of Manufacturing of Electronic Components and Semiconductors) and EMC 2.0 (Modified Electronics Manufacturing Clusters) are various schemes introduced by the Indian ministry of IT and electronics to boost foreign and domestic investments in the manufacturing industry in the country.   
Foreign investors visiting the country as part of these schemes will be granted a India business visa. 
To Participate in Commercial Sport Activities 
Foreign sportspersons who wish to participate in commercial sport events like the Indian Premier League (cricket tournament) and gain remuneration have to apply for a sport business visa.
They have to adhere to the visa conditions and pay taxes. 
What is Needed for the eBusiness Visa 
Travelers can start their India visa application right away. To complete it, they will need:
A passport that expires at least 6 months after the date they plan to arrive in India.
A photograph of themselves.
Proof of continuing or return travel.
A photo of the page in their passport showing personal details.
A credit card to pay the India visa fee.
A company issued business card.
India Business Visa (regular)?
This is a legal permission granted by the Indian government to foreign citizens to conduct business in the country.
An embassy visa is a paper visa for which the applicants need to directly approach the Indian missions near them.
Foreigners who wish to establish a business venture or stay long-term for establishing a venture can get this visa. Dependent of those coming to India on a regular business visa can also apply for this visa.
Sportspersons and coaches who wish to play in the commercial sporting events like IPL (Indian Premier League) for a long-term can apply for this visa in Indian embassies near them.
This visa is not applicable for short-term business visits that fall under the B1 Business visa (short-term visitor visa for business) category.
The validity of this visa is five years. However, citizens of eligible countries like the US, Japan, UK and South Africa can extend the visa for up to 10 years.
What is Needed for Regular Business Visa
Applicants need to download the online application form from the official website.
They need to submit the completed application form along with the supporting documents at the nearest Indian mission. The documents needed are as follows:
A passport valid for at least six months.
Two passport size color photographs.
If the applicant is a business owner, the proof of the company and its registration.
If the applicant owns a business in India, documents to prove that.
Main Differences Between the Two Visas 
The regular business visa granted by the Indian government allows foreign businesspersons to conduct business in India. 
The Indian regular business visa issued to citizens of a few eligible countries including the US, Canada and Japan is extendable for ten years. 
However, the eBusiness visa is issued for a maximum period of one year.
Both are multiple entry visas and foreigners arriving on an eBusiness visa can stay up to 180 days per visit.   
What is Needed Upon Arrival in India 
Upon arrival in India, travelers will also need to show:
Proof of return or of continuing travel
 within the time frame of their India business visa.
At least 
2 empty pages
 in their passports.
Proof of funds
 to cover their expenses while in India.
Print out
 of their approved India business visa.