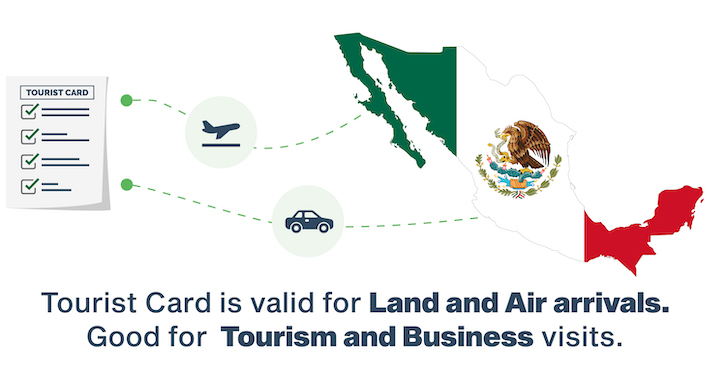 In the last few years, Mexico has evolved as a highly sought-after tourist destination for myriad vacationers from across the globe. It is also a favorite for Indians seeking a relaxing holiday break in American style.
They can enjoy easy access to some of the finest sightseeing and holiday activities during their stay at a Mexican retreat. Travelers can also immerse themselves in the rich culture and history of the country as they spend quality time with family and friends.
Indian citizens just need to obtain a visa and a
Mexico Tourist Card
before they board a flight to Mexico. It is important to note that the Tourist Card is not a replacement for a visa. 
For a hassle-free trip and vacation in Mexico, you need to apply for a tourist visa in advance. Get in touch with Mexico embassy authorities and apply for it after making an appointment. However, you can easily acquire a Mexico Tourist Card as it can be applied online from the comforts of your abode.
You just need to ensure that your personal details filled out in the form are accurate or correct. Inaccuracy in the form can get your application rejected. Online application of the Card is always advised because many airlines don't offer this privilege anymore.
The processed Tourist Card will be sent to your email address soon. Note that the Mexico Tourist Card is valid for tourism-related activities and business visits only. Business visits mean that you can have various business meetings, organizational get-togethers, etc. during your vacation in Mexico. You are not permitted to engage in any paid assignments or jobs.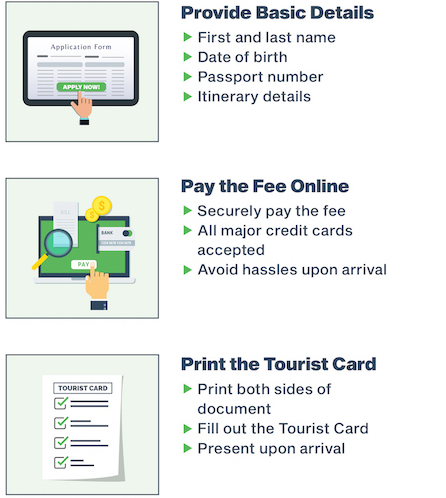 Ways to Acquire a Tourist Card
Indians can obtain a Mexico Tourist Card easily and conveniently. However, they should follow the steps mentioned below to obtain the Tourist Card in a quick time:  
Travelers should carefully fill out the online application form to ensure that it has no errors. 
 
It is not necessary to upload any documents during the online application procedure. 


They need to keep their Indian passport handy to finalize or verify the application form.  


The processed Card will be delivered to the applicants via email.    
Upon receipt, applicants should take out clear printouts of the Tourist Card in either "color" or "black & white". These documents need to be presented to the immigration officials after arriving at a Mexican airport.   
Important Instructions for Indian Travelers  
Indians can have a wonderful time when they reach Mexico for a short or long holiday break. This country has numerous sightseeing options to keep visitors busy. However, as visitors with a Tourist Card, they are not permitted to engage in any form of employment during their stay in Mexico.
That is the reason why they will have to share their travel itineraries like flight tickets and flight numbers during the Card application process.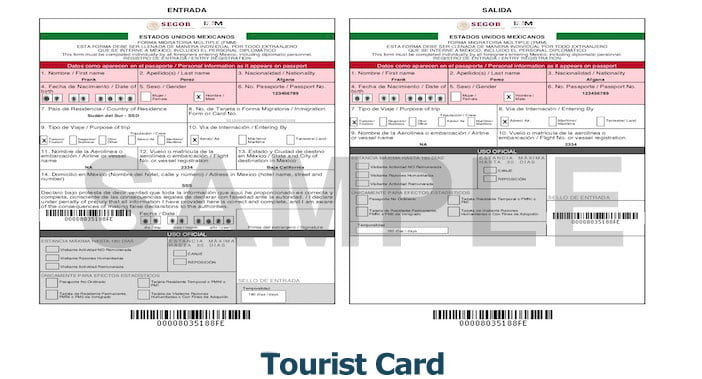 Documents Required
Applying for the Mexico Tourist Card online can be very easy if you have the required documents. The main documents you must have are:    
An Indian passport with a validity of at least 6 months from the date of your trip journey to Mexico.  


Make sure that the personal details submitted in the application form are the same as your passport.
Getting into Mexico  
Mexico is home to innumerable attractions for vacationers to enjoy. You would be more than happy with everything that this country has to offer. However, in the midst of all the excitement, don't forget to carry your Indian passport and printouts of your visa and Tourist Card. The immigration officials at the airport will check these documents when you land in Mexico.  
Applying for a Mexico Visa
Mexico has the wow factor to make your holiday break truly sublime. For a trip to Mexico, Indians like you will need a visa and a Mexico Tourist Card. You can apply for a Mexico Tourist Visa by visiting any Mexican embassy in India. 
The processing time for a Mexican visa may vary from country to country. It also depends on the embassy from which you plan to apply for the tourist visa. Basically, the time taken for the processing of a visa may vary from two days to 1 month. So, making an appointment with a Mexican embassy in your country at least one month in advance would be ideal.
The process is simple. Just follow the steps given below:
Get in touch with the Mexico embassy officials and book an appointment.


Ensure that your Mexico Visa Application Form is accurately filled.


Attach the required documents while submitting the form.


Pay the fee once the online application form is submitted.
It is important that you decide on the website of the Mexico embassy from where the visa would be applied. This will help you know the processing time of the visa. Each embassy has its own style of functioning; so, knowing the process in advance will save you from all the last-minute hassles.