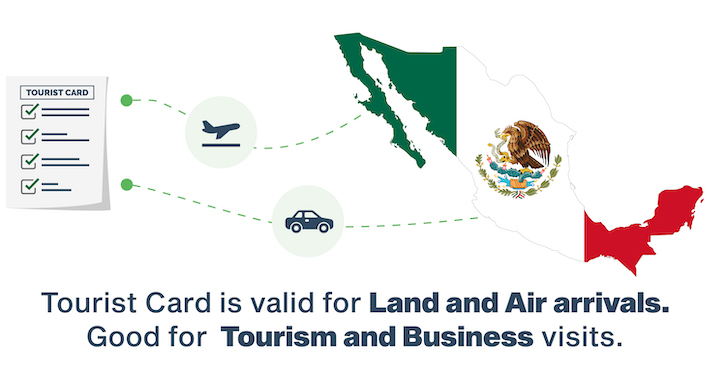 Mexico is a land with a rare blend of temperate climate and unique culture – a fusion of European and Mesoamerican culture makes it an attractive tourist destination. Vincentian citizens, who are keen to spend a memorable holiday in the country, would need a Mexico Tourist Card also known as the Cancun Tourist Card, in addition to a visa. Each Tourist Card that can be applied for online allows one person to travel. It means more than one person cannot use it.

This travel document for Mexico is approved and provided by The National Immigration Institute, mainly to tourists.
It is important to know that those who are travelling from Saint Vincent and the Grenadines must have a visa before they enter Mexico. To apply for the Mexico visa, they are to connect or visit the embassy.
To gain entry into Mexico via air or land, travelers must have a Tourist Card Mexico. Since the electronic system has been put into practice in 2015, it is easy and strongly recommended to apply for it online.
Another facility provided to travel applicants is that they can also apply for it within 30 days after they arrive in Mexico.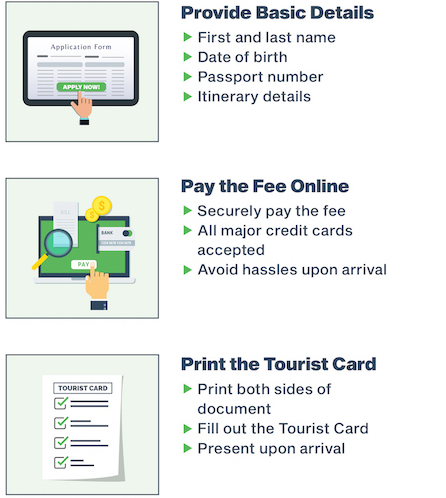 For Vincentians Applying Online for a Mexico Tourist Card
Applying online using the electronic system saves a lot of time and effort. The entire process comprises three simple steps: 
Application Form Fill ups: Travelers from Saint Vincent and the Grenadines need to fill the Tourist Card application form online. They must ensure that the information is precise and correct. Any misinformation or incorrect details will lead to rejection of the document. 
Process Eliminates Document Upload: When applying online, applicants do not require uploading any document. They will need to provide a valid passport number while completing the application process.
Payment of Fee: The final step in this process is the payment of the fee. This is done using a credit or a debit card. After it has been approved, the Mexico FMM Card or the Tourist Card will be mailed to the applicant on the ID mentioned in the form.
Just to be on the safer side, in case issues arise with the email system, it would be wise to download and print the travel document, if given the option.

Printouts of both sides of the Mexico Tourist Card must be taken and kept by the travelers during their trip to Mexico. They will be inspected by the immigration officers at the airport.
Important to Remember for Travelers from Saint Vincent and the Grenadines
Mexico Tourist Card permits its holders to visit the country only for tourism. The travelers are not legally permitted to undertake any form of employment or activity that results in payment during this visit.
Vincentians must keep printouts of both sides of this travel document safely while entering the country through any Mexican airport. When applying, tourists must enter flight information (Airline Name and Flight Number) concerning their arrival in Mexico.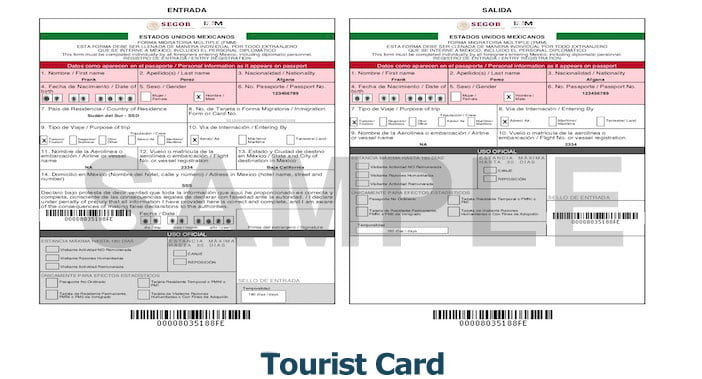 Zero Document Upload Process
The online system eliminates the need to upload any document. Vincentians, when applying for a Mexico Tourist Card, need to be prepared with the following: 
A valid passport, which must be valid for 180 days since their arrival in Mexico.


Their Mexico landing flight details.
Arrival in Mexico
To meet Mexico entry requirements, Vincentians will need a Mexico Tourist Card. Remember, that a visa will also be required. Along with both these travel documents, the immigration authorities at the Mexico Airport would also examine the traveler's valid passport. Note that the passport must fulfil the condition of being valid for 180 days and must be the one that was used to apply for the visa.
Applying for a Mexico Visa
Those traveling to Mexico, or passing through in transit, compulsorily need a valid Mexico Tourist Visa and a Tourist Card. A Mexico visa can be applied for from any Mexican embassy in the world. 
Travel aspirants from Saint Vincent and the Grenadines are recommended to get an appointment for a Mexico visa four weeks or more, prior to the planned travel date.
The steps involved in the application process are as follows:
Touch base with the Mexico embassy to book a meeting


Fill applicant's details in the Mexico Visa Application Form


Put together the necessary documents


Submit the online application


Pay off the visa fees
Vincentian applicants can find out when their visa will be processed from the website of their respective Mexico embassy, or they can speak to the embassy authorities there about it.
The reason for this is that every embassy has a different system of operation. Moreover, one embassy may take just about 2 business days to process a visa, while in another the processing time may approximate 10 business days. Also, a few embassies advise applicants to fix their appointment at least four weeks before their trip.