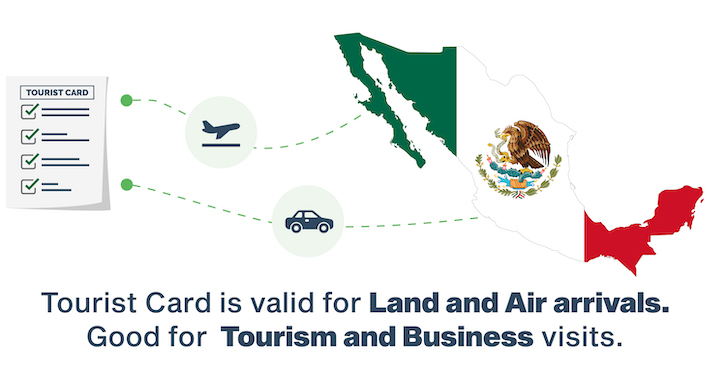 Mexico has always been an attraction for travelers around the world for its fine amalgamation of history, natural beauty, and human-induced creations. 
Be it the age-old Maya civilizations, pristine beaches, amazing artwork, or a large number of delightful gastronomical options - Mexico offers everything and that is why thousands of Serbian citizens visit Mexico every year for an amazing experience.
Mexico offers the flavor of America at a much more reasonable price. Just compare the cost of tour packages of America and Mexico, and you will realize the difference. For travelers from Serbia, nothing can match the experience of Mexico and the memories will hold on forever.
Being a citizen of Serbia, Mexico entry requirements are not tough. You need to carry just two documents: The Mexico Tourist Card and the Mexican Tourist Visa, along with your Serbian passport. 
The Tourist Card issued by the Mexican government confirms your length of stay in the country. It also wants to know where your possible whereabouts in the country. That is why it asks for your flight details, flight number, and hotel accommodation. 
The main objective of a Tourist Card is to make sure foreign nationals don't stay beyond their stipulated duration. It is vital for each member including children and senior citizens to carry the Tourist Card.
Obtaining the Tourist Card Mexico is very easy. However, to procure a Mexican visa, you have to be a bit proactive. Acquiring a Tourist Card allows you to indulge in an array of tourism-related activities and business visits.
Your business visits should be nothing more than offsite business meetings, visiting clients, etc. You are not allowed to get involved in any professional assignments or contracts during your stay.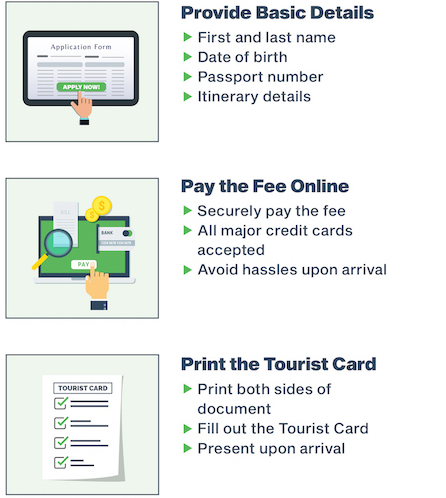 Tourist Card Application Process for Citizens of Serbia
The process of obtaining the Mexico Tourist Card or Tourist Card for Cancun is not difficult. It can be obtained online after submitting the Forma Migratoria Múltiple (FMM). The Tourist Card is of different varieties:
Mexico Tourist Card by air


Mexico Tourist Card by land
 Here are the documents required for a Tourist Card:  
Serbian passport


Flight information such as flight no.


Hotel address


Name of the hotel
Now follow the process given below:   
Visit the concerned website for the Mexico Tourist Card.


Go through the online FMM form at least twice before you start filling the form.


Don't upload any document as it is not required.  


Keep your Serbian passport handy.  


Ensure that the details entered are accurate.     
You have to keep in mind that the Tourist Card is a mandatory document and you must carry it.    
Instructions for Serbian Travelers
Without a doubt, choosing Mexico as a travel destination is a wise choice and you deserve a pat on the back. You and your loved ones will remember this trip always.  The more you explore Mexico, the more you will be amazed.
Besides, it has always featured in the top travel destinations in the world. The popularity has soared further of late after a concerted effort by the government to promote tourism in the country.  Cancun alone has more than 2 million visitors every year.
Though Mexico is tourist-friendly and you can travel the entire country, there are certain travel restrictions imposed by the Mexican government. Although you can enjoy, relax and visit the country, you cannot take up any short-term or long-term professional assignments on the Mexican Tourist Card.  Secondly, you must leave Mexico on the exit date mentioned on the Tourist Card.
Documentation Process for the Mexican Tourist Card
Being a Serbian citizen, you need the following documents for the Tourist Card:
A Serbian passport with at least six months of validity from the date of travel


Accurate information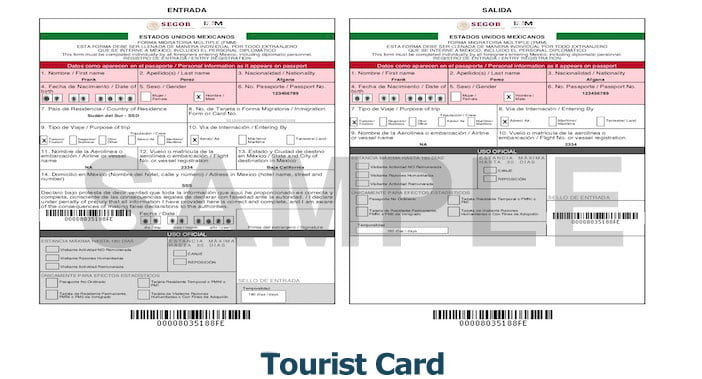 Entering the Mexican Territory
Mexico is much more than a traditional tourist destination. Apart from Cancun and Mexico City, you can visit a number of cities that include Campeche, Yucatan, and Oaxaca.  If you are prudent, search various travel websites and you can certainly find out cheaper accommodation or may even grab an online deal. 
You should not forget to carry three documents: Mexico Tourist Card by air, Mexican visa, and Serbian passport. You will have to produce it to be perused by the immigration authorities at the airport.  
Mexico Visa Application Process for Serbians
The visa processing time varies from one embassy to another, depending on their operational requirements. Doing some research about the possible processing time in Serbia will be helpful. Here is the following standard process that you need to follow, though these procedures may vary:
Schedule an appointment at the Mexican embassy in your country.  
    
Read the visa application form and fill it carefully.   
   
Do not forget to attach mentioned documents with the application form such as passport photocopy, photo, proof of residence, booked return travel ticket, proof of hotel reservation, etc.


Pay the visa processing fee applicable in Serbia.