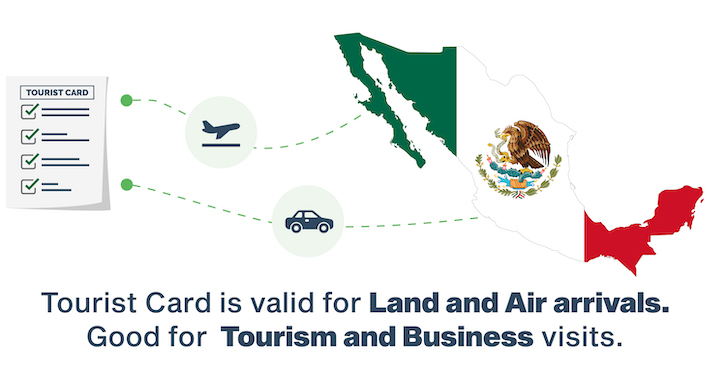 Mexico is known for its food and drinks tradition, such as; tacos, tortillas, burritos, tequila and for being the place where chocolate was born. Mexico also draws fame for its Mayan temples, cenotes, mariachi bands, beach towns such as Cancun.
To visit this country, Sammarinese citizens must have a Mexico Tourist Card, and a visa. They can get this easily by applying for it online.

The National Immigration Institute grants the Tourist Card for Mexico basically for promoting tourism. Tourists from San Marino must get a visa before they travel to Mexico. 
To apply for a Mexico visa, they will have to contact the embassy.
Among the Mexico entry requirements for Sammarinese is a Tourist Card Mexico, irrespective of whether they are traveling by air or by land route.
The electronic system that was launched in 2015 has made it easy for tourists to apply online. The Tourist Card for Mexico is sent to the applicants in their email. The icing on the cake, when they apply online is that it eliminates the need to go to an embassy or schedule an appointment and wait in long queues.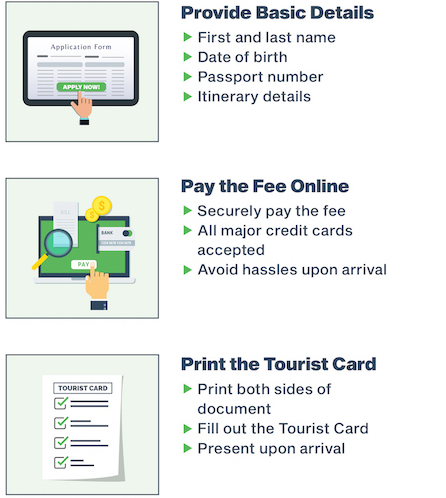 Sammarinese Citizens Appling Online
Applicants can effortlessly and rapidly get a Mexico Tourist Card using the electronic system. Travelers from San Marino, need to fill the Forma Migratoria Múltiple (FMM) that confirms their genuineness of not intending to take up an assignment that involves a payment. Nevertheless, the following are the Mexico Tourist Card instructions: 
Filling up the Application Form: San Marino nationals must fill in their particulars in the online application form. Filling the form with razor-sharp accuracy is of prime importance. 
No Document Needed: There are no documental requirements for applying online and no uploads are required. However, visitors from San Marino must have a valid passport number to complete this process.
Fee Payment: The process completes with the payment of the fee, via a credit or a debit card.
The Tourist Card is emailed to the id listed in the form.
Travelers must take a print copy of both sides of the Mexico Tourist Card prior to their trip to Mexico to be verified by the immigration authorities at the airport. 
Critical to Know for Mexico Tourist Card Applicants
It is acceptable for Mexico Tourist Card holders only to visit the country for tourism. They are prohibited to get involved in any kind of activities such as jobs or likewise involving payment, throughout their stay. While they are applying, the Sammarinese also need to give information about their flight in the application form.
Document-free Policy
Citizens from San Marino are not required to upload any document when they are applying online. On the other side, they must have the following: 
A passport having a validity of 6 months since they arrive in Mexico.


Flight information related to their arrival in Mexico.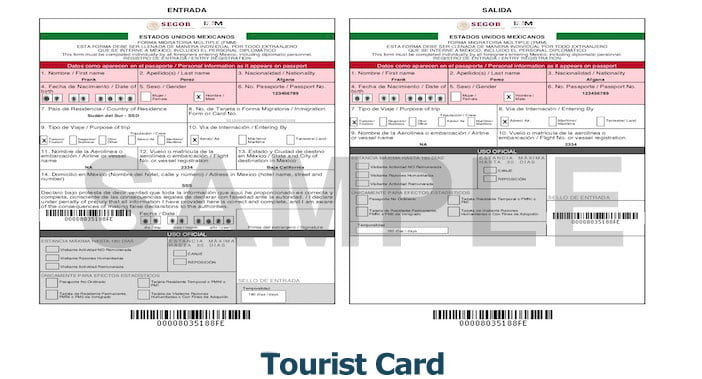 Documents on Reaching Mexico
For Sammarinese visitors, a Mexico Tourist Card is a 'must have' to enter the country. They can get it without an issue. It is noteworthy that in addition to this, a visa is also required. As soon as visitors reach Mexico they need to produce both of these at the airport.
It would be verified by the immigration authorities before the tourists enter the country. This is apart from the visa and a valid passport, which needs to be shown to the immigration officers. One must be careful to carry the same passport that was used to apply for the visa application.
Mexico Visa Application
If travelers from San Marino are entering Mexico for any reason, even if it falls on the way, a valid Mexico Tourist Visa and a Tourist Card, both are must-haves. It is possible to apply for a Mexico visa at a Mexican embassy overseas. The time taken in the processing of a Mexican visa is according to the specific embassy from where the applicant is applying.

A few of the embassies take about two days to process a visa. On the other hand, others may take up to four weeks.
Therefore, it is sensible for Sammarinese nationals to fix an appointment for a Mexico visa a minimum of weeks before they intend to travel. It is essential to apply for a Mexico visa at a Mexican embassy in San Marino (or in a country of presence). Here is how the application process works:
Get connected to the nearest Mexico embassy to set up an appointment


Fill the Mexico Visa Application Form


Collate the important paperwork


Submit the application and pay the fee
Travelers must as a routine check the website of the Mexico embassy for any updates. They are also advised to get in touch with them to find out the processing time. This is keeping in mind that all embassies work differently.
Embassies also inform travelers about what will be needed to complete their application. May that be a valid passport, employment details, etc. This will also depend on the type of visa desired. A few of the embassies suggest that travelers must book their appointment at least four weeks before their trip.