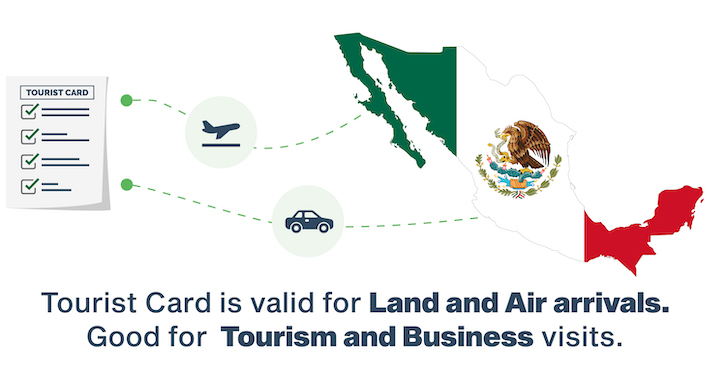 Though most tourists associate Puerto Vallarta with the sun and the sea, the city is also home to one of the most dynamic art scenes in Mexico with the Galería Dante and Galería Pacífico, featuring traditional and contemporary art and sculptures. Salvadoran citizens looking to spend a memorable time here would need a Mexico Tourist Card, in addition to a visa.
The National
Immigration
Institute authorizes and grants this document basically for tourism. Visitors from El Salvador must get a visa to
enter Mexico
. In order to apply for the Mexico visa, applicants need to contact or visit the embassy.

Irrespective of whether you are entering Mexico via air or land, it is compulsory to have a Mexico Tourist Card. Launched in 2015 and been running since then, the electronic system has eased the process of applying online.
Alternatively, applicants can also apply for it 30 days after they reach Mexico though it is strongly recommended that they use the online process of application.

How Must Salvadorians Apply Online?
The level of ease and convenience while using the electronic system makes the entire application process for a Mexico Tourist Card a pleasing experience. Here is how applicants must apply online: 
The Initial Step: 
The first step for Salvadoreans is to enter their details in the online application form. They must recheck the information that they have entered just to ensure that it is error-free. Mistakes can spoil it all and lead to rejection of the application. 
Documents Upload:
No documents are to be submitted when using the online process.
Submit This:
A
valid passport
number, though, needs to be mentioned while applying.
Fee: 
This is the final step. The applicant needs to pay the fee using a credit or a debit card.
What Happens Next?
The online system also asks for the applicant's email ID. The Mexico Tourist Card is emailed to that ID after it has been processed.
Any Printouts Required?
To be independent of the email system, applicants can keep a hard copy of the travel document, if possible. This printout must be of both the sides of the Mexico Tourist Card. The printout may be black and white or colored. Travelers must carry it during their trip to the country.
What Else Must the Applicants Know?
Applicants must be aware of these things:
The Mexico Tourist Card does not permit any travels besides those for tourism. Any kind of employment or activity that results in payment during this trip is strictly prohibited.


Salvadorians should carry printouts of this travel document when they enter the country via any Mexican airport.


While applying online, applicants also need to provide their flight details (Airline Name and Flight Number) of their arrival flight in Mexico.

Any Softcopies to be Submitted Online?
When applying online no softcopies need to be uploaded. However, travelers from El Salvador must keep with them the following: 
A valid passport number of their passport having 180-day validity after they arrive in Mexico.


Flight information such as airline name and flight number
What to Do On Reaching Mexico?
On reaching Mexico, Salvadoreans must have with them a Mexico Tourist Card, a visa and a valid passport. The passport must not be valid for less than six months and must be the one that was used while applying online. These documents are reviewed by immigration officials at the Mexico Airport.
Be Informed While Applying for the Mexico Visa
Irrespective of whether Salvadoran travelers to Mexico are tourists, usual travelers, explorers, adventurers or in-transit, they must have a valid Mexico Tourist Visa and a Tourist Card. They can apply for a Mexico visa from any Mexican embassy within their country or within a country of their presence. 
The time required for processing a Mexico visa is different in different Mexican embassies. Applicants must, for this reason, fix a meeting for a Mexico visa with the respective Mexico embassy a minimum of 4 weeks before their scheduled travel date.
A Mexico visa can be applied for at a Mexican embassy in the applicant's domicile country (or in the any other country). The application process comprises the following steps:
Schedule an appointment with the Mexico embassy  


Fill up Mexico Visa Application Form 


Put together the relevant documents


Render the application and pay the fee
The Mexico embassy where the applicant has applied from has the visa processing time mentioned clearly. On the other hand, applicants from El Salvador can also contact the embassy officials to query about the time taken to process their visa. The reason for this is that every embassy has a different timeframe for visa processing. 
One embassy might take 2 working days, whereas the other might take 10 working days. Some embassies advise applicants to schedule their appointment at least four weeks before their trip.