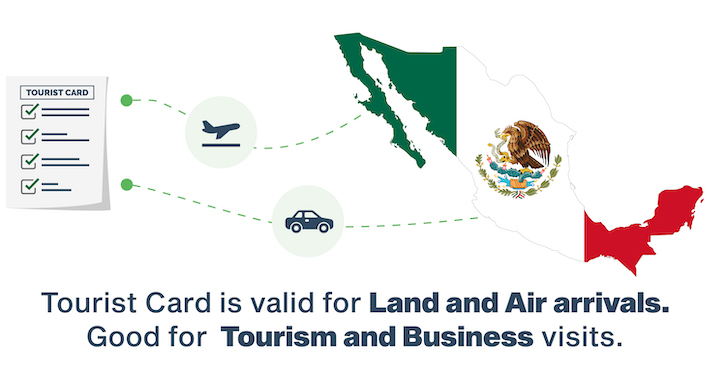 Palauan tourists have the perfect opportunity to delve into the rich culture and heritage of Mexico when they plan for a long or a short vacation. Apart from the majestic and popular archaeological sites, this country is laden with impeccable natural beauty.
Every year, Mexico plays host to millions of visitors and vacationers looking for a peaceful American holiday break. Travelers just have to
acquire a visa
and Mexico Tourist Card to visit Mexico and see its historical wonders. Both these documents would be required because they are not interchangeable or replaceable.
Each day of your Mexican vacation can be full of surprises because this nation has a lot to offer to avid travelers. You can start your preparation for the trip by applying and obtaining a visa well in advance. You will have to visit the Mexico embassy or contact the embassy officials to acquire a visa.
In the case of a Tourist Card, the process is much simpler and you can easily apply for it online. This can also be the best option as many air passenger carriers have stopped offering this facility during flights.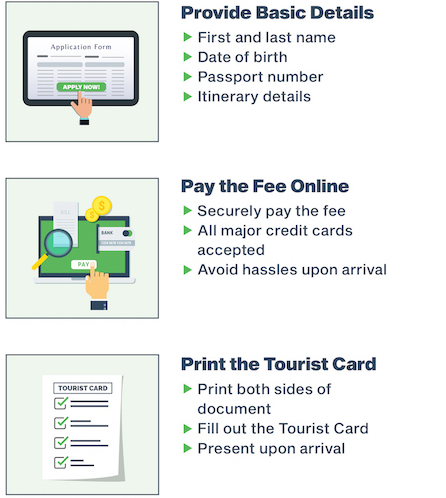 How Palauan Citizens Can Acquire a Mexico Tourist Card
Palauan tourists can obtain a Mexico Tourist Card from the comfort of their abode. They just have to follow a few simple steps listed below:         
Applicants need to fill an online application form with accurate information. Errors can lead to the cancellation of the application.
  
They don't have to upload any documents to validate the online application form.


A valid passport is a must to finalize the online application form.
   
The processed Tourist Card is sent to the applicant's email address.


Tourists will have to carry "color" or "black & white" printouts of the Mexico Tourist Card during the trip. The immigration officials at the Mexican airport will check these documents upon arrival.  
Instructions for Tourists
Travelers from Palau have endless opportunities to make the most of their Mexican vacation. There are numerous holiday hotspots to keep visitors busy and thrilled. They can enjoy everything that the tourism sector offers.
However, they are not permitted to commit to any job or professional activities during their stay on a Tourist Card. During the Tourist Card application process, they will also have to share their trip details such as flight numbers and flight tickets.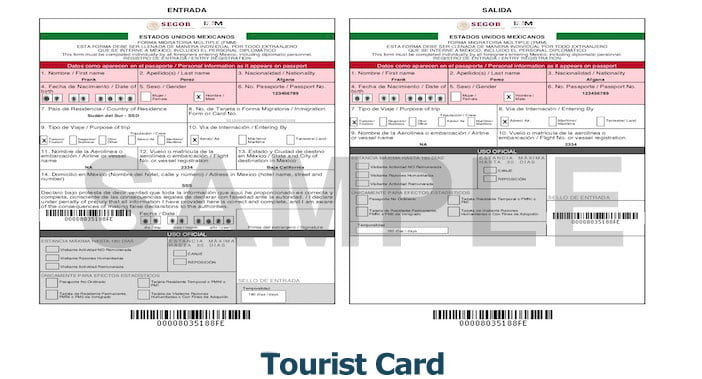 Documents Required for Visiting Mexico
If you are planning for a Mexican vacation, you will have to keep certain documents ready. The must-have documents include:     
A valid Palauan passport


Mexico Tourist Card 


Tourist Visa
Getting into Mexico as Tourists 
It is quite obvious that you would be in high spirits as you get prepared for a Mexican vacation. It can be a welcome break for you and your loved ones, especially if you are bored with the mundane city life. Before you make the move, don't forget to carry the necessary travel documents.
The documents you will need during the trip include the Palauan passport, tourist visa, and printouts of your Mexico Tourist Card. You will have to show them to the immigration officials after arrival at a Mexican airport.
Applying for Mexico Visa
Opting for a Mexican vacation can be a great gift for you and your loved ones. This can be the perfect opportunity to take a break from mundane city life and enjoy the beauty of Mexico.
As a Palauan, you will have to obtain a Mexico Tourist Visa and a Mexico Tourist Card to travel to any Mexican tourist hub. You can apply for the visa by visiting the Mexican embassy in your country. 
You should also note that the processing time for a Mexican visa may differ in various countries. It basically depends on the country or embassy from where you would like to apply for the visa. This means that you would be able to acquire a visa in between two days to 30 days. To avoid any last-minute hassle, you should go for the visa application at least a month in advance.   
The visa application process can be very simple and easy if you follow the steps listed below:
Book an appointment and visit the nearest Mexican embassy in your country.  
Fill out the Visa Application Form carefully to avoid any errors.


Attach the necessary documents at the time of application form submission.


Pay the visa fee once you submit your application form.
Doing online research will help you save a lot of your time while applying for a visa. This research will help you in knowing the exact visa processing time in various Mexican embassies. Every embassy has its own operation style, so being a little prudent would be beneficial for you eventually.