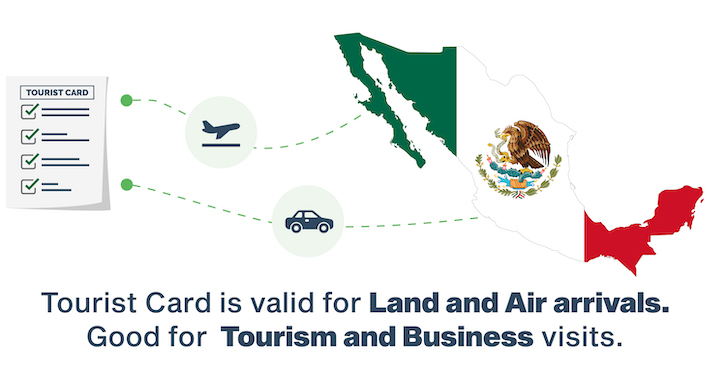 Enjoy a refreshing vacation in American style! Every year, there are thousands of holidaymakers who visit Mexico for a short or long stay. Nicaraguan tourists can visit this fabulous country to spend quality time with friends and family.
This trip won't be an expensive affair if travelers plan it out thoroughly in advance. The mesmerizing sights and sounds of Mexico will make vacationers stay there forever.
Nicaraguan citizens just need to get their visa and Mexico Tourist Card before they board a flight to their Mexican destination. It is important to note that a Tourist Card is in no way a replacement for a visa. 
Last-minute hassles can be definitely avoided if you apply for the visa at least one month before your travel date. You will have to visit the Mexico embassy after booking an appointment to apply for the visa.
Acquiring a Mexico Tourist Card on the other hand is much easier because you can apply for it online. This is also the ideal way because many airlines have stopped handing out the application form during flights.
Simply fill out the form carefully so that the details shared are accurate. Discrepancies in the form can lead to the cancellation of your application. Once the Tourist Card is processed, it will be sent directly to your email address.
Note that the Mexico Tourist Card is valid for tourism-related activities and business visits only. Business visits mean that you can have various business meetings, organizational get-togethers, etc. during your vacation in Mexico. You are not permitted to engage in any paid assignments or jobs.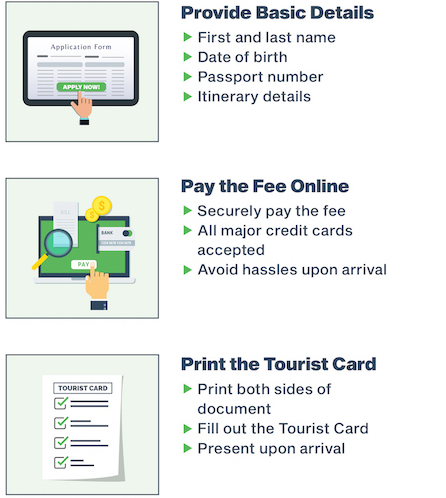 Tourist Card Online Application Process 
As a Nicaraguan traveler, you should follow the steps mentioned below to apply and obtain a Mexico Tourist Card online. Following these steps will also help you in acquiring the Card in a quick time.   
You need to fill out the application form accurately so that it is not rejected.
  
During the application process, you won't have to upload any documents. 


Keep your Nicaraguan passport ready as you will need it while finalizing the Card application form. 
 
Once the Tourist Card is ready, it will be sent to you via email.     
After receiving the Card, you will have to take out its printouts in "color" or "black & white". Ensure that the printouts have the desired clarity as they will have be shown to the immigration officials once you land at a Mexican airport.   
Instructions for Nicaraguan Travelers  
Nicaraguans would be more than amazed by the sheer beauty of the country when they start their vacation in a Mexican retreat. Apart from the natural lure, the country is also home to incredibly attractive archaeological wonders.
They can virtually do whatever they feel like, but they are not permitted to engage in any professional assignments or jobs when they visit with a Mexico Visa and Tourist Card. This is the primary reason for sharing their travel details while applying for the Tourist Card.     
Documentation Process
Applying for the Tourist Card online would mean that you will need certain documents. The must-have documents are:     
The Nicaraguan passport with a validity of not less than 6 months from the date of your journey to Mexico. 
 
All the details or personal information shared on the form should match your passport.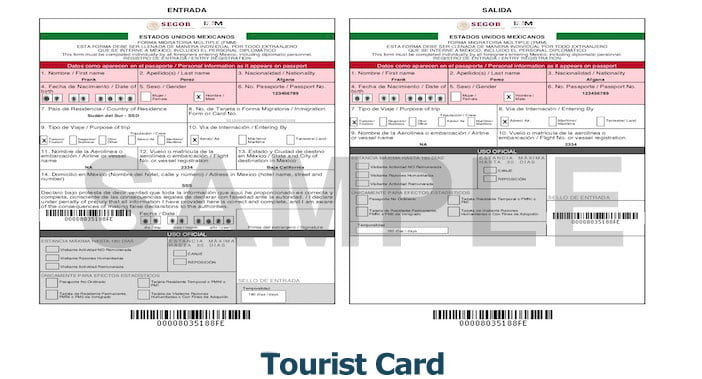 Getting into a Mexican Travel Destination  
Mexico has all the sights and sounds to keep you busy and thrilled during a vacation. It would be better if you decide and book your vacation resort or hotel in advance. You can get numerous affordable options when you do your research online.
As you pack your baggage from your trip to Mexico, don't forget to carry certain documents like your Nicaraguan passport, visa, and Mexico Tourist Card. You will have to show these documents to the immigration officials before you get into your chosen vacation hotspot.  
Mexico Visa Application Process
Enjoy a great Mexican vacation with your loved ones this season. This can be a good break from all the hustle-bustle of mundane city life. Nicaraguan citizens like you will need a Mexico Tourist Visa and a Mexico Tourist Card for entering the country. You will have to visit a Mexican embassy in your city or country to apply and acquire a visa. 
Note that the time required for acquiring a Mexican visa may vary from country to country. It generally depends on the embassy from where you apply for the visa.
This implies that your visa may take two days or 30 days to get processed. To avoid all these hassles, apply for the visa at least a month before your travel date to Mexico.  
Applying for the visa is simple if you follow the steps given below:
Get in touch with a Mexican embassy in Nicaragua by booking an appointment.


Fill out the Mexico Visa Application Form accurately.


Attach the required documents while submitting the application form.


Make the visa fee payment when you complete submitting your application form.
It is important that you do the required research online when you apply for the visa. This is a great way to find out the exact time required in processing a visa. Note that every embassy has its own set of procedures related to visa processing. However, being informed about the processes a bit in advance will definitely cut short the time and your worries.