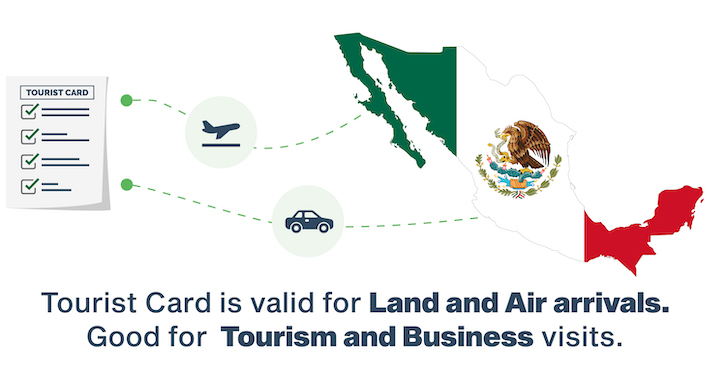 Holidaying in American style can be a dream come true for avid travelers like you. However, not everybody can afford to enjoy a vacation in the US. If you are a traveler from Myanmar and you live the same dream, you can try out Mexico. It's a slice of paradise but comes at a fraction of the cost. 
A large number of tourists visit Mexico for a refreshing retreat every year for a short or long stay. Your family members will cherish the memory of this journey forever for sure, thanks to their food, culture, manmade and natural wonders.
The elegance of Mexico will spell a charm on you and you'll love to stay here. As a traveler, you have to have just two new documents: a visa and The Mexico Tourist Card. However, the point to keep in mind that the Mexico Tourist Card is not a substitute for a visa. 
Though getting a visa is not a difficult task, however, it is always better if you apply for a Mexican visa at least a month prior to your intended travel date. Being proactive will make your life a bit easier and will save your life from last-minute surprises. The best course of action will be to visit a Mexican embassy and book an appointment with the concerned embassy official.
While the good thing is that receiving the Mexico visa card is far easier as the process can be completed online. The e-card is delivered within 2-3 days in the mail you provided.
There is one important thing to keep in mind that most airlines have stopped taking care of this service, so you'll have to do it yourself. And the good thing is it is very easy. Just fill out the online form accurately and ensure that every piece of the information is correct and there is no discrepancy.
Leaving any unintended error or discrepancy can result in the rejection of the application. Also, recheck the information twice to make sure you are confident that it's correct before you hit the submit button. The tourist card will come to your email directly within a couple of days. Note that Mexico Tourist Card is valid for tourism-related activities and business visits only.
Business visits mean that you can have various business meetings, organizational get-togethers, etc. during your vacation in Mexico. You are not permitted to engage in any paid assignments or jobs.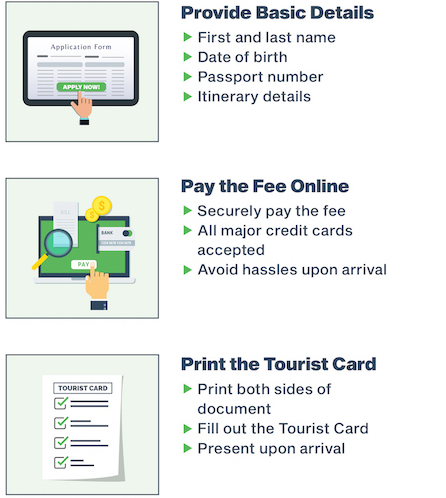 Tourist Card Online Application Process
As a tourist from Myanmar, following these steps can help you get the Mexico Tourist Visa easily and quickly:
Fill the application form correctly so that it is processed successfully without any problem.


You are not required to attach any document during the application process.


Always keep your country passport as you will be required to add some vital information at the time of finally submitting the application form.


However, its validity should be at least 6 months from the date of the journey.


Once the card is ready, it will be sent to your email.
Now download it and match the information on the card with your passport to verify its correctness. Then take a color or black & white print of it. The printed text should be readable and have the desired clarity since you will be required to produce it before immigration officials during the check-out process.
Instructions for Travelers
As a traveler, you need to abide by certain rules and regulations proposed by the government of Mexico. As a Myanmarese traveler, you have certain restrictions about what you can do and what you cannot do.  For example, you cannot take any short or long-term job during the stay, on the basis of your visa or tourist card.
Documentation Process
Here is a list of essential documents that you would need when applying for the Mexico Tourist Card:  
At least six months of validity left on your Myanmar passport.


Your personal information should match that on the passport.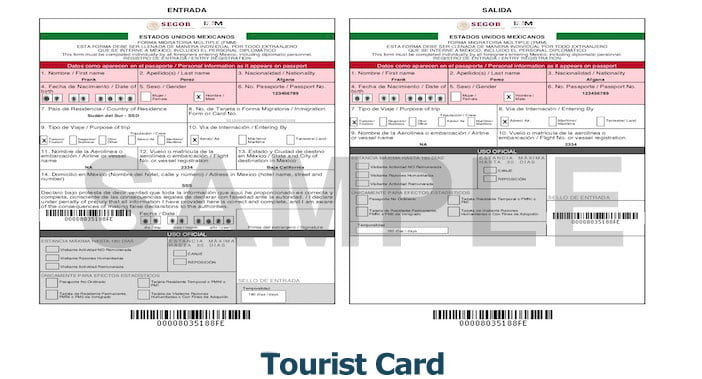 Entering a Mexican Travel Destination  
The best thing about Mexico is it has all the necessary ingredients of a world-class tourist destination that will keep you hooked and thrilled. However, it is always better to take care of some other important things.
It always helps if you book your accommodation, a big problem will be solved. If you are proactive and research more on various hotel booking sites, the probability of getting a good deal increases.  And the last thing is, as a Myanmarese tourist, never forget to carry the two important documents - the visa and the Mexico Tourist Card. 
Mexico Visa Application Process
Without a doubt, getting a timely visa is the most important aspect of an overseas tour for Myanmarese travelers like you. Mexico is a tourist-friendly nation and you can get it quite easily, the only condition is that you need to start the process at least 30 days beforehand.   
The visa application process is a standard one, but the operational processes may vary from one embassy to another, so it is always better if you do initial due diligence in advance to save your time. The procedure also depends on embassies, considering the operational flexibility they need.  However, you may get it within 2-3 days.   
Here are the steps you need to follow for a Mexican visa:
Contact a Mexican embassy in Myanmar through mail or phone and book an appointment.


Now visit the embassy on the date of appointment to fill out the visa application form. 


Upload the documents mentioned in the application form. 


Submit the application form. 
Conducting online research about the visa application process will make your task easier. You will get an idea of how much time the visa application process might take. Last but not least, it will always help if you make a list of things you need to do.