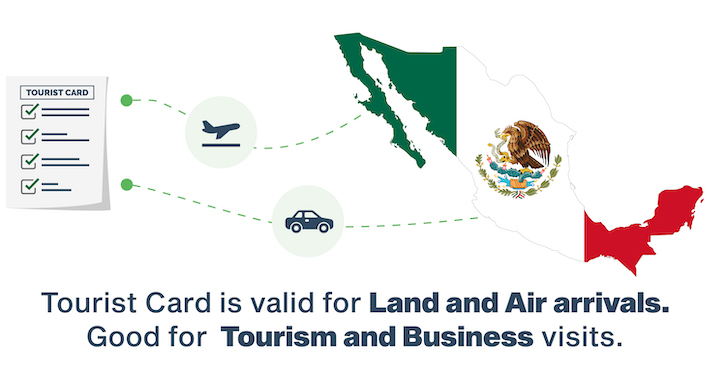 If you are looking for a hip cuisine landscape packed with eateries serving everything ranging from delectable tacos and tostadas to sushi and masterfully cooked seafood, along with an even hipper bar society, then Playa del Carmen is just the place you must visit.
Macedonian citizens looking to spend a memorable time here would need a Mexico Tourist Card, in addition to a visa. The National Immigration Institute approves and grants this document specifically to support tourism.
First and foremost, it is important to understand that a Tourist Card and a visa are different. Visitors from Macedonia should have a visa to step into Mexico. With the intention of applying for the Mexico visa, applicants must get in touch with or visit the embassy.

It does not matter whether your entry into Mexico is via air or land, a Mexico Tourist Card is a must-have. Commenced in 2015 and been in operation since then, the electronic system has made applying online easy besides being strongly recommended. Otherwise, applicants can also apply for it 30 days after they land in Mexico.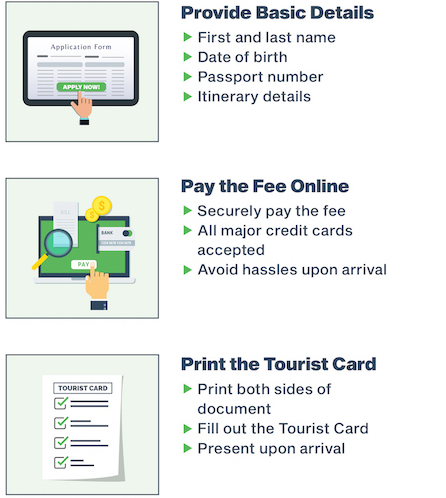 To Apply Online for a Mexico Tourist Card
The degree of comfort and ease of use in terms of the electronic system makes the entire application process for a Mexico Tourist Card a nice experience. This is the way applicants must apply online: 
To Begin With: The first step for Macedonians is to enter their details in the online application form. They must recheck the information that they have entered just to ensure that it is error-free. Mistakes can spoil it all and lead to rejection of the application. 

Softcopies Submission: No documents are to be submitted when using the online process.

Information Required: A valid passport number, though, needs to be mentioned while applying.

Making Payment: This is the final step. The applicant needs to pay the fee using a credit or a debit card.
What Else?
The online system also asks for the applicant's email ID. The Mexico Tourist Card is emailed to that ID after it has been processed.
Are Printouts to be Taken?
To be independent of the email system, applicants can keep a hard copy of the travel document, if possible. This printout must be of both the sides of the Mexico Tourist Card. The printout may be black and white or colored. Travelers must carry it during their trip to the country.
Need to Know about Mexico Tourist Card
Applicants must know this:
The Mexico Tourist Card does not allow any travels besides those for tourism. Any kind of employment or activity that results in payment during this trip is strictly prohibited.


Macedonians should carry printouts of this travel document when they enter the country via any Mexican airport.
While applying online, applicants also need to provide their flight details (Airline Name and Flight Number) of their arrival flight in Mexico.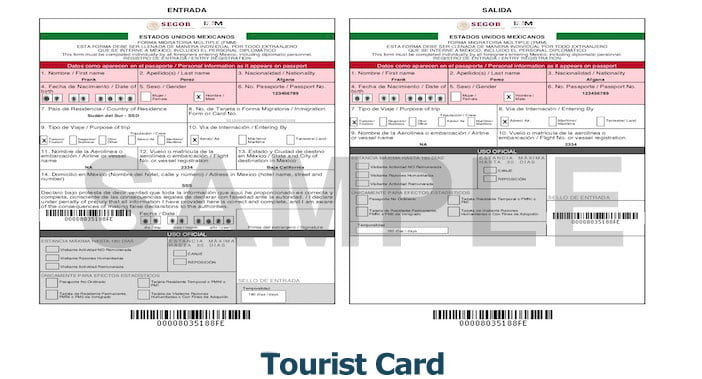 What is the Condition of Submission of Softcopies?
When applying online no softcopies need to be uploaded. However, travelers from Macedonia must keep with them the following: 
A valid passport number of their passport having 180-day validity after they arrive in Mexico.


Flight information such as airline name and flight number
Reached Mexico, What Next?
On reaching Mexico, Macedonians must have with them a Mexico Tourist Card, a visa and a valid passport. The passport must not be valid for less than six months and must be the one that was used while applying online. These documents are seen and validated by immigration officials at the Mexico Airport.
For Mexico Visa Applicants 
Those who intend to travel to Mexico for pleasure, as tourists, on a vacation or in transit, must apply for a usable Mexico Tourist Visa and a Tourist Card. Prospective travelers can apply for a Mexico visa from any Mexican embassy, of their choice. 
Every Mexican embassy has a different timeline to process a Mexico visa. Hence, applicants must book an appointment with the Mexico embassy, from where they intend to apply for a Mexico visa, at least a month before they intend to travel.
A Mexico visa can also be applied for, from a Mexican embassy in their country (or in another country where they may be staying). To apply, they must follow these steps:
Fix a meeting with the Mexico embassy  


Fill the Mexico Visa Application Form


Prepare themselves with the pertinent documents


Submit the Application Form


Pay the visa fee
To know how long a Mexico embassy would take to process a visa, applicants can go through the corresponding embassy's web page. Alternatively, they can also connect with the embassy authorities for this information. This is important because every Mexican embassy takes a different amount of time to process a Mexico visa. 
This timeframe varies from 2 business days to 10 business days, as per the Mexico embassy the candidate is applying from.  A few embassies advise applicants to schedule their appointment at least four weeks before their travel.