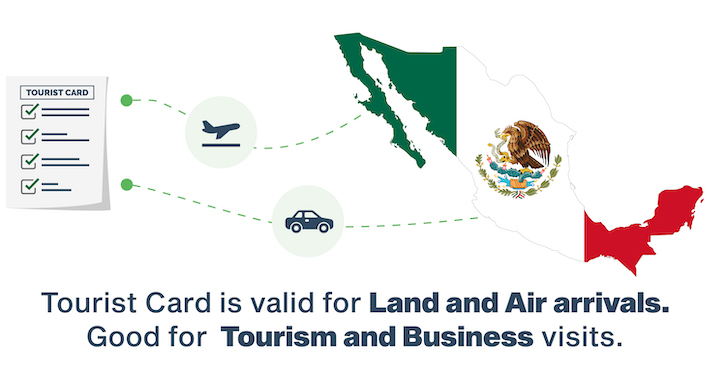 Just as birds fly south to escape the cold of northern winter, Mazatlan is a popular destination for winter travel lovers. Also known as the "Pearl of the Pacific," Mazatlan offers 11 miles of golden sand beaches, the biggest boardwalk that Latin America has to offer, blue coves and aquatic sports that attract tourists any time of the year, but more in the winters. Similar to other tourists, a Mexico Tourist Card is what Lithuanian citizens would need to go to this country.

Unlike citizens from other countries, they do not require a visa to visit Mexico. The National Immigration Institute grants this Card, basically for tourism. Applicants must know that a Tourist Card is sufficient for them without a visa. Those travelling from Lithuania would not need a visa to enter Mexico. 

Whether you enter Mexico via air or land, you must have a Mexico Tourist Card. With the launch of the Electronic System in 2015, applying for it online has become easy. Besides, keen travelers also have the option to apply for it 30 days after they reach Mexico, although it is the online way that is strongly recommende.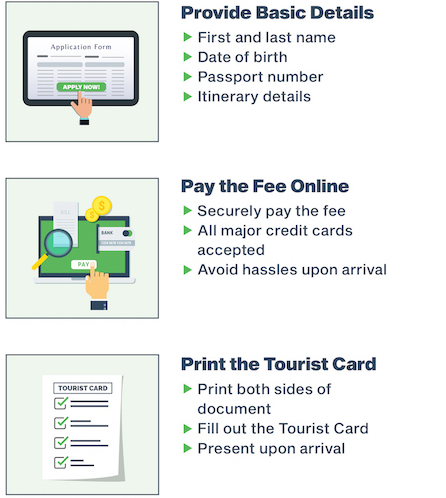 Online Convenience
Being electronic and convenient, the process is quick and hassle-free. These three simple steps encompass the entire online process: 
Enter Particulars in the Online Form: Lithuanians must fill the information asked for online. It is a smart move to go through the information again just to make sure that it has been filled right. Wrong or erroneous information is the biggest reason for rejection of the application. 


No Softcopies to Upload: The online process does not require the applicants to upload any document. They must, however, fill in a valid passport number for successful culmination of the application process.


Paying the Fee: After filling the information, the fee must be paid with the help of a credit or debit card.
The applicants will get the Tourist Card on their email id given in the form after it has been processed.
Just in case the email system may have a hitch, travelers must download and print the travel document.
They must keep hard copies of both sides of the Mexico Tourist Card with them on their trip to the country. These documents are checked by the immigration officials at the airport. 
Information Mexico Tourist Card Applicants Must be Mindful Of 
Mexico Tourist Card only allows trips for tourism. It disallows engaging in any kind of employment or paid activity during the trip. Lithuanians must keep printouts of this travel document with care while entering the country through any Mexican airport. While applying online, tourists must provide details (Airline Name and Flight Number) of their arrival flight in Mexico.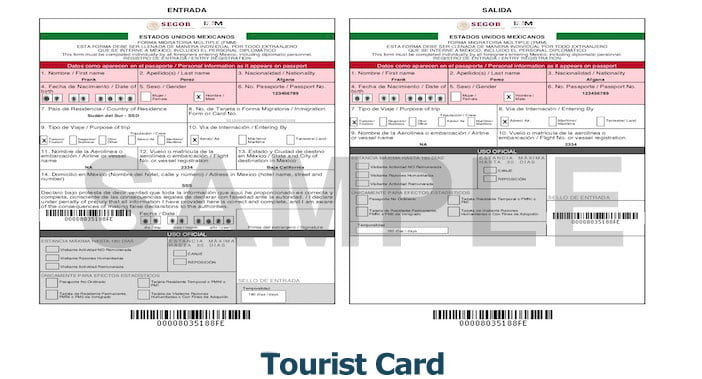 Document-free Application
The online system does not require upload of any document. Travelers from Lithuania, when applying for a Mexico Tourist Card, must keep the following ready: 
Their landing flight details such as airline name and flight number


A passport with 180-day validity since their arrival in Mexico.
Entry into Mexico
For getting into Mexico, Lithuanians need a Mexico Tourist Card, a visa and a valid passport. The passport validity should be equal to or more than 180 days and also must be the same one used to apply for the visa. The immigration officials at the Mexico Airport will go through these three documents.
Here's What You Should Know When Traveling to Mexico
You must get yourself vaccinated and ascertain that you have stuffed your usual and emergency medicines with you. CDC says in its advisory to travelers that they must be vaccinated for hepatitis A as an added defense against edibles and beverage poisoning, in addition to the typhoid vaccine, specifically directed at food lovers and travelers about to visit small cities or rural belts. It is advised that passengers from Lithuania must also carry with them nonprescription anti-diarrhoea medicine. Those making a trip to Mexico must ensure that they pack antibiotics such as Cipro for possible bacterial attacks. Be very careful to avoid dehydration in case of a health problem, so that that it does not lead to hospitalization.


If you are a Lithuanian citizen, you must also carry a copy of your passport and credit cards. These may be as images on mobile phones. Be wary of credit and debit card transactions to avert spurious transactions or withdrawals in Mexico.


Do not forget to keep more cash than you have estimated. If a medical situation comes up in Mexico, it is likely that a doctor or hospital may ask for cash payment. Though peso is the recognized currency of Mexico, dollars are most welcome.


Present the details of your travels with the nearest Mexico embassy. This will keep you abreast with all important notifications and announcements on your destination and enables the authorities to locate you in case of an emergency. Also keep in mind and in hand the phone number for the nearest consulate in Mexico, just in case you need help. It is always recommended for travelers to have travel insurance that covers medical emergencies, theft or other possible calamities. 


Prior to your return, confirm that you have all the vaccines that you need to return from Mexico and ensure that you are appropriately vaccinated.


It is strongly recommended to carry an extra copy of the Mexico Tourist Card handy.