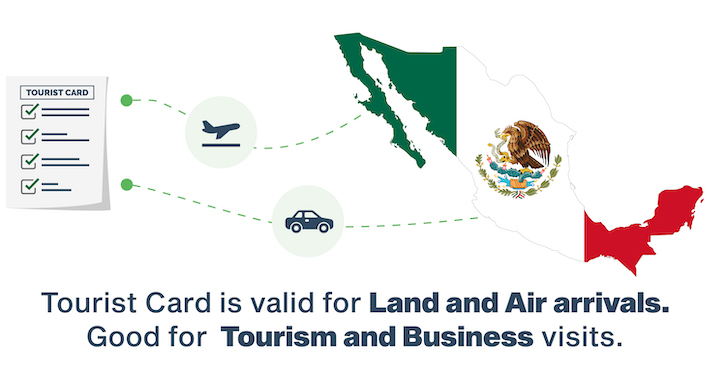 Planning for holidaying in Mexico? That's a great idea indeed! Travelers love Mexico as the experience is similar to an American-style trip. It offers everything that America offers, and that too at an affordable rate.
This trip won't be an expensive affair if travelers from Laos plan it out thoroughly in advance. And if you are ready to do due diligence on your part, Mexico will welcome you. The light and sound and the overall experience will remain firmly etched in your memory forever.
The only thing you require is to carry Mexico Tourist Card, visa, and passport before boarding their flight to Mexico. And always remember the fact that a tourist card is not a replacement for a visa and should not be confused one with the other.   
Like any other travel plan, you can plan your Mexico trip better such as if you apply for a visa and Mexico Tourist Card at least 1 month in advance to avoid last-minute hassles. Though it is the visa process that is more important.
Getting the tourist card is fairly easy and it doesn't take much time. What you need to do is to fill out all required information accurately and carefully to avoid rejection of the application. Ensure no discrepancy is left. 
After the tourist card application is processed, you will receive it directly on your given email id and you can take its color or black and white print. Note that the Mexico Tourist Card is valid for tourism-related activities and business visits only.
Business visits mean that you can have various business meetings, organizational get-togethers, etc. during your vacation in Mexico. You are not permitted to engage in any paid assignments or jobs.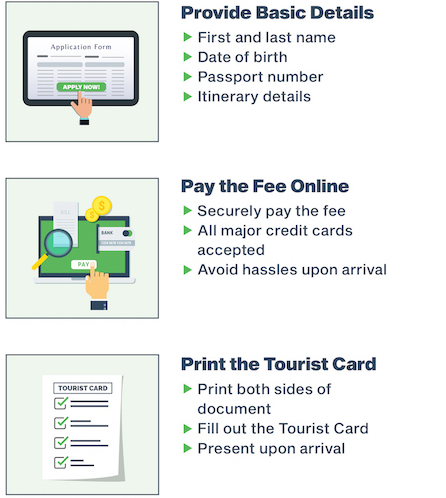 Tourist Card Online Application Process 
Being a Laotian traveler, getting the Mexico tourist card is not a difficult task provided you follow a certain level of due diligence. Here are the four things that you need to follow:    
Be cautious and careful while filling out the online application form. Ensure there is no discrepancy in the application form.   
 
You don't require to upload any document while completing the process. 
 
Keep your Laotian passport with yourself as you may require to fill in certain information while finalizing the online application.    


After the online application is processed and verified, you'll receive it via email. 
However, once you receive the card, ensure the printout card has all relevant details and clarity as you need to show this to the Mexican immigration authorities after landing at a Mexican airport.     
Instructions for Laotian Travelers
As a traveler to Mexico, you have certain limitations on what you can do and what you cannot do. Though you are allowed to visit the country, you cannot take up a temporary or permanent job.
You cannot engage in any kind of professional assignment with the Mexico Tourist Card and you have to abide by all terms and conditions mandatorily while filling the application form.   
Documentation Process
The documentation process is not very long for a Tourist card. It only requires a couple of documents:    
The Laotian passport with a minimum validity of fewer than six months from the date of journey to Mexico. 
  
The details provided in the Tourist Card should match your passport.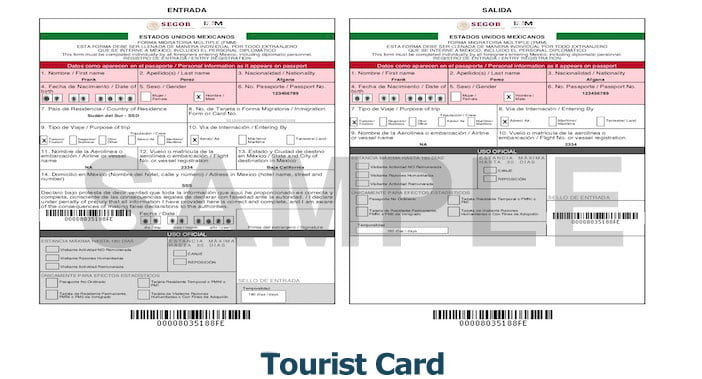 Getting into a Mexican Travel Destination  
Mexico is a magical country and no wonder travelers fall in love with the country. However, it is recommended to take into account other important tasks as well.  Following these tips will be helpful:
It is always better if you decide and book your hotel or resort in advance. This will be helpful as you can also get lucrative online deals if you spend some time in research.


Always plan your travel itinerary in advance.


Never forget to carry the necessary documents: passport, visa, and the Mexico Tourist Card since you will have to produce it before the immigration authorities.
Taking care of such little things can go a long way in making your journey enjoyable and hassle-free.   
Mexico Visa Application Process
Mexico is famous for its tourist-friendly image around the world and that's one of the reasons travelers from Laos flock to Mexico. The visa application process is not tedious at all, just visit the Mexican embassy in your country to apply and receive the tourist visa.
What we have described in this article is the standard process, the actual process may vary slightly from one embassy to another for operational reasons.  This is the common process you can expect to apply for a Mexican visa:
Contact the concerned authorities in the Mexican embassy through mail or phone and book an appointment.


Make a list of questions to clear your doubts if any. 


Now, read the form carefully and fill in all the information accurately.


Check and verify the information while submitting the application form. 


Pay the required visa fee payment at the time of submitting the application form.
As a Laotian tourist, conducting some online research regarding the visa application process would be helpful as you will have a clear idea of the time it may take to process the visa. It is to be noted that every embassy has its own set of rules and procedures related to visa processing.