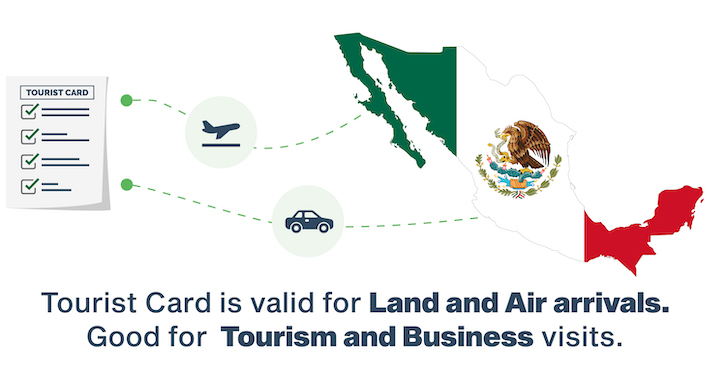 Make the most of your Mexican vacation by visiting some of the top sites in this country. People from Kiribati and other countries will be thrilled by the sights and sounds of Cancún and the Mayan Riviera, Cabo San Lucas and the Los Cabos Corridor, and Copper Canyon to name a few. You can also visit the wildlife sanctuaries if you enjoy what nature has to offer in this beautiful country. For a fantastic holiday experience, you will need a visa and a Mexico Tourist Card. It is important to obtain both these documents because a Tourist Card is in no way a replacement for the visa.
As you get prepared for the big day or your trip to Mexico, you need to acquire a visa and Tourist Card in advance. You will have to visit the Mexico Embassy personally to apply for the visa. You should apply for the Mexico Tourist Card online as many airlines don't offer the opportunity to apply for it during the flight to Mexico. You also have the option to apply for it within a month after reaching your Mexican destination. Note that the Mexico Tourist Card is valid for tourism-related activities and business visits only. Business visits mean that you can have various business meetings, organizational get-togethers, etc. during your vacation in Mexico. You are not permitted to engage in any paid assignments or jobs.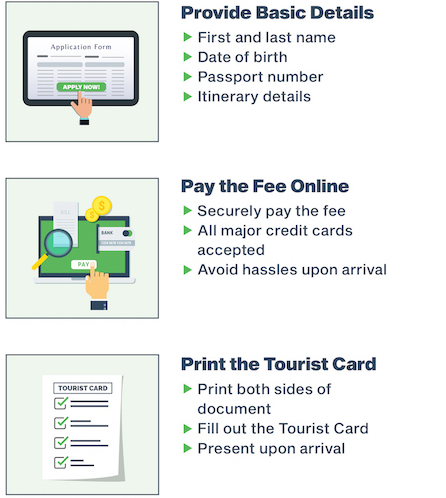 Tourist Card Application Process
For Kiribati citizens, acquiring a Tourist Card is simple and easy, especially if it is applied online. Here are some steps that will help applicants obtain it quickly:           
Applicants should fill the online Tourist Card application form accurately. Discrepancies in the details shared can get the Card application rejected.    
Applicants won't have to upload any documents while applying for the Card online.
A valid Kiribati passport would be required for finalizing the application form. The passport should be valid for not less than 6 months from the journey date.    
The processed Mexico Card would be sent to the travelers via email.
Travelers should get clear or readable printouts of the Tourist Card in either "color" or "black & white". Immigration officials will check these printouts once the tourists arrive at any Mexican airport.   
Instructions for Potential Tourists
Travelers from Kiribati and other places would receive a warm welcome once they reach their chosen Mexican destination. The American lifestyle and affordable lifestyle costs will entice them to stay in Mexico forever. As they enjoy their much-needed vacation, they should strictly refrain from committing to any job or professional activities. They will also have to share their travel plans or details such as flight numbers and flight ticket particulars at the time of the Tourist Card application.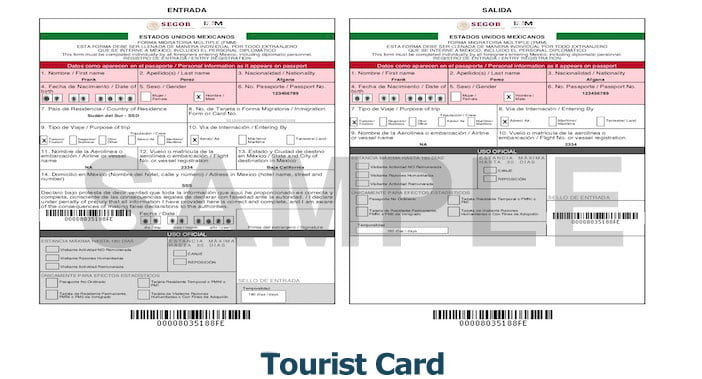 Documents Required during Transit
You will be extremely excited as the date of your journey to Mexico nears. For a memorable holiday experience, you will need certain documents that are listed below:     
A valid Kiribati passport
Mexico Tourist Card 
Tourist Visa
Entering Mexico as Tourists
Finally, you are all set to enjoy your dream vacation at a cozy resort in Mexico. All it takes is a little planning in advance and some cash. Mexico has a lot to offer to tourists of all age groups. To ensure that your trip is hassle-free, you need to carry certain documents with you. The must-have documents include your Kiribati passport, the visa, and printouts of the Mexico Tourist Card. You will be able to move to your destination once the immigration officials check these documents at the Mexican airport where you arrive.   
Mexico Visa Application Process
Opting for a Mexican vacation can be a great gift for you and your loved ones. This can be the perfect opportunity to take a break from mundane city life and enjoy the beauty of Mexico. As a Kiribati citizen, you will have to obtain a Mexico Tourist Visa and a Mexico Tourist Card to travel to any Mexican tourist hub. You can apply for the visa by visiting the Mexican embassy in Kiribati. 
You should also note that the processing time for a Mexican visa may differ in various countries. It basically depends on the country or embassy from where you would like to apply for the visa. This means that you would be able to acquire a visa in between two days to 30 days. To avoid any last-minute hassle, you should go for the visa application at least a month in advance.   
The visa application process can be very simple and easy if you follow the steps listed below:
Book an appointment and visit the nearest Mexican embassy in your country.  
Fill out the Visa Application Form carefully to avoid any errors.
Attach the necessary documents at the time of application form submission.
Pay the visa fee once you submit your application form.
Doing online research will help you save a lot of your time while applying for a visa. This research will help you in knowing the exact visa processing time in various Mexican embassies. Every embassy has its own operation style, so being a little prudent would be beneficial for you eventually.