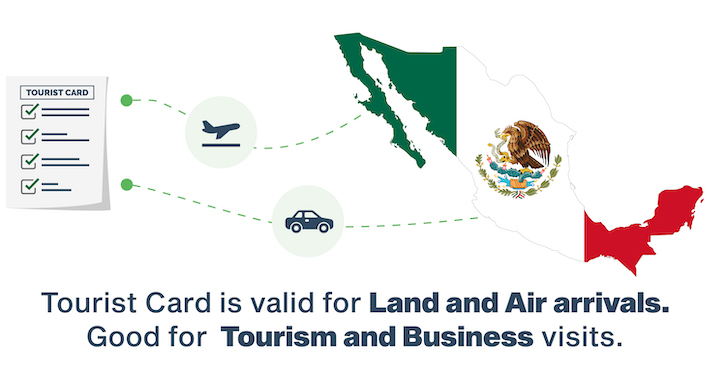 People from Kazakhstan and other countries can opt for a short or a long vacation at one of the finest tourist hubs in Mexico. Apart from the wide array of culinary delights, you can visit the extremely popular Mayan ruins, Cancún and the Mayan Riviera, Copper Canyon, and much more during your stay.
If you are a nature lover, you can visit the wildlife sanctuaries and delve into natural beauty. Note that the Mexico Tourist Card is valid for tourism-related activities and business visits only.
Business visits mean that you can have various business meetings, organizational get-togethers, etc. during your vacation in Mexico. You are not permitted to engage in any paid assignments or jobs.
There are numerous things to enjoy when you land in Mexico for a vacation. However, you will have to obtain a visa and a Mexico Tourist Card before you finalize your travel date. Note that the Tourist Card is in no way a replacement for a visa.
You need to apply for the visa by getting in touch with the Mexico embassy officials personally. In the case of the Mexico Tourist Card, you are strongly recommended to apply for it online as many airlines don't offer the application form these days. You can also apply for the Card within 30 days after your arrival in Mexico.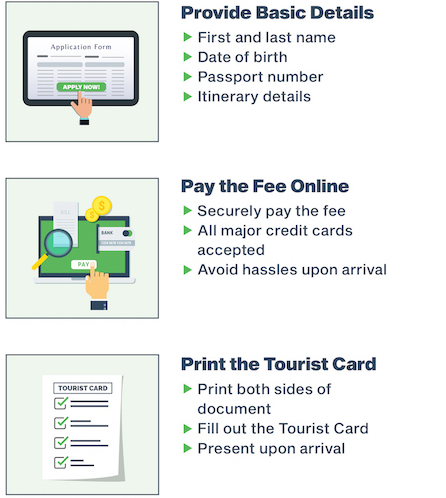 Applying for the Mexico Tourist Card
Avid vacationers from Kazakhstan will be amazed by what Mexico has to offer in terms of tourist facilities. But first, they will have to apply for the Mexico Tourist Card. They can get it online by following a few steps listed below:           
Tourists need to fill the online Tourist Card application carefully because inaccuracies can lead to the rejection of the application.   
  
They won't have to upload any documents when they apply for the Card online.


A passport with a validity of not less than 180 days would be required to finalize the application.   
 
The processed Mexico Tourist Card will be sent to the applicant's email address. 


Travelers should take out clear printouts of the Tourist Card. They can be in either "colored" or "black & white", but they should be readable. The immigration officials present at a Mexican airport will check the printouts.  
Important Instructions
Worldwide travelers including Kazakhstani citizens can expect a wonderful time during their vacation in Mexico. The country is laden with tourist hotspots and attractions to entice people into staying there forever. In the midst of all the fun and frolic, tourists should refrain from engaging in any type of profession or job. They will also have to share their trip details including flight numbers and flight tickets when they apply for the Tourist Card.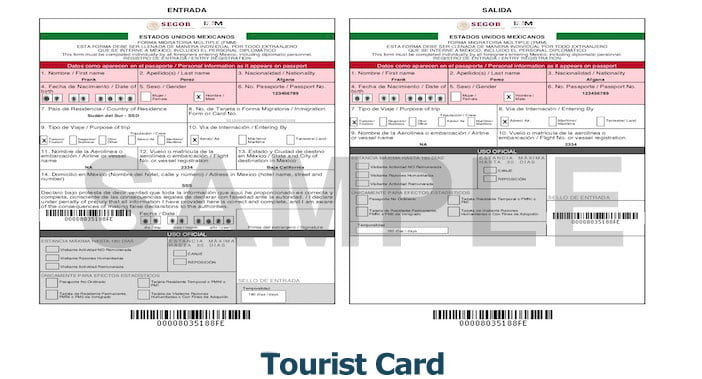 Necessary Documents
A vacation in Mexico can be a dream come true for you if you are thoroughly prepared. Make the most of this trip by visiting all the hotspots across the country. However, don't forget to carry the documents listed below during your journey to Mexico:      
A valid Kazakhstani passport


Mexico Tourist Card 


Tourist Visa
Getting into Mexico
You will be thrilled by the pleasant surprises presented to you during your Mexican vacation. No matter when and where you decide to stay during this trip, you will have ample things to do and see.
Just plan in advance for a hassle-free transit, and don't forget to carry the necessary documents like your Kazakhstani passport, the visa, and the Tourist Card's printouts. You will have to present these at an immigration counter when you land at an international airport in Mexico.  
Applying for a Mexico Visa
Make the most of your next Mexican vacation by being well-prepared for it. As a Kazakhstani citizen, you should get your Mexico Tourist Visa and Tourist Card in advance so that you don't have to face any last-minute hassles. To apply for a Mexico visa, you will have to visit an overseas Mexican embassy in person. 
The duration for processing a Mexican visa varies across countries. It also depends on the embassy from where you plan to apply for the visa. In many countries, the processing time may vary between 10 days to 30 days. Ideally, you should start applying for the visa at least four weeks before your intended travel date. You need to make an appointment with the Mexico embassy officials in Kazakhstan or from a country that is located close to your city or state.
The process of applying for the visa is given below:
Get in touch with the Mexico embassy and fix an appointment.


Complete the Mexico Visa Application Form with accurate details.


Attach the required documents with the application form.


Make the payment after submitting the online application.
It is important that you choose the website of the Mexico embassy from where you plan to apply for the visa. This will assist you in knowing the processing time of your visa. Note that every embassy has its own operational process. That is the reason why some embassies would take just about two days, while others may take a longer time.