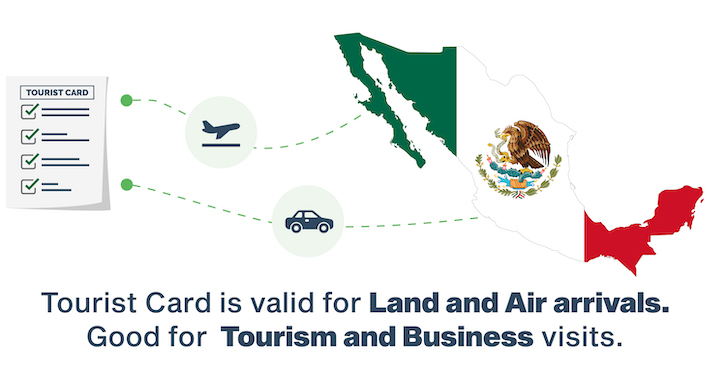 What to expect from a Mexican getaway or trip?
If you think you are only in for sun, sand, and crazy cocktails in Mexico, you are highly mistaken. The land is full of culturally rich autonomous villages where you can enjoy the most scenic beauties in a go.
If you are a food enthusiast from Jamaica, you can't miss out on the super-famous Chilaquiles, Enchiladas, and Tacos al pastor. The best part about your trip is that it is going to be hassle-free. From an application for the Mexico Tourist Card to the fee payment, everything can be done just by logging online while sitting in the comfort of your own homes. 
However, you will have to book an appointment and visit the nearest Mexican embassy to apply and obtain a Mexico Visa. You should apply for the visa at least four weeks prior to your date of departure.   
It is to be noted that citizens hailing from Jamaica need to have both the Tourist Card and the visa for entering the lands of Mexico. This holds true in the case of both air and land travel to Mexico.
The online process for the Tourist Card application is a simple one and ensures high security as well as speedy delivery. Ideally, you should opt for the online application process for the Card because your aircraft to Mexico may not offer this facility.
When you travel to Mexico with a Tourist Card, you have the privilege to enjoy everything that falls under the tourism sector. However, you shouldn't take up any job or commit to any professional assignments.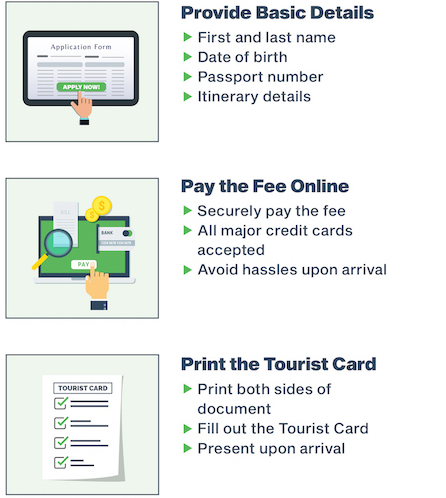 How to Apply Online for Mexico Tourist Card?
Online application for the Tourist Card is one of the easiest methods out there. You can apply for the Card online by sitting right in your comfy home. All you need for the application is your valid Jamaican passport and your flight details. Make sure that the validity of your passport is at least 6 months from your trip date. 

Here's how to apply online in 4 easy steps: 

1. Fill the application form correctly and without any errors. 
2. Since there is no uploading of documents required, all you have to do is complete the application form with your passport and personal details. 

3. Make the payment either through credit or debit cards. 

4. You will receive your Tourist Card in your email ID mentioned in the application form. 

Do not forget to take out the printouts for both sides of the Tourist Card. Immigration officials will ask you to show them at the airport. It is also mandatory that you have the flight tickets (if you are traveling by air) and all their details for security purposes.
What activities are allowed for a Tourist Card Holder?
A Mexican vacation can be a dream come true for you and your loved ones. Enjoy everything that this destination has to offer and make it a memorable experience. Visitors are not allowed to indulge in any business practices when in Mexico. The Tourist Card is only valid for tourism purposes. Jamaican citizens must make sure that they apply for the Tourist Card at least a few days prior to their date of departure. You should always keep your Tourist Card handy while traveling in Mexico.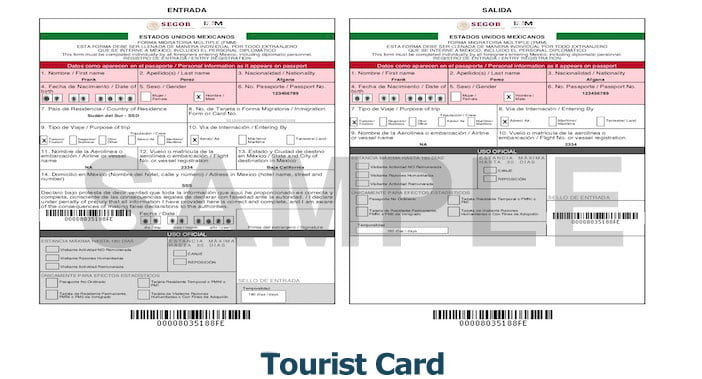 How do Jamaican citizens Apply for a Mexico Visa?
If you are traveling to Mexico for a short or long vacation, you should have a legitimate Mexico Tourist Visa apart from a Mexico Tourist Card. You just have to visit the nearest Mexican embassy and apply for a Mexico visa. The timeframe for processing a Mexico visa differs from country to country.
To avoid last-minute hassles, it is better that you fix an appointment with your chosen Mexico embassy and apply for the visa at least a month before your date of travel.
Jamaicans can easily apply for a Mexico visa at a Mexican embassy in their home country (or in a nearby country) and obtain it in a quick time. The steps for applying for the visa are as follows:
Fix an appointment and visit the Mexico embassy officials.


Fill out the Mexico Visa application form accurately with the required personal details.


Keep the necessary documents including your valid passport handy.


Submitting the visa application form.


Pay the required visa fee.
As an applicant, you should check out the Mexico embassy's website for detailed information on the processing time of the visa. No matter from where you intend to apply for the Mexico visa, note that every embassy has its own style of operation and timelines for visa processing.
It can take just about 2 working days for an embassy or 10 working days for another one. However, it is recommended that you apply for the visa at least one month in advance to avoid last-minute hiccups.