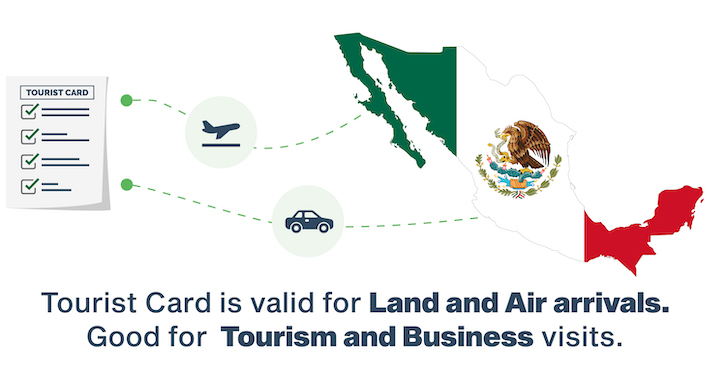 There are numerous travelers from Ireland who visit Mexico every year in search of a peaceful holiday retreat. Apart from the interesting landscape and the enthralling archeological sites, Mexico is home to fantastic nightlife too.
It is also a haven for nature lovers who can explore the wildlife sanctuaries during their stay. Top destinations like Puerto Vallarta and Cancun are frequented by scores of tourists every season.
Mexico will welcome you with all the warmth that you can possibly expect from a visitor-friendly destination. There are innumerable opportunities to make your Mexican vacation an experience to remember.

Before you get set for the trip, you need to acquire a visa and the Mexico Tourist Card. To obtain the visa, you will have to contact the Mexico embassy officials by visiting it personally.
However, you are strongly recommended to apply for the Tourist Card online as some airlines don't hand out the application form anymore. You can also choose to apply for it within a period of 30 days after arrival in Mexico. 
Note that the Mexico Tourist Card is valid for tourism-related activities and business visits only. Business visits mean that you can have various business meetings, organizational get-togethers, etc. during your vacation in Mexico. You are not permitted to engage in any paid assignments or jobs.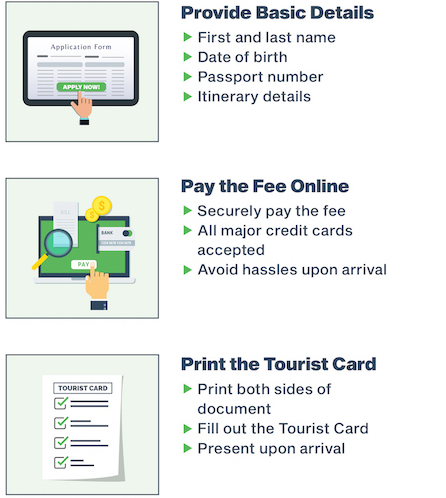 Online Tourist Card Application
For Irish citizens, obtaining a Tourist Card shouldn't be a tough ask as it can be easily applied online. They just need to follow certain steps listed below:            
Potential travelers to Mexico will have to fill out an online Tourist Card application carefully. Inaccuracies may lead to the rejection of the Card application.   
 
They don't have to worry about uploading any documents during the online Card application process.


An Irish passport with a minimum validity of 6 months is a must for finalizing the application form.   
 
Once the Mexico Tourist Card is ready, it would be sent to the applicants through email.


Travelers should take out printouts of the Tourist Card in "color" or "black & white". They will have to show them to the immigration officials present at the airport in Mexico.   
Instructions for Irish Tourists 
Avid travelers from Ireland and other nations can have a wonderful time when arriving in Mexico. The amazing hospitality and visitor-friendly environment will entice them to stay in Mexico forever.
However, they shouldn't engage in any form of job or professional activity during their stay as tourists. They also need to share their travel details like flight numbers and flight tickets when they apply for the Tourist Card.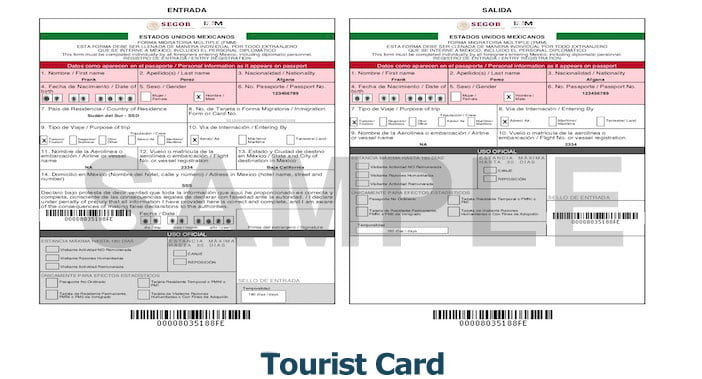 Documents Required
A Mexican vacation can be a must-needed break from mundane city life. However, in the midst of all the excitement, don't forget to keep certain documents ready. The must-have documents are:      
A valid Irish passport


Mexico Tourist Card 


Tourist Visa
Getting into Mexico as Tourists
As you get prepared for your dream vacation in Mexico, make sure you book your accommodation in advance. There are numerous holiday retreats that the country can boast about. Just plan ahead in advance and get the necessary documents ready.
Documents that you will need during your trip to Mexico are your Irish passport, the visa, and Mexico Tourist Card's printouts. You would be able to move to your destination once the immigration officials check these documents at the Mexican airport.    
Applying for a Mexico Visa
Visiting Mexico for a short or long vacation can be a wonderful experience for you and your loved ones. You will need a Mexico Tourist Visa and a Tourist Card. You can apply for a Mexico visa by visiting any overseas Mexican embassy. 
The time required to process a Mexican visa may vary and it also depends on the embassy from which you intend to apply for the visa. In most countries, the processing time can be around four weeks.
So, make an appointment with the Mexico embassy in your country or from one that is located near your city, and at least one month before your planned travel date.
The procedure for applying for the visa is as follows:
Contact the Mexico embassy and schedule an appointment.


Fill out the Mexico Visa Application Form accurately.


Attach the necessary documents along with the form.


Make the payment after submitting the online application.
You will have to determine the website of the Mexico embassy from where you would apply for the visa so that you can know the processing time. This is important because every embassy operates in its own style. Some embassies may take just about two days, while others may take almost a month.