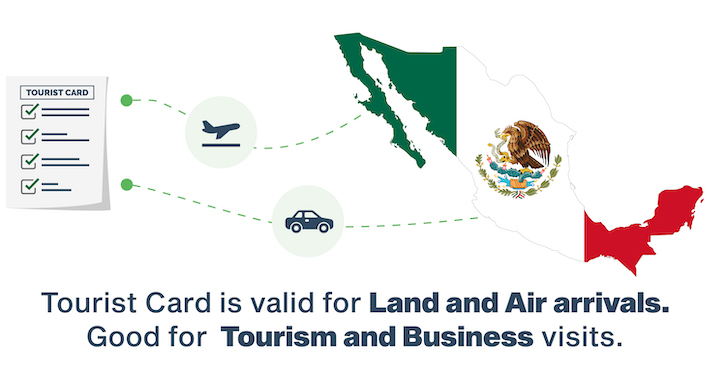 As a tourist, you will be glad to know that Mexico is springing back with life by way of flamboyant culinary offerings and flourishing cultural and manmade marvels. This is the place replete with buzzing downtown areas, storied history, and splendor of the contemporary era.
Iranian tourists like you, with their great understanding of history and culture, often find Mexico intriguing and love its dining and boating excursions. Your trip to Mexico can be the perfect way to enjoy a life away from mundane city life.  
The entry requirements in Mexico won't be tough for you. You will need just two documents - a Mexican Visa and the Mexico Tourist Card for staying in the country as a tourist.
You should know that the purpose of the Tourist Card Mexico is to confirm the duration of stay in the country. The tourist visa, on the other hand, is the granted legal permission by Mexico to enter the country. Both of these documents are not difficult to obtain for Iranian citizens like you.
You should apply for the Tourist Card in advance because many airlines have stopped handing out the Tourist Card during flights. Obtaining a Tourist Card allows you to engage in tourism and business-related visits.
Business visits such as business meetings, organizational get-togethers, etc. are permitted during your stay. However, you shouldn't take up any job or professional assignments.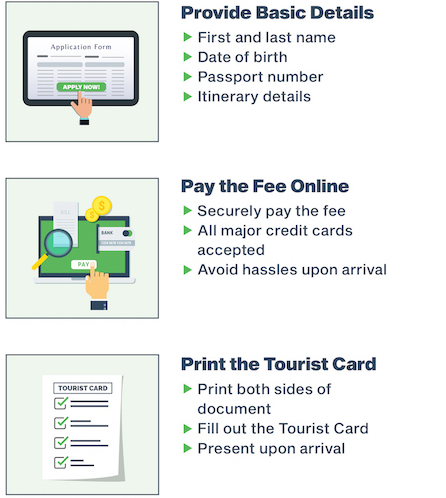 Tourist Card Application Process 
If you have any concerns regarding the Mexico Tourist Card, you must lay them to rest. The entire application process can be completed online. The Forma Migratoria Múltiple (FMM) makes sure you are a genuine tourist and you're not looking to work in the country.
Once you finish the process, you can receive the tourist card Mexico in your email within 2-3 days. Here is the standard Mexican Tourist Card application process for Iranian citizens:
Read the form carefully before you start filling it.


It is not required to upload or attach any document.


Use your Iranian passport to fill in the required information.  


Verify the information to ensure that there are no mistakes. 
  
After the online form is processed, the tourist card will be sent to your email.       
After receiving the e-card, you must verify whether the information provided is accurate. 
Instructions for Iranian Travelers
Mexico's popularity as a wonderful and tourist-friendly destination has increased recently and that is precisely the reason a large number of Iranian tourists flock to the country for a peaceful retreat.
The wonderful and fascinating time you will spend here will remain firmly etched in your mind forever. This is the tourist spot, your loved ones will remember forever. They will crave to stay here for long.
It is, however, vital to know about certain Mexican government travel entry restrictions before starting the process. As an Iranian, traveling on a tourist visa, you cannot take up any short or long-term professional assignment.
You cannot engage in any other activity apart from the travel-related ones that you have mentioned. And that is why they ask you to enter details such as flight numbers and flight ticket information.
Documentation Process for Mexican Tourist Card for Iranian Citizens
When applying for the Tourist Card Mexico, take care of the following things:      
Your Iranian passport must have at least 6 months of validity left. 
    
Your basic personal details should be similar to what is there on the passport.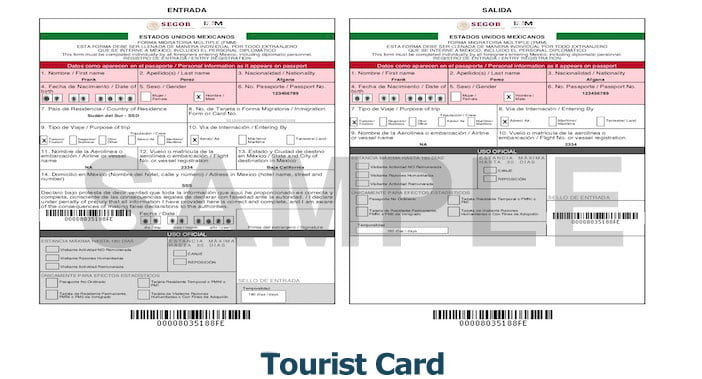 Entering Mexican Territory for Travelers from Iran
From hot deserts to scenic beaches to tropical forests, Mexico is the microcosm on earth. It has some of the finest holiday attractions.
To enjoy these attractions, you require three papers, a Mexican visa, a Mexico Tourist Card, and an Iranian passport with a minimum validity from the date of travel. You will have to show these documents to the immigration officials at the time you arrive at an airport in Mexico. 
A big advantage of Mexico is that you get the experience and feel of an American trip at a fraction of the cost. In Mexico, you can get attractive accommodation deals online for short or long-term stays. There are plenty of websites where you can look for good options within your budget.
Mexico Tourist Visa Application Process
You can acquire a Mexican visa without too many hassles. Mexico is a tourist-friendly nation and embassy officials are friendly and ready to assist you in all possible ways. You are always recommended to start the process of visa application in advance to avoid last-minute hiccups.    
The Mexican visa application process is not at all tedious if you follow these 4 simple steps:
Book an appointment with the concerned Mexican official.
Consult them to clarify all your doubts during the appointment.
Make sure that you enter all that is required correctly in the visa application form. Re-verify to confirm that no mistake or error is left.
Attach the required documents mentioned in the visa application form.
Now, pay the required visa processing fee and wait for processing time.
The usual processing time of a Mexico Visa may be between 2-30 days. It is suggested that you carry out online research to get the exact idea of the time it would take to get a visa. You should keep in mind that the Mexican tourist visa is available for Iranian citizens having permanent residence in Iran.