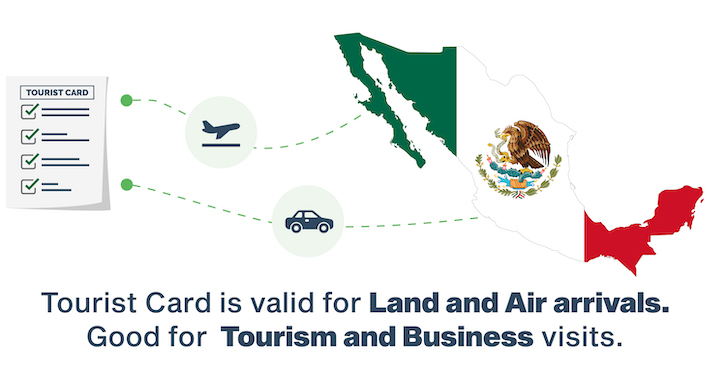 Mexico houses the region's many ancient Mayan ruins, with some of the closest sites within walking distance of the beaches, while the largest and most impressive-Chichén Itzá and Tulum. Many Indonesian citizens who are keen on spending a great vacation in this awesome country would just
need a Mexico Tourist Card
, besides a visa.
The National Immigration Institute sanctions and provides this Card only for tourism. Those who are travelling from Indonesia would compulsorily require a visa to get into Mexico. To
apply for the Mexico visa
, applicants must contact the embassy. 
Without a Mexico Tourist Card travelers cannot enter Mexico via air or land. The electronic system makes this entire online application process very easy. Travelers can also apply for it 30 days after they are in Mexico, however, the online process is highly advisable.

When Indonesians Apply Online
The online process for a Mexico Tourist Card is simple and quick. Here are the steps that it comprises: 
Filling Information Online: 
The first step for Indonesians is to fill the online application form. Once done, they must go through it to ensure that the information is precise and correct. Errors will be a blunder and will result in rejection of the application. 
No Document to Upload:
No soft copies are required to be uploaded by the applicants when applying online. All they must mention is a
valid passport
number.
Fee Remittance: 
The payment of the fee is to happen using a credit or debit card.
The processed Tourist Card is emailed to the applicant on the email id given in the form.
To prevent any unanticipated problem with the email system, it is prudent to keep a print copy of the travel document.
This printout must be of both the sides of the Mexico Tourist Card. Travelers should have it during their trip to the country. It can be black and white or colored.
Intelligence for Mexico Tourist Card Applicants
No visits besides those with the objective of tourism are allowed on the Mexico Tourist Card. No paid activity such as employment or similar during this trip is permitted.
Indonesians must carry hard copies of this travel document while entering the country via any Mexican airport. While applying online, they also need to fill in their airline name and flight number of their arrival flight in Mexico.

Uploading Documents
No documents need to be uploaded while applying online. When travelers from Indonesia apply for a Mexico Tourist Card, they must have the following: 
A passport with 180-day validity after since their in Mexico.


Their arrival flight details such as airline name and flight number
Entry into Mexico
To enter Mexico, Indonesians would require a Mexico Tourist Card, a visa and a valid passport. The passport should have a validity of not less than six months and must be the one that was used to apply for the visa. These documents will be checked by the immigration officials at the Mexico Airport.
How to Apply for a Mexico Visa
Indonesian visitors to Mexico, be it on leisure or simple travel, or those in-transit, must compulsorily have a valid Mexico Tourist Visa and a Tourist Card. They go to any Mexican embassy in any country and apply for a Mexico visa from there. The amount of time to process a Mexico visa is not the same for every Mexican embassy. 
Therefore, it is sensible for applicants from Indonesia to schedule a session with the corresponding Mexico embassy to apply for a Mexico visa a minimum of 4 weeks before they decide to travel.
A Mexico visa can be applied for at a Mexican embassy in the applicant's domicile country (or in any other country). The application process comprises the following steps:
Fixing an appointment with the Mexico embassy  

Mexico Visa Application Form Completion


Preparing the relevant documents


Submitting the application and


Paying for the visa
Applicants can refer to the Mexico embassy's website for details on the time they take to process a Mexico visa. Also, applicants can speak to the embassy officials to get this information. It is important to know this since every embassy has a different timeframe for visa processing. 
One embassy might take 2 working days, whereas the other might take 10 working days. By the way, some embassies advise applicants to schedule their appointment at least four weeks before their travel.