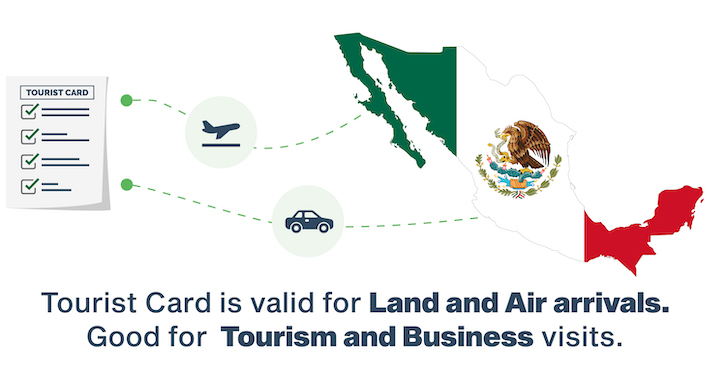 This city also sits close to lush jungles, tranquil cenotes and an impressive network of caverns, making it an excellent option for nature lovers. Visiting in winter will ensure you see this town in its best – and most tranquil – light. This is Cancun and the country is Mexico. Honduran citizens must acquire a Mexico Tourist Card, which is required besides a visa.
The online applying process makes the procedure to procure this for Honduras very convenient. The National Immigration Institute grants this travel paper for Mexico, solely for tourism.
Those who are in the 'to-travel' mode should necessarily know that visitors from Honduras have to have a visa to visit Mexico. Applying for a visa will require them to contact the embassy.

Be their travel to Mexico by road or flight, Honduran citizens must acquire a Mexico Tourist Card. Using the electronic system established in 2015, travelers can apply for it online hassle-free.
Additionally, the online process is highly advised. Once processed, it is sent to the applicant's email ID. The time saved during online application can be used to prepare for the trip, which otherwise would have been made impossible due to embassy visits and appointments queuing. 

Hondurans Applying for the Mexico Tourist Card
Applying through the electronic system is simply seamless and the steps involved are this easy: 
Filling the Online Application: 
Hondurans may fill the application form available online. Check and rectify any mistakes in the form filled. 
Softcopies Upload – No Way:
The online form does not ask for any documents to be uploaded. It only asks for a valid passport number.
Email ID
: Applicants need to mention their working and usable email ID.
Paying the Fee: 
The applicant must have a valid credit or debit card and use it to pay the fee.
Applicants must keep print copies (both sides) of the Mexico Tourist Card on their trip to Mexico. 
Facts to Know
Mexico Tourist Card only permits tourist-driven visits to the country. This travel document prohibits in any paid activities.


For travelers from Honduras, it is better to keep printouts of both sides of this document (colored or black and white) if they are entering the country.


The online system requires applicants to give their travel itineraries such as flight numbers and airline name.


They must have a passport that is valid for at least 180 days.


They can also apply for a Tourist Card within 30 daysof their arrival in Mexico


Document Upload
When applying online, Honduran citizens need not upload any document. However, they must have the following: 
A valid Honduras passport number


Airline Name and Flight Number of the traveler to Mexico
Before Entering Mexico
Honduran travelers must be prepared to show the following documents to the immigration authorities at the Mexico airport:
Their Mexico Tourist Card


Their visa


Their passport (the same one used while applying online)
These documents are checked by the immigration authorities. Be mindful that the passport should have a validity of at least 6 months or 180 days.
When You Apply for a Mexico Visa
For those planning to go to Mexico for a holiday, personal tour, in-transit or another purpose, need a valid Tourist Card and a Mexico Visa. They need to apply for a Mexico visa from any Mexican embassy in their country or from any other country where they are physically present. 

The time taken to process a Mexico visa is not the same for every Mexican embassy. It depends on their internal processes. Many Mexican embassies have different timetables of processing visas.
Therefore, applicants must be smart and book an advance appointment with the Mexico embassy to apply for a Mexico visa. This appointment must be in advance of at least four weeks before they are to travel.
Candidates can apply for a Mexico visa at any Mexican embassy in their home country (or a country where they are present). The following steps collate the application process easily:
Schedule a meeting with the officials at a Mexico embassy 


Populate the Mexico Visa Application Form with the appropriate information


Keep appropriate documents handy


Pay visa fee
Usually, Mexican embassies would display the visa processing time taken by them, on their webpage. Even otherwise, applicants can secure this information from the embassy authority they are applying from. 
The visa processing time could be either 2 business days to 10 business days, as per the Mexican embassy's location. Few embassies also advise their applicants to schedule an appointment at least four weeks prior to their travel.