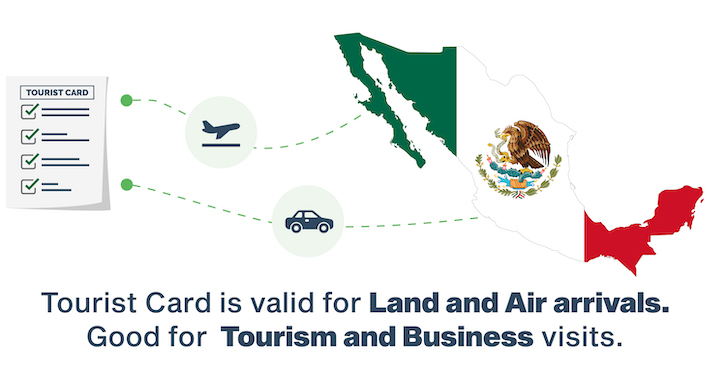 Having the largest number of UNESCO World Heritage Sites in the North American region, Mexico is packed with natural wonders, manmade creations, rich and diverse history, pristine beaches, and top-notch museums.
Haitian travelers won't be surprised by the larger number of tourists traveling to Mexico every year to feel and enjoy a slice of paradise.

Cititizens of Haiti will love that Mexico in essence is very much like America, but Mexico is much more affordable than its American countries.   
The travel entry requirements for Haitian tourists to Mexico are not complex.

They just need to carry three documents: a Mexico Tourist Card, a Mexican Tourist Visa, and a Haitian passport. The Mexican visa is legal permission that allows entry as a foreign national into the country.
The Tourist Card ensures that they don't overstay in the country. It also gives the authorities an idea about their whereabouts.

Procuring the visa and the Tourist Card is smooth and hassle-free if they are a bit proactive and alert.
The government of Mexico has a tourist-friendly approach as tourism is a big revenue-booster for the country.

Acquiring a Tourist Card online is easy and hassle-free.

Ideally, you should apply for it online because many airlines have stopped offering this facility during flights.
Haitian travelers should know that Mexico Tourist Card is valid for tourism and business visits only.

Business visits imply that you can go for business meetings, company huddles, etc. in Mexico. You are not permitted to take up any job or professional assignments.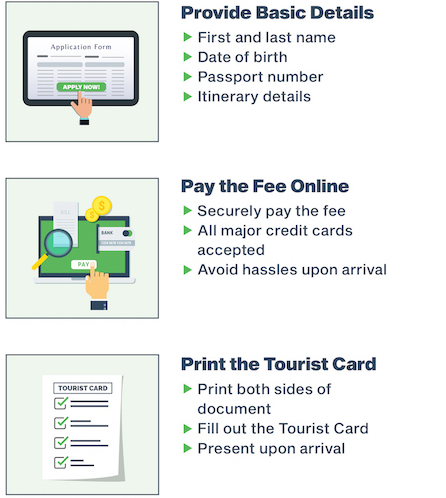 Tourist Card Application Process for Haitian Citizens
Getting a Tourist Card issued by the Mexican government is not at all difficult.

Being a Haitian traveler, they just have to fill out the Forma Migratoria Múltiple (FMM) to give an assurance that you are a genuine tourist and you have no intention to overstay in the country for any other reason.
It ensures that they will return on the date mentioned in the Mexico Tourist Card. The details and documents that you will need at the time of Tourist Card application are:
Haitian passport


Flight information details


Proof of residence


Proof of hotel booking
The steps for acquiring a Tourist Card are:  
Go to the Natvisa form.


Read the online form carefully before filling it out. 
 
Enter specific personal details in respective fields.


No need to upload any documents. 
   
Keep your Haitian passport handy.  
  
Ensure that the information shared is error-free.    
The Mexico Tourist Card is a mandatory document for everyone in Haiti including children and aged people. 
Instructions for Haitian Travelers
Mexico boasts amazing cultural attractions, beaches, exciting nightlife, culinary delights, etc. 

They can take a lazy stroll to the lush jungle in the Yucatán Peninsula, view the natural wonders in Oaxaca, or choose to explore the culture in the capital Mexico City.
The popularity of Mexico as a fascinating tourist destination is at its peak these days.

Haitian visitors and their family member will enjoy every moment they spend in this great nation.
However, the Mexican government has also imposed some travel entry restrictions for tourists which they expect you to abide by.

Being a tourist visa holder, they are prohibited from taking any temporary or long-term professional assignment.
Mexico offers you every possible assistance for tourists and in return, you have to abide by these Mexico travel restrictions.  
Documentation Process for Mexican Tourist Card
The documentation process for obtaining a Tourist Card online is quite easy and straightforward:
They should have a Haitian passport with at least six months of validity.
They will have to share your personal details and travel itinerary details while filling out the application form for the Tourist Card.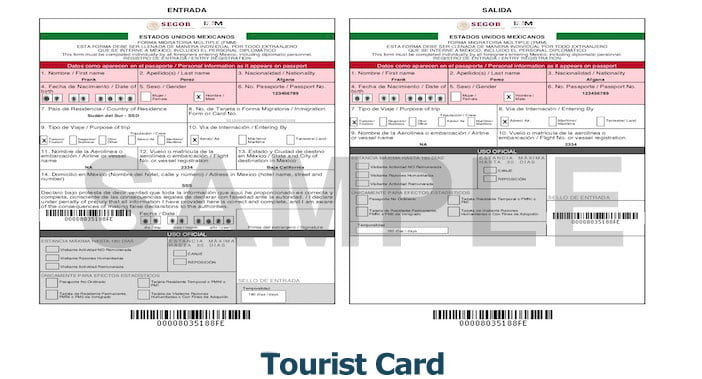 Entering the Mexican Territory
Mexico is a traveler's delight as it is rich in gastronomical variations, tropical forests, and archaeological sites.

To enter Mexican territory, they will have to show the newly acquired Tourist Card and visa apart from your Haitian passport to the immigration officials at the airport.
So, keep these documents safe and handy. Do the necessary research to find out fabulous budget-friendly accommodation deals online.

Booking your hotel or holiday accommodation in advance will save them from last-minute hassles.   
Mexico Tourist Visa Application Process
The Mexico Tourist Visa application process for Haitian citizens is not very tedious.

However, they should be a little cautious and you will have to do a little leg work like visiting the Mexican embassy in Haiti (or where available).

Haitian citizens should do some online research to know the time it takes to obtain a Mexican visa in the area.
Receiving a Mexican visa may take up to 30 days.

To avoid any last-minute surprise, they should initiate the process well in advance.

Follow the five steps listed below to acquire a Mexican visa:
Schedule an appointment with the nearest Mexican embassy in advance.


Research thoroughly about the process and be prepared with all the questions about it.


Make sure that the personal information shared is 100% accurate.


Provide photocopies of required documents including passport-sized photos, National Identity Card, proof of residence, proof of hotel booking, and flight details.


Finally, pay the applicable Mexican visa fee.