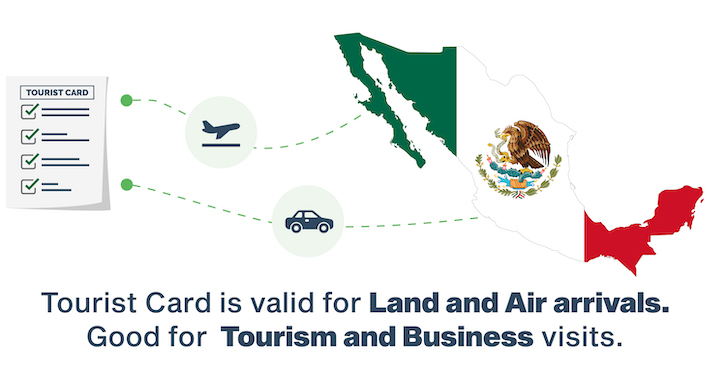 What to look for when in Mexico?  
Mexico is a one-stop destination for all the tourists who want to experience a twist of tropical with a hint of traditional in their next trip. Explore the beautiful offshore waters, sand beaches, and mesmerizing sunset avenues when in Mexico. 
Some of the most visited tourist destinations in Mexico include the coastline of the Gulf of Mexico, Yucatan peninsula, Mayan ruins, Tulum, and Chichen Itza. You can also try the flavorsome Tacos and nachos when in Mexico. Tortillas and chilaquiles here are to die for.  
The best part of the trip is that it is hassle-free. You don't have to physically go anywhere to apply for the
Tourist Card for Mexico
. Guyanese citizens need to
visit a Mexican embassy
in their country and apply for a visa.
It is recommended that you apply for the Tourist Card online because many airlines have stopped handing out the application form during flights to Mexico.
Enter your valid passport number on the form and pay the fees. You will get your Tourist Card at your registered email ID in a quick time. Note that the Tourist Card authorizes you to enjoy all the sights and sounds of Mexico.
You can also go for business meetings during your stay. However, you shouldn't commit to any professional engagement or job as a Tourist Card holder.


What are the documents needed by Guyana citizens to travel to Mexico? 
Citizens of Guyana are required to apply for a Tourist Card and a Visa for visiting Mexico. However, the online process has made applying for the Tourist Card very easy. To obtain a visa, you will have to visit the nearest Mexican embassy and apply for it. Note that you must keep hard copies of the visa and the Tourist Card handy at all times during your travel.   
How to Apply for Tourist Card Online?  
The good news is that the processing for a tourist card can be done online without physically going anywhere. Ensure that the application is accurately filled to avoid rejection of the application. The application processing time varies from country to country.   
The process is very simple and easy to follow. The main steps are:  
Go to the relevant website and fill out the Tourist Card form correctly.


Add your Guyanese passport number to the form.


Make sure your passport is valid for at least 180 days from the date of application.


Make the payment. You can do so with your credit or debit cards.


Your Tourist Card will be mailed to you on your email ID.


Take out the printouts of your Tourist Card from both sides.  
What documents have to be uploaded when applying for Tourist Card online? 
No documents need to be uploaded by you at all. All you need to have is a valid Guyanese passport with at least 6 months validity from the date of departure and make sure all the details are mentioned correctly. Make sure you apply for the visa and tourist card four weeks in advance of your travel.
This is advised as the processing time for a visa varies for different countries. It may vary between 2-30 days depending upon the country you are hailing from. Keep your tourist card, and your travel tickets handy for when you arrive at the airport, and don't forget to carry copies of the same for emergency purposes.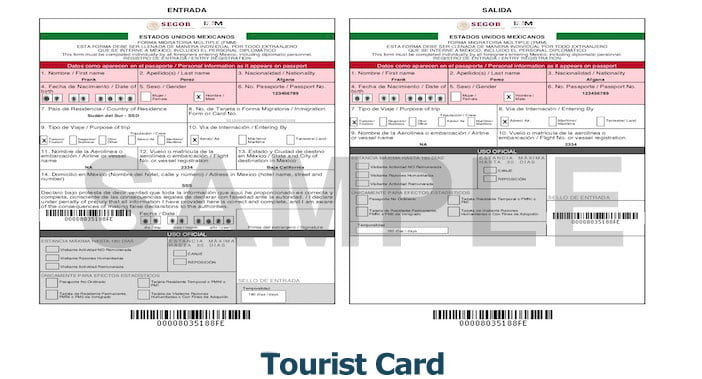 Are professional activities covered in the Tourist Card?  
No. Tourist cards are only and solely for tourism purposes. No professional activity must be carried out in wake of that. You can engage in various tourism-related activities and business meetings only.  
How can Guyanese citizens apply for a Mexico Visa?
Apart from the Mexico Tourist Card, Guyanese tourists will need a visa to enjoy a fabulous vacation in Mexico. You can apply for a Mexico Visa by booking an appointment and visiting any Mexican embassy in your country.
Note that the processing time for a Mexico Visa differs at every embassy, and it all depends on their style of operation. It is important that you book an appointment with a Mexican embassy at least four weeks in advance so that you won't have to face last-minute hassles.
Visa applicants from Guyana like you also have the flexibility to apply for it at a Mexican embassy in their own home city or from a country where they are currently based at. You just need to follow a few easy steps to acquire a Mexican visa:
Schedule a meeting with the officials at a Mexican embassy  


Fill out the Mexico Visa Application Form accurately


Keep the important documents like passport ready


Pay the required visa fee
Probably, the website of the Mexico embassy from where you applied would display different times in terms of visa processing. You can get this information from various embassy officials who are stationed to take care of it.
Note that the processing time for your visa maybe 2 to 10 business days, and this entirely depends on your location. The fact is that most embassies usually notify the applicants regarding their visa appointment schedule before a month of their travel to Mexico.