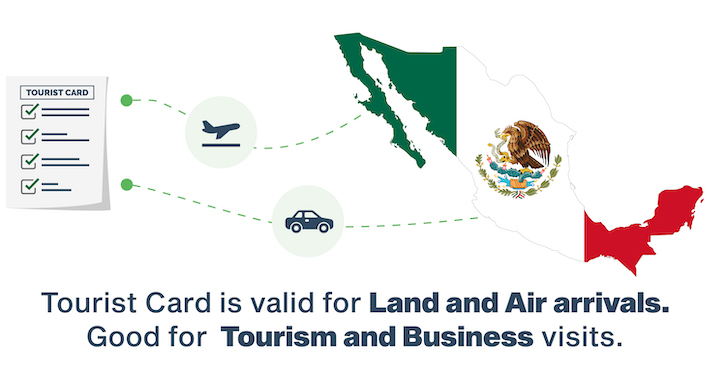 The historic city center (Centro Histórico de la Ciudad) in Mexico is a 15-square-kilometer UNESCO World Heritage Site boasting more than 1,400 important colonial buildings from the 16th to the 19th centuries. A Mexico Tourist Card is what Guinean citizens would need to take a trip to this country, besides a visa.
The approval and grant of this travel document come from the National Immigration Institute, with the purpose of tourism. For travelers from Guinea, it is imperative to have a visa to enter Mexico. To apply for the Mexico visa, they must contact the embassy.

Entering Mexico via air or land without a Mexico Tourist Card is illegal. The Electronic System that was launched in 2015, made it easier to apply online. Also, travelers waiting to make their visit happen can apply for it 30 days after they reach Mexico though it is seriously recommended that they apply online.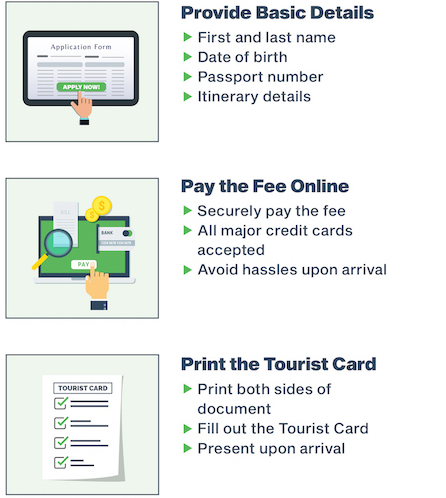 Mexico Tourist Card – It is this Easy
Being completely electronic, the entire process is as easy as you have always wanted it to be. It can be easily summed up in three simple steps. 
What is the First Step in Applying Online?
It all begins with filling the online form. Guineans must enter the particulars asked for online. Then they must go through the information again just to make sure that it has been filled right.
Wrong information or erroneous details are the biggest reasons to cancel the application. While applying online, tourists must provide details (Airline Name and Flight Number) of their arrival flight in Mexico.
What documents do I need to upload?
Applicants Need Not Upload Any Documents. The online process does not require the applicants to submit any document. They must, however, fill in a valid passport number for successful closure of the application process.
Is there a Payment to be done?
After filling the information, the fee needs to be paid using a credit or debit card.
What happens then?
The Tourist Card will soon be emailed to the applicant on the email id given in the form after it has been processed.
Is there a need to carry any hard copies?
Just in case the email system creates a problem it is a good idea for travelers to download and print the travel document. They must take hard copies of both sides of the Mexico Tourist Card and keep it with them on their trip to the country. These documents are checked by the immigration officials at the airport. 
What does a Mexico Tourist Card prohibit?
This Card only permits trips for tourism. It prohibits engaging in any kind of employment or paid activity during the trip.
Is there a need to keep printouts of documents?
Guineans must keep printouts of this travel document with care while entering the country through any Mexican airport.

What documents are required for applying online?
The online system does not require submitting any document. Travelers from Guinea, when applying for a Mexico Tourist Card, must have the following ready: 
A passport with 180-day validity since their arrival in Mexico.


Their landing flight details such as airline name and flight number
What Must Visitors Carry on Reaching Mexico?
To enter Mexico, Guineans
need a Mexico Tourist Card, a visa and a valid passport. The passport validity should not be less than 180 days and also must be the same one used to apply for the visa. The immigration officials at the Mexico Airport will go through these three documents.
The Basics of Mexico Visa Application
Guineans who are deciding to travel to Mexico for a fun venture, an excursion, a holiday, in-transit or for any other purpose, must have a valid Tourist Card and a Mexico Visa. Applying for a Mexico visa can be done from any Mexican embassy within their homeland or from any other country where they are stationed at, at the time of applying. Travelers from Turkey, Russia, and Ukraine are better off applying online, via the Electronic Travel Authorization (Sistema de Autorización Electrónica, SAE) for a Mexican Tourist Visa online.
The time needed for finalizing a Mexico visa is not the same at every Mexican embassy. It differs with their method of operating. Many Mexican embassies have different time frames to process visas.
It is, therefore, necessary that applicants book a meeting to apply for a Mexico visa with the Mexico embassy they plan to apply from. This appointment must be booked at least four weeks before their travel date.
Citizens from Guinea have the leeway to apply for a Mexico visa at a Mexican embassy in their own country (or from a country of their presence). The application process can be summed up into the following steps:
Fix a meeting with the Mexico embassy 
 
Fill the Mexico Visa Application Form particulars


Cross-check and keep ready appropriate documents


Pay visa fee
Certainly, the webpage of the Mexico embassy from where the applicant has applied would display the visa processing time. If not, applicants can get this information from the embassy officials of the embassy they are applying at. 
The visa processing time may run from 2 business days to 10 business days, contingent upon the Mexican embassy's location. As a matter of fact, some embassies notify applicants to schedule their appointment at least four weeks before their travel.