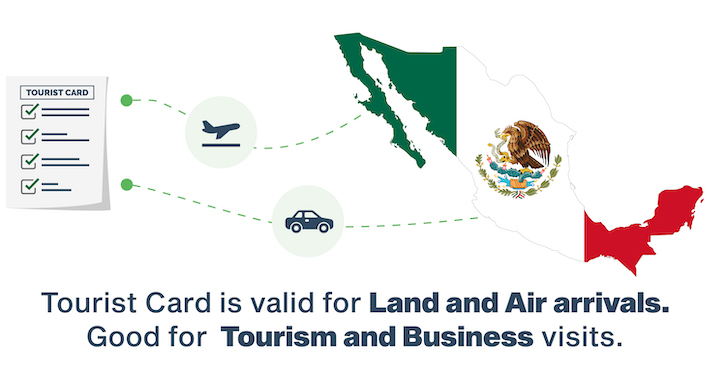 Mexico can be the dream destination for Guinea-Bissau citizens looking for a peaceful retreat. Mexico has everything to keep visitors engaged and thrilled. The natural and manmade attractions have been luring travelers to stay in Mexico forever.
Mexico is a visitor-friendly destination that has been attracting thousands of tourists every season. Guinea-Bissau citizens will need a visa and a Mexico Tourist Card to go to Mexico for a short or long vacation. The Tourist Card is mandatory and it is not a replacement for a visa. 
Ideally, you should apply for the visa at least 30 days prior to your journey to Mexico. You need to book an appointment and visit the Mexico embassy in your city or country to apply for the visa.
However, obtaining a Tourist Card is quite easy because you can apply for it online. This is also highly recommended because many airlines have stopped providing this facility during flights to Mexico.
You just have to fill out the application form carefully to avoid errors or discrepancies. The processed Tourist Card will be sent to you through email. The Mexico Tourist Card authorizes you to engage in tourism-related activities and business visits.
Business visits include various meetings with onsite or offsite colleagues, client meetings, etc. You are not permitted to engage in any paid activities or job assignments.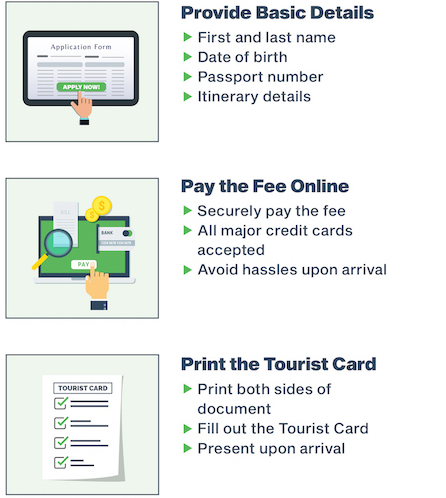 Tourist Card Application Process 
Travelers from Guinea-Bissau can acquire a Tourist Card in a short time if they apply for it online. They just need to follow the simple steps mentioned below:    
The Tourist Card application form has to be filled out accurately so that it doesn't get rejected.  
 
During the Card application, uploading of any document is not required. 


A valid Guinea-Bissau passport will be required while finalizing the Card application form.  


The processed Tourist Card will be sent to the applicants via email.     
Once the Card is received, travelers need to take its clear printouts of it in "color" or "black & white". They will have to show the printouts to the immigration officials present at the Mexican airport, where they land.   
Instructions for Guinea-Bissau Travelers
Myriad travelers from Guinea-Bissau visit Mexico every year in search of a peaceful and refreshing holiday break. Mexico has everything to make a vacationer's dream come true. The impeccable natural beauty of the country will entice visitors to stay there forever.
However, travelers are not permitted to take up any job or professional assignments during their stay as tourists. They will have to share their travel details including flight numbers and flight tickets while applying for the Mexico Tourist Card.
Documentation Process
When you apply for the Tourist Card, you will have to keep certain documents handy. The documents you will need are:     
The Guinea-Bissau passport that has a validity of at least 6 months.
  
The personal details you share on the form should match those in your passport.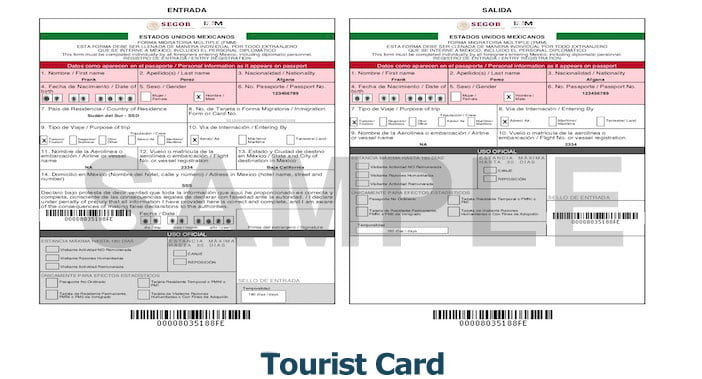 Getting into Mexican Territory
Mexico is home to some of the finest holiday attractions and activity-centers. You can enjoy a comfortable stay at an affordable price. Book your accommodation and travel tickets in advance to get the best deal. A little online research will help you in checking out the options available.
As you get set for the trip, don't forget to carry the necessary documents. The must-have documents include your Guinea-Bissau passport, the visa, and the Mexico Tourist Card. You need to present these documents at the immigration counter when you reach Mexico.   
Mexico Visa Application Process
Opting for a Mexican vacation can be a great gift for you and your loved ones. This can be the perfect opportunity to take a break from the mundane city life and enjoy the beauty of Mexico.
As a Guinea-Bissau citizen, you will have to obtain a Mexico Tourist Visa and a Mexico Tourist Card to travel to any Mexican tourist hub. You can apply for the visa by visiting a Mexican embassy in your country.
You should also note that the processing time for a Mexican visa may differ in various countries. It basically depends on the country or embassy from where you would like to apply for the visa.
This means that you would be able to acquire a visa within a time limit of two days to 30 days. To avoid any last-minute hassles, you should go for the visa application at least a month in advance.   
The visa application process can be very simple and easy if you follow the steps listed below:
Book an appointment and visit the nearest Mexican embassy in your country.
 
Fill out the Visa Application Form carefully to avoid any errors.


Attach the necessary documents at the time of submission of the application form.


Pay the visa fee once you submit your application form.
Doing online research will help you save a lot of your time while applying for a visa. This research will help you in knowing the exact visa processing time in various Mexican embassies. Every embassy has its own operation style, so being a little prudent would be beneficial for you eventually.