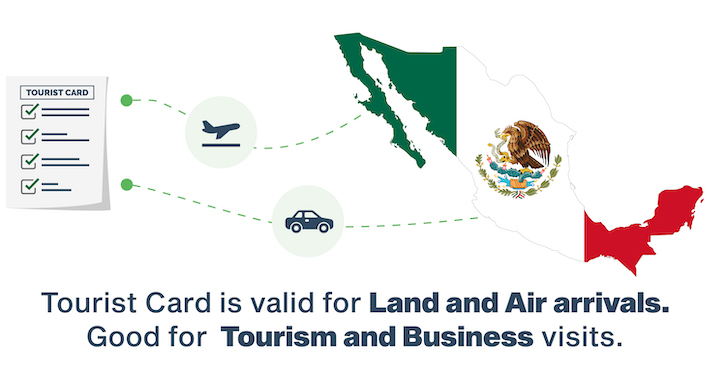 Chapultepec, more commonly called the "Bosque de Chapultepec" in Mexico City, is one of the largest city parks in the Western Hemisphere, measuring in total just over 686 hectares. This is just one of the many picturesque spots in Mexico that Georgia citizens can explore once they visit this country.
However, to make this happen, they would require a visa and a Mexico Tourist Card. They can apply for the Mexico Tourist Card online. This document comes from the National Immigration Institute in order to boost tourism.


It is vital to know that the Tourist Card is different from a visa and tourists from Georgia must have both the documents to enter Mexico. To get a visa, they must contact the embassy. Irrespective of their travel; by land or by air, Georgian citizens must have a Mexico Tourist Card.


In 2015, with the electronic process, applying for an ETA or Tourist Card online became popular. In this process, which has strong recommendations, applicants receive the Card on their email IDs.
Keen travelers benefit from applying online, as it leaves them with ample time and convenience because of not having to visit an embassy or wait in queues to get an appointment.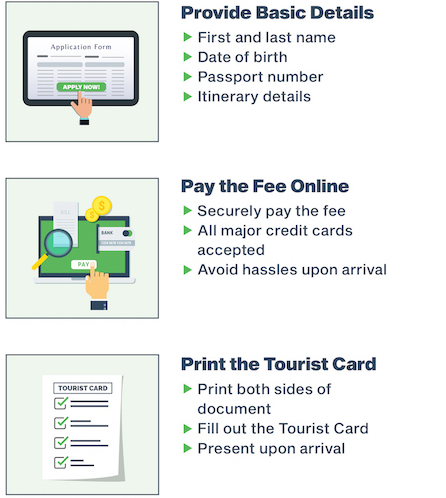 Georgia Citizens Applying Online

Applying online is the best way to try for the Mexico Tourist Card. This is how it works: 
Filling the Application Form Online: 
To kick off the process, Georgian travelers must fill in their information online. Check the information that has been filled in to be on the safer side. 

No Upload Needed: Making it easier for the applicants, no documents need to be uploaded in the online process. They only need to submit a valid passport number.
Fee Payment: 
The process concludes with payment of the fee. This requires a valid credit or a debit card.
The applicant is also required to enter his email ID while applying online. After it is processed, the Mexico Tourist Card mailed to the applicant.
Travelers must as a precautionary measure keep printouts of both sides of this travel document with them on their way to Mexico. It will be checked by the immigration officials at Mexico airport.
Critical to Know for Applicants of Mexico Tourist Card
The following points are to be kept in mind:
Only tourist activities are allowed on the Mexico Tourist Card. Visitors are prohibited to indulge in any business or paid activities such as job or professional services, on this Card.


Visitors from Georgia must keep hard copies of this document when they enter the country through any Mexican airport.


While applying online, travelers must enter their flight tickets numbers and airline details in the form.

Essential Documents 
Though Georgian citizens are not required to upload any type of document when applying online, they must have these handy: 
A passport with a validity of 6 months or 180 days from the date after they arrive in Mexico.


The airlines and ticket information of the arrival flight into Mexico.
What After Reaching Mexico
Visitors from Georgia must have three documents handy to enter Mexico:
A Mexico Tourist Card


A visa


A valid passport
To recapitulate, a visa is also compulsory in addition to the other two documents. These documents are reviewed and cleared by the immigration authorities before the travelers are allowed into Mexico. Regarding the passport, it must be the same one used in the online application and must have six-month validity.
Know This to Apply for the Mexico Visa
Planning to travel to Mexico from Georgia on vacation, tour, adventure or in-transit? Then you must have a valid Mexico Tourist Visa and a Tourist Card. You can apply for a Mexico visa from any Mexican embassy in your residential country or a different one where you may be present while applying. The time taken to process a Mexico visa differs from one Mexican embassy to another. Various Mexican embassies may have varying visa-processing time-frames. Georgian citizens must therefore book an appointment for a Mexico visa with the parallel Mexico embassy at least four weeks earlier their envisaged travel date.
They can either apply for a Mexico visa at a Mexican embassy within your country (or in another country). The application process comes in the form of the following steps:
Pin an appointment with the Mexico embassy  
Populate the Mexico Visa Application Form with the information asked for
Gather the associated documents
Pay the fee
The website of the Mexico embassy from where the applicant has applied is likely to display the visa processing time. Besides, applicants can also speak with the embassy officials to know when they would get their processed visa. The visa processing time may range from 2 working days to 10 working days, depending on the embassy applied from. In fact, a few embassies advise applicants to schedule their appointment at least four weeks before their trip.