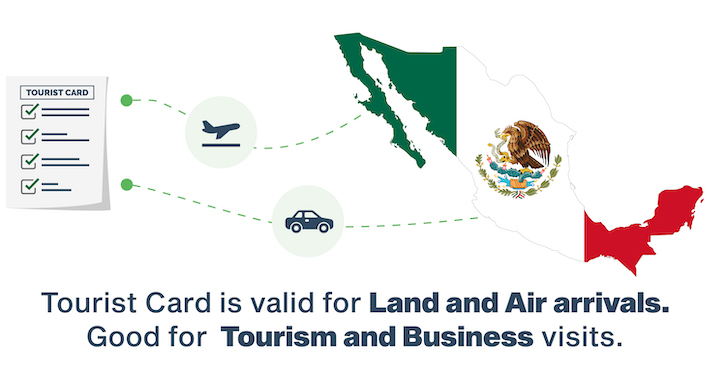 Whether you are looking for a sun and sand vacation or a cultural trip filled with a lot of gastronomical delights, a trip to Mexico can be a dream come for you and fellow Gambian citizens.
You can enjoy the ancient ruins of the Maya civilization, exotic tropical forests, and colonial architecture as you spend quality time with family and friends. You will fall in love with Mexico for the simple reason that Mexico offers everything like the United States but at a much lower cost.
As a Gambian traveler, you will need a visa and a Mexico Tourist Card. Applying and obtain both these documents is not too difficult. You must know that the Mexico Tourist Card is only valid for business visits and various tourist activities.
Your business visits may include offsite office meetings and client visits. Do not try to engage in job-related assignments during your stay as a vacationer. 
In order to acquire a visa, you will have to visit the nearest Mexican embassy and apply for it. In the case of a Tourist Card, you can always apply for it online from the comforts of your home.
Also, applying for the Card online would be ideal because many airlines have stopped handing out the application form during flights. Note that the Mexican visa legally authorizes a foreign national to enter Mexico.
The Mexico Tourist Card on the other hand ensures that you are staying only for the period mentioned in the Card. In short, it validates you are a genuine traveler. Note that the Tourist Card is not a replacement for the visa.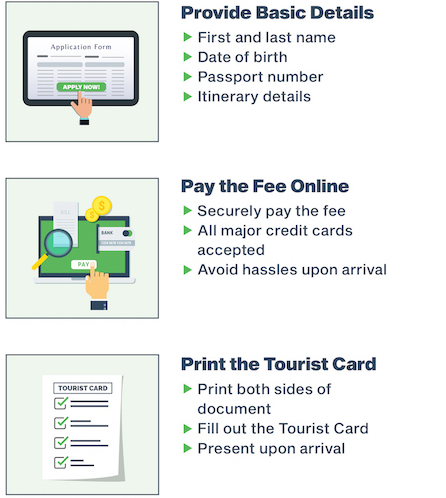 Tourist Card Application Process for Gambian Tourists 
The Mexico Tourist Card is a mandatory document that you need to carry with you. However, obtaining the Tourist Card online is quite simple and convenient. As a Gambian citizen, you just need to complete the Forma Migratoria Múltiple or Mexico FMM form accurately.
The documents and information required to obtain the tourist card Mexico by air are:
Your valid Gambian passport


Flight information details


Proof of residence


Proof of hotel booking
The steps are acquiring a Mexican Tourist Card are given below:  
Visit the online form.


Read the Card application form thoroughly before filling it out.


Uploading of any document is not required.  
    
Keep your valid Gambian passport handy.


Ensure the information shared in the form is accurate.
Note that there is no Tourist Card exemption for children and aged tourists. Every tourist needs to carry this Card during their trip to Mexico.
Instructions for Gambian Citizens 
The life of a traveler in Mexico is amazing. Whether it is the rich heritage diversity, great nightlife, museums, or lush green jungles in the Yucatán Peninsula, you will fall in love with Mexico for sure.
A Mexican vacation can also be a great gift for your loved ones. However, you need to follow certain instructions laid down by the Mexican government. As a Gambian tourist, you cannot take up any job or professional assignment during your stay with a Tourist Card.   
Documentation Process for Mexican Tourist Card 
The documentation process involved in acquiring a Tourist Card online is hassle-free for Gambian citizens. The main factors in the process are listed below:
You will need a valid Gambian passport


During the Tourist Card application process, you will have to share your personal details and other travel-related information including proof of your hotel reservations, flight details, etc.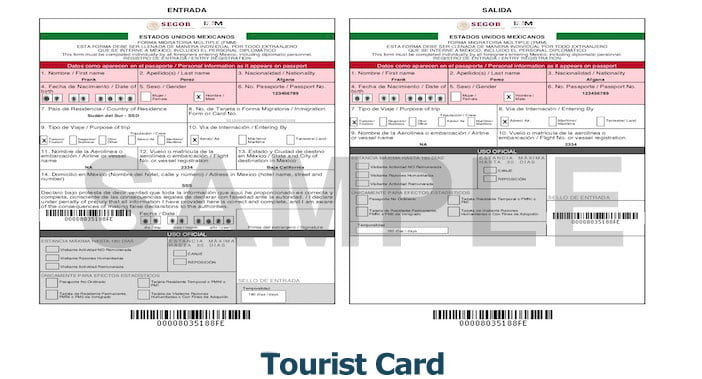 Entering a Mexican Holiday Destination
To enter Mexican territory as a Gambian citizen, you will have to carry few documents with you which include a Mexico Tourist Card, Mexican Visa, and a valid Gambian passport.
These documents will be checked by the immigration authorities posted at the Mexican airport where you would land. Try to get the best deal online and book your accommodation in advance. This will help you in saving a lot of money eventually.  
Mexico Tourist Visa Application Process
The standard Mexico Tourist Visa application process is quite simple; however, you can do it online. You will have to visit the Mexican embassy in the Gambia to apply and obtain it.
Do some research to have an idea of the time of visa processing in the Gambia, which is usually between 2-30 days. The main steps for acquiring a Mexican Tourist Visa are given below:  
Book an appointment before you visit the nearest Mexican embassy.


Fill the Tourist Visa form correctly.


Attach the required documents such as passport-sized photos, National Identity Card, proof of residence, proof of hotel booking, and flight details along with the application form.


Pay the required visa fee that is applicable in the Gambia.