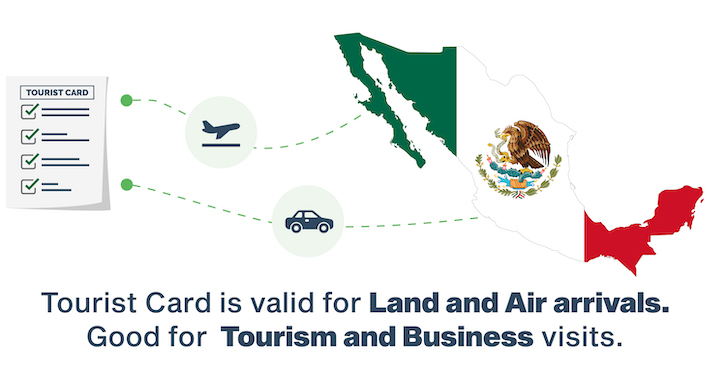 ---
Mexico has always been among the top tourist destinations in the world. Millions of tourists flock to this North American nation every year to enjoy a relaxing vacation. Don't be surprised when reliable reports say that Cancun and Mexico City alone attract more than two million tourists every year.
The popularity of Mexico has skyrocketed in recent years because the government of Mexico has been focusing on promoting tourism across the country. Like you, a large number of French travelers visit Mexico to have a feel of its bustling downtown, rich cultural history, natural wonders, and gastronomical varieties.
To enjoy all the beauty and grandeur of Mexico, you will require a Mexico Tourist Card and a valid French passport. The best part is French citizens won't need a Tourist Visa fto visit Mexico for a short or extended vacation.
Acquiring a Mexico Tourist Card is quite easy as it can be easily applied online. This is also recommended as your airline may not hand out the application form when you are boarding a plane to Mexico.
The Mexico Tourist Card permits you to engage in activities related to tourism and go on business visits including meetings with colleagues and clients. Avoid getting into a job or professional commitment during your Mexican vacation. 
---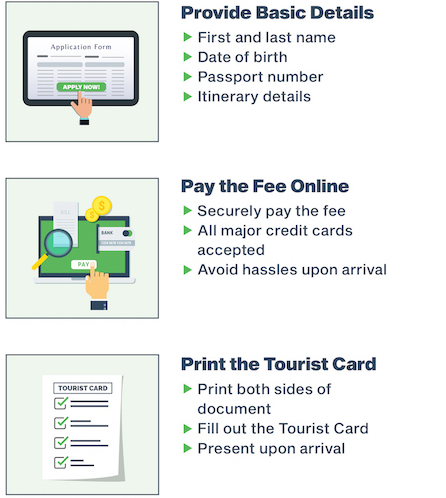 ---
Tourist Card Application Process for French Citizens
As a French citizen, you will have to follow a process to obtain a Tourist Card. You will have to complete the Forma Migratoria Múltiple or Mexico FMM form and submit it online. ­The Tourist Card confirms that you are a genuine French traveler and you have no intention to take up any professional assignment during your stay in Mexico.
The steps to apply and acquire a Tourist Card are given below. You just need to ensure that the form is filled out accurately so that your application is not rejected:
Keep your valid French passport handy. You will need it to finalize the application form.


You will have to share your travel itinerary details including flight numbers, hotel bookings, etc.


Keep your proof of address ready with you.
The application process for the Tourist Card for citizens of France is given below:
Log in to the Mexican Tourist Card website.


Check out the FMM form page and fill it out carefully.


Do not upload any document. 
 
Keep your French passport handy.
   
Make sure that the details you provide are accurate.      
It is to be noted that a Tourist Card is required per person and that also includes children. 
Instructions for French Travelers
As a French tourist, you would be aware of the popularity and reputation of Mexico as a great tourist destination. The tourism department in Mexico is also giving a lot of emphasis on promoting tourism facilities across the country.
During your trip and stay in Mexico, make sure that you don't engage in any job or professional activity. You are expected to stick to your travel plan, and that's the reason why you will have to share your travel plans and flight details at the time of applying for the Tourist Card. 
Documentation Process for Mexican Tourist Card
As a citizen of France, you should keep certain documents ready to obtain a Mexico Tourist Card:       
Your valid French passport


Personal details such as name, address proof, birth certificate, flight details, etc.
---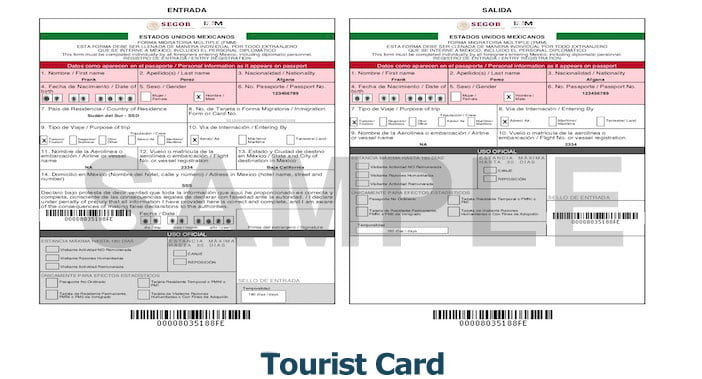 ---
Entering the Mexican Territory
If you are a tourist, Mexico is the place to be as it has everything that a traveler seeks from a tourist destination. You will be amazed by the gastronomical delights, beaches, tropical forests, and archaeological heritage sites, and night-life. To enjoy all these and much more, you need a Mexico Tourist Card along with a valid French passport. All these documents need to be produced before immigration authorities at the Mexican airport when you arrive.   
Things French Travelers Need to Know
As a French traveler, you must get vaccinated and should take all the emergency medicines as well. As per CDC guidelines, you need to be vaccinated for hepatitis A which provides a protection layer against edibles and beverage contamination. You should also carry non-prescription anti-diarrhea medicine while heading to Mexico. You should also carry Cipro to protect yourself from unwanted bacterial infections.


As a French tourist, you must carry a copy of your passport and credit cards in the form of images on mobile phones. However, be careful to eliminate the probability of spurious transactions.


Also, it is advisable to carry some amount of cash as it will be helpful during your initial days in Mexico. Though the official currency of Mexico is Peso, the dollar is also accepted.


It is recommended to register your travel details with the nearest Mexico embassy to receive the latest updates and notifications regarding your trip. It also helps authorities to locate you in case of an emergency. Don't forget to share your mobile number with the nearest Mexican consulate.


Ideally, you should opt for a travel insurance policy to support you during medical emergencies, theft, or other unforeseen incidents.
 
Before returning to your homeland, ensure that you are properly vaccinated.


It is advisable to carry an extra copy of your Mexico Tourist Card during your trip.