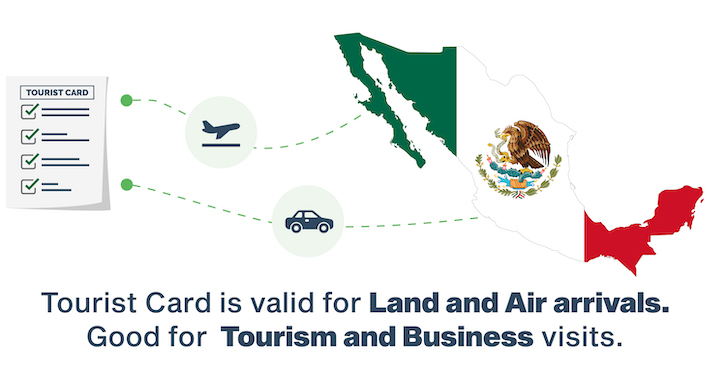 A trip to Mexico is like a dream come true for tourists around the world and it's not without the reason - it is home to the sixth-largest UNESCO world heritages, the mystery of Maya civilization, tropical forests, pristine sand beaches, gastronomical variations, and architecture.
Being a citizen of Fiji, you will cherish every moment you spend in this. North-American nation. A big advantage with Mexico is that it offers a slice of America at a pocket-friendly budget.
As a Fijian traveler, you need to know the travel entry requirements in Mexico. Three documents are to be noted: a Mexico tourist card, a Mexican tourist visa, and your valid Fijian passport.
It is to be noted that the aim of the Mexican visa legally is to allow a foreign national to enter Mexico.  The Tourist Card Mexico validates the period of your stay in Mexico. Obtaining these two documents is not a difficult task provided you are a bit proactive.
Mexico is a tourist-friendly nation and they make every effort to make the life of a tourist simple and hassle-free. You should note that the Mexico Tourist Card permits you only to engage in tourism-related activities and business visits.
Your business visits may include offsite office get-togethers, client meetings, etc. During your stay as a tourist, you are prohibited from getting involved in any form of job assignment or professional engagement.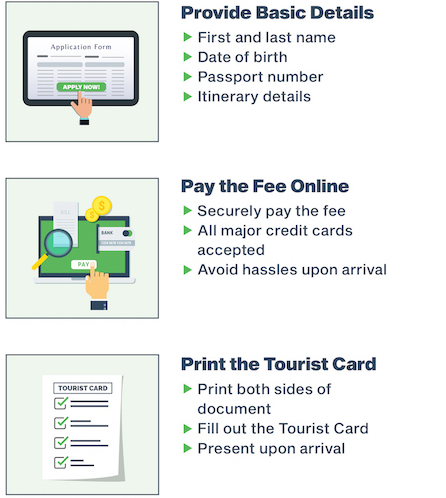 Tourist Card Application Process for Fijian Tourists 
The tourist card Mexico is a critical document for a Fijian tourist who must carry it. The process of obtaining the tourist card Mexico by air is hassle-free and you can complete the entire process online. As a Fijian citizen, fill out the Forma Migratoria Múltiple or Mexico MMM form correctly.
The documents and information required to obtain the tourist card Mexico by air are the following:
A valid Fijian passport


Flight information details


Address proof


Hotel booking detail
Here is the detailed Mexico tourist card process:
Visit the concerned website.


No document uploading is needed.


Keep your valid Fijian passport handy.      
The Mexico tourist card by air is a mandatory document for every foreign tourist and there is no exemption on the basis of age, race, gender, or sex. You receive the card in the email within 2-3 days after the document is submitted online.
Instructions for the Travelers of Fiji

   
Mexico is the happening place and you will gain unforgettable experience as a traveler whether is the diversity of heritage, great night-life, museums or lush green jungles or pristine beaches.
However, Mexico puts certain travel restrictions that you are expected to follow and abide by in both letter and spirit.  As a Fijian tourist, you cannot take up any work-related professional assignment on the tourist visa. The rules of the Mexican government are very strict in this regard and you should not violate these laws.
Documentation Process for the Mexican Tourist Card  
The documentation required for acquiring a Mexico Tourist card is simple and straightforward. 
Your valid Fijian passport having at least 6 months of validity left from the date of travel.


Basic details such as proof of hotel reservation, flight details, etc.
Match the information on the tourist card Mexico to ensure it is correct before taking out a color or black & white print.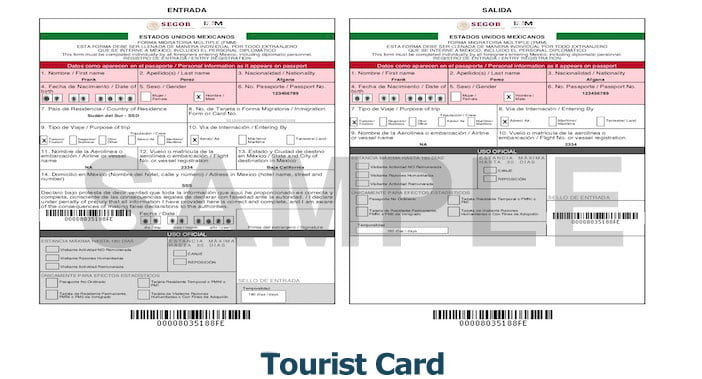 Entering the Mexican Territory
Getting into the Mexican territory is smooth and hassle-free for tourists. As a tourist from Fiji, you'll require to produce three documents namely: a Mexico Tourist Card, a Mexican Visa, and your Fijian passport before the Mexican immigration authorities at the time of checking out at the airport.
Mexico is not as expensive a destination as the US. If you search for different travel portals and compare the hotel room prices online, there is a good chance of getting a good deal that will further bring down the cost of your Mexican tour package. 
Applying for the Mexico Tourist Visa - FAQs
1. Is it difficult to get a Mexican tourist visa?

A. Getting a Mexican tourist visa is not tedious but it is not as smooth as obtaining a tourist card since the process is not 100% online.

2. Does it require an embassy visit?

A. Yes, you will need to visit the Mexican embassy in your country.

3. What is the processing time for a Mexico tourist visa?

A. It is advisable to keep do some research to find out the ideal visa processing time in your country.  In general, it may take between 2-30 days.

4. What important things must the people of Fiji know regarding the Mexico tourist visa?

A. Here is the detailed step by step visa application process for the people of Fiji: 
Book an appointment at a fixed date in the Mexican embassy.


Visit the embassy on that date and fill the form correctly.


Provide necessary documents such as passport size photo, National Identity Card, proof of residence, proof of hotel booking, and flight details.


Clarify your doubts if any and check the accuracy of details you provided before hitting the submit button.


Pay the required Mexican visa fee applicable in Fiji 
If you are a Fijian citizen, you must have a Mexican tourist visa to visit the country. Nonetheless, beware that this visa does not permit any business and professional activity.