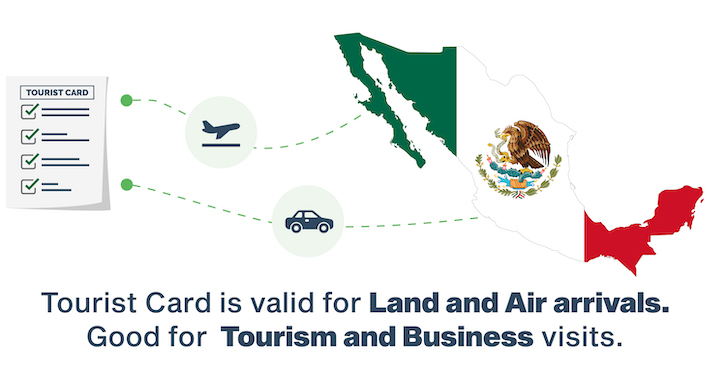 The capital, Mexico City, is a huge metropolis boasting a historical center, top museums, and chic shopping opportunities. Many Ethiopian citizens who would love to spend a great holiday in this place would just need a Mexico Tourist Card, along with a visa.
The National
Immigration
Institute accords this Card principally for tourism. Those who are travelling from Ethiopia would compulsorily require a visa to get into Mexico. To apply for the Mexico visa, applicants must contact the embassy.

Without a Mexico Tourist Card they cannot enter Mexico via air or land. The electronic system had made it very easy to apply for it online. Travelers can also apply for it 30 days after they are in Mexico. However, the online process of applying is strongly recommended.

Applying Online for Ethiopians
The online process for a Mexico Tourist Card is simple and quick. It can be understood as follows: 
Online Filling of Information: 
The first step for Ethiopians is to fill the online application form. Once that is done, they must read it again to ensure that the information is precise and correct. Errors are unacceptable and will result in rejection of the application. 

No Document Soft copy Required: No soft copies are required to be uploaded by the applicants when applying online. A valid passport number will be required during the application process.
Online Fee Remittance: 
Finally, the fee is to be paid via a credit or debit card. The processed Tourist Card is emailed to the applicant on the email id given in the form.
To safeguard against any unforeseen issue with the email system, it is advisable to keep a print copy of the travel document.
This hard copy must be of both the sides of the Mexico Tourist Card. Travelers should have it during their trip to the country. The hard copy may be black and white or colored.
Heads Up for Mexico Tourist Card Applicants
No visits besides those with the objective of tourism are allowed on the Mexico Tourist Card. Any kind of paid activity such as employment or similar during on this Card is a strict no-no. Ethiopians should keep with them hard copies of this travel document while entering the country via any Mexican airport. While applying online, they are also asked for their airline name and flight number of their arrival flight in Mexico.

No Softcopies to be Uploaded
The online system does not require uploading of any documents. When travelers from Ethiopia apply for a Mexico Tourist Card, they must have the following: 
A passport with 6-month validity after they have arrived in Mexico.


Their arrival flight details such as airline name and flight number
When Entering Mexico
To enter Mexico, Ethiopians would require a Mexico Tourist Card, a visa and a valid passport. The passport should have a validity of not less than six months and must be the one that was used to apply for the visa. These documents will be checked by the immigration officials at the Mexico Airport.
All You Wanted to Know About Applying for the Mexico Visa
If you are or intend to travel to Mexico, be it for a vacation or other, or in-transit, you should know that an endorsed Mexico Tourist Visa and a Tourist Card are required. You can apply for a Mexico visa from any Mexican embassy which may be in your country or a foreign country. The duration for processing a Mexico visa depends upon the Mexican embassy where the applicant has applied. Different Mexican embassies may have different visa-processing durations. It is essential for applicants, hence, to fix an appointment for a Mexico visa with the corresponding Mexico embassy at least 4 weeks ahead of their planned travel date.
You may apply for a Mexico visa at a Mexican embassy within your country (or in any other country). The application process is made up of the following steps:
Fix an appointment with the Mexico embassy  
Fill the Mexico Visa Application Form
File the relevant documents
Fee payment for the visa
The Mexico embassy where the applicant has applied from has the visa processing time mentioned clearly. Notwithstanding, applicants can also communicate with the embassy officials to query about the time taken to process their visa. The reason for this is that every embassy has a different timeframe for visa processing, which may range from 2 working days, whereas the other might take 10 working days. By the way, some embassies advise applicants to schedule their appointment at least four weeks before their trip.