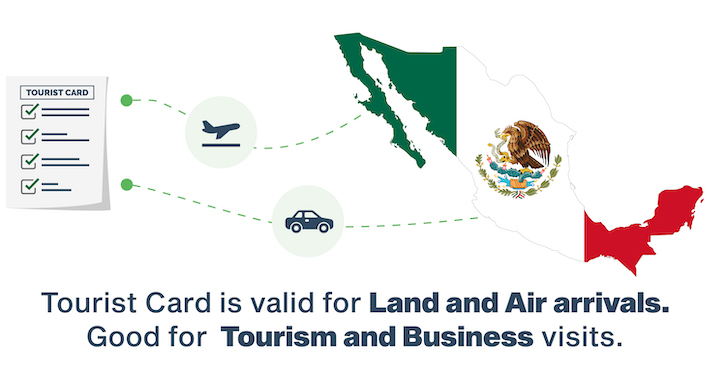 What makes Mexico so Irresistible? 
If you are looking for a vacation amidst colonial cities, beach resorts, nature reserves, and a cultural extravaganza, Mexico is the place you go! Check out the amazing crowd pullers like Yucatan Peninsula, Mayan Riveria, and the largest underwater museum. 
Look out for the yummiest tacos or smothering chocolates that are sure to make your taste buds sing! However, ensure that you don't engage in any job or paid services during your stay with a Tourist Card. You are only allowed to enjoy various tourism-related activities and attractions apart from business meetings.  
Citizens of Denmark do not need a visa to travel to Mexico. But you do need a Mexican Tourist Card which can be availed through an online application. All you need to do is sit back in the comfort of your home and fill out the online Tourist Card application form accurately so that it is not rejected.
The next step is to enter the details of your valid passport and pay the fees. This will not only save you a lot of time and effort but also make the process convenient and easy. Online application for the Tourist Card is recommended because many airlines don't offer this service anymore.


What is the process of online application for Mexican Tourist Card?
As a Danish citizen, you will find the application process for a Tourist Card quite simple. All you need to do is log on to the immigration network site and enter your personal details correctly. Once the form is filled, a valid passport number needs to be entered. You can then pay the fees online and receive the Card on your mentioned email ID. 
However, make sure that all the details are filled with utmost care. Take out printouts of your Tourist Card (printed on both sides). Don't forget to keep some extra copies of it during your trip to Mexico.    
Can Tourist Card be used in place of a Visa? 
Tourist Cards are not visas. Note that the Tourist Card can only be used for tourism and business purposes. No paid activity is allowed for Tourist Card holders.   
What documents are needed for the Tourist Card application? 
Danish tourists like you can apply for the Tourist Card online. You won't have to upload any documents during the online application form filling process. You just need to have a valid passport with an expiration date of more than 180 days from your date of travel apart from your airline ticket details. You should keep the printouts of your Tourist Card handy at all times during your travel.


What is the post-arrival process in Mexico? 
Danish tourists just need to keep their passport and Tourist Card handy in case of any inquiries by the immigration officials in Mexico. It is to be noted that the passport must be valid for 6 months from the date of the Tourist Card application. Keep extra hard copies of the essential documents or keep a few pictures of these documents on your mobile phone.   
What are the points to remember for Danish citizens checking in Mexico?  
To enjoy a trip to Mexico to the fullest, all Danish citizens are advised to keep their Tourist Card and passport handy at all times. Make sure you stay hydrated and carry all the emergency medicines with you. Take good care of all your belongings. Make sure you register your stay with a Mexican consulate and share all your travel details with them for emergencies.  
Go through the checklist below for more information:   
You must be completely vaccinated and should carry your daily/emergency medications along with you.


Make sure that your passport is a valid one at least 180 days from the date of your journey.


Keep copies or printouts of all the necessary documents like passport, credit/debit cards with you during the trip. 


Carrying over-the-counter antibiotics and anti-diarrhea medicine is also recommended. 


Carry extra cash than estimated for hospital and emergency use. Peso and dollars are the preferred currencies in Mexico.


CDC advises travelers to get vaccinated for hepatitis-A and typhoid before their visit to Mexico.


Before returning to your country or state, make sure you are adequately vaccinated against various diseases.