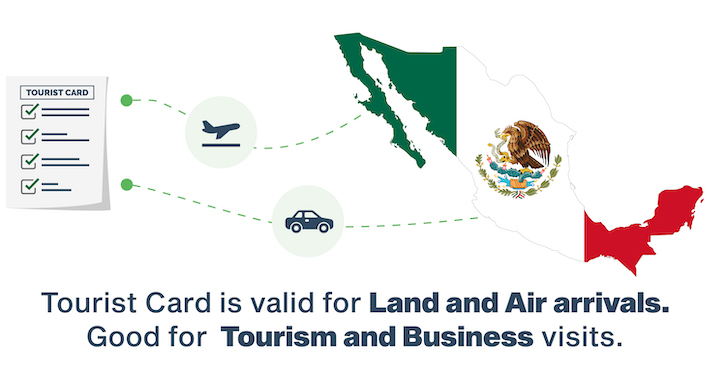 Should you visit Mexico for your next holiday?
Everything about Mexico just attracts a travel enthusiast. Whether it be the silent shuttering of the shores, the sparkle of the sun on the sand, the adventure activities, or the fun and hippy city life, Mexico encases it all.
As a traveler from Croatia, Mexico can be a great honeymoon location or you can go on a family trip here. The Mexican food and the rich culture on the other hand will leave you some happy memories to cherish for years to come.    
So what to do to get to this magical land?
All the interested tourists from Croatia must apply for a Mexican visa along with a Tourist Card in order to enter the lands of Mexico. The tourist card can be applied for online in an easy and fast way with no documents required, while for the visa, one has to visit their nearest Mexican embassy.
However, you can book an appointment with the embassy for the visa online itself. You will get to save a lot of time and effort if you apply for the Tourist Card online which is why this method is highly recommended. Note that you are not permitted to engage in any professional activities or jobs during your stay as a tourist. The Tourist Card authorizes you to enjoy only activities related to tourism and business visits. 


How to apply for the Tourist Card online?  
The process of the online Tourist Card application is as easy as it sounds especially because there are no documents required to be uploaded in this process. All you need to do is follow the steps given below.  
Fill out the application form correctly. Once you have done so, go through the form again to check if you have any mistakes. Correct them before submitting the form. The next step is to put in the details of your passport and flight information.
This is why it is recommended that you keep both the documents handy while filling out this form. Also, you need to make sure that the validity of your passport is more than 180 days from your date of travel.   
You will have to pay the fees and you can do so by choosing to pay via a credit or a debit card. Once you have paid the fees, all you got to do is sit back and relax. You will get your tourist card on the email ID mentioned in your form. Always take out the printouts of your Tourist Card and keep it handy while traveling. You will have to show them to the immigration authorities when you arrive in Mexico.    
What is the checklist to be followed by Croatian citizens? 
Make sure your passport is a valid one which means that it should have a validity of at least 180 days from your speculated day of travel. Take a printout of your tourist card and visa and keep it handy with you at all times during your travel.   
The online process of the Tourist Card application doesn't require any document to be uploaded. This saves a lot of time and trouble for the applicants. It is however to be made sure that you keep your passport and tickets handy while filling out the form.   
No payment activity or business activity is allowed on the tourist card. You may only use the Tourist Card for tourism purposes only.    
Take your time to apply for the visa and the Tourist Card. The processing time may vary between 2-30 days depending upon your country. It is recommended to apply for the visa at least 4 weeks prior to your date of travel.   
Note: You can always apply for the visa in a different country whose processing time is faster to get it quicker.


What is the application process for a Mexican visa? 
You can book an appointment online or in person. Since the processing time varies for different countries, it is recommended that you commence the process at least 4 weeks prior to your date of travel.   
Follow the steps below:   
Get an appointment in the embassy.


Fill out the application form correctly.
Submit the supporting documents and pay the fees.  
You will get your visa within 2-30 days.  
Can we get a Tourist Card from airlines? 
No. This process is not valid anymore. You are advised to apply for the FMM (Forma Migratoria Multiple) card online.  
Can I get a Mexican visa online?  
You can only get a Mexican visa online if you are traveling by air. The Electronic Travel Authority is valid only for one entry and 180 days of stay in Mexico.     
Can I visit Mexico for a Business Meeting? 
Yes, as a Croatian citizen, you can visit Mexico with a Tourist Card for meetings as long as they are not paid activities.