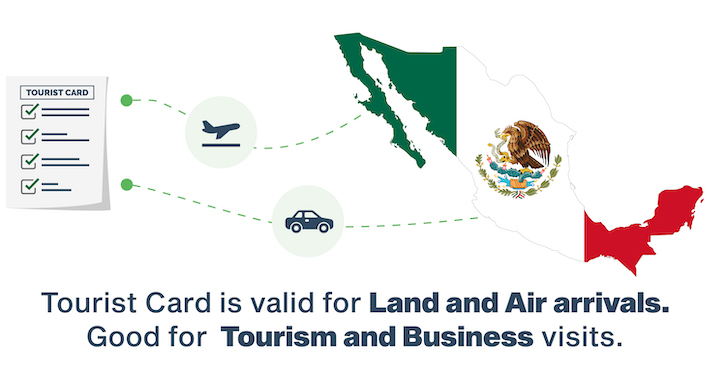 Mexico is not only beautiful, culturally enriching and easily accessible, but it also provides a broad range of options for almost any budget.  To reach this mind-blowing country and to make the best of the opportunities it has to offer for tourists, Colombian citizens need to
get a Mexico Tourist Card
. The good thing about this Mexico Tourist Card is that it can be applied for online.
Is a visa needed for Colombians to visit Mexico?
No, all that is needed for tourism or business visits is the tourist card aka FMM.
The National
Immigration
Institute issues this travel document. This Card is primarily issued for tourism-related activities. 

Colombian citizens would require Mexico Tourist Card if they plan to travel to Mexico using the land route or the air route. They can apply for it online which is thoroughly recommended. After processing, this travel document is sent to the applicant's email id. Travel enthusiasts can benefit from the online application, such that it eliminates embassy visits and long waiting hours. 

Online Application for a Mexico Tourist Card for Citizens from Colombia
The online process results in one big a sigh of relief. This is how it works: 
Populating the Application: Colombian
travelers must populate the Tourist Card application form online. The information they enter must be precise and genuine.
 
Do not Upload Softcopies: In the online process, there is no need to upload any document. The only thing that is required is a valid passport number that goes into the form.
Fee: 
The fee is to be paid finally, via a valid credit or a debit card.
The Mexico Tourist Visa is sent to the applicant's email ID after processing.
Travelers would need to take printouts of both sides of the Mexico Tourist Card and carry it with them while going to Mexico. This is so that the immigration officials can easily check it at the country's airport. 
Mexico Tourist Card Applicants Must Bear in Mind
Travelers should be aware that the Mexico Tourist Card only allows entry and stay in the country with the objective of tourism. It prohibits the holder to indulge in any form of paid activities such as employment or professional services throughout their stay in the country. Visitors from Colombia must keep handy printouts of this document while entering the country through any Mexican airport. The online application also requires travelers to provide information related to their flight tickets in the application form.

No Document Upload
The online process saves the need for Colombian citizens to upload any type of document. They must have the following with them: 
A passport with 6 months validity since they arrive in Mexico.
Airlines and ticket details pertaining to their arrival in Mexico.
Upon Reaching Mexico
Travelers from Colombia would not be allowed to enter the country without the Mexico Tourist Card. A visa is also required. Visitors must have both these in hand, along with their passport upon reaching a Mexican airport. The immigration authorities at the airport will scrutinize these documents. To reiterate, the passport carried by the traveler must be valid for 6 months or 180 days and must be the same that was used to apply for the visa.
Information for Applicants of a Mexico Visa
If Colombians want to visit Mexico for other reasons besides a short term tourist or business visit, you must have a valid Mexico visa. If you are from Colombia, you can apply for a Mexico visa through a Mexican embassy located in any geography across the world. The processing-time for a Mexican visa depends on the embassy where you are applying from. It may take two days to process your visa while others may take up to four weeks, or vice-versa. To be on the safer side, Colombians must book an appointment for a Mexico visa with the nearest Mexico embassy at least four weeks before the tentative travel date.
You can apply for a Mexico visa at a Mexican embassy in your country (or the one nearest to your location). The steps to apply are as follows:
Get in touch with the Mexico embassy to set up an appointment
Complete the Mexico Visa Application Form with the information asked for
Collect the required documents
Submit the application and pay the fee
To know the processing time for a Mexico visa in the Mexico embassy you have applied, you can check their website. You can also contact them to know how long it will take for them to process your visa. Since every embassy works at a different speed and likewise has different processing times. Few embassies recommend that applicants schedule their appointment at least four weeks before they are to travel.