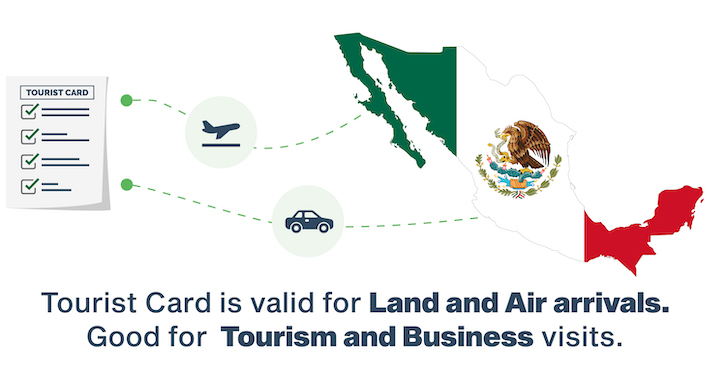 Places such as places like Guanajuato, Chichén Itzá, and Uxmal are often as popular as traditional beach vacation spots like Cancún, Puerto Vallarta, and Playa del Carmen. This is Mexico.
A Mexico Tourist Card
is what Cameroonian citizens desirous of spending a memorable holiday in the country, would need besides a visa. This travel document for Mexico is granted by The National Immigration Institute, basically for the objective of promoting tourism.
It is imperative information that for those travelling from Cameroon a visa is essential to enter Mexico. To apply for the Mexico visa, they must touch base with
the embassy
. To gain entry into Mexico via air or land, it is necessary to have a Mexico Tourist Card.
Since the electronic system has been put into practice in 2015, it is easy to apply for it online. Additionally, enthusiasts can also apply for it 30 days after reaching Mexico but the online process is strongly recommended.

For Cameroonians Applying Online for a Mexico Tourist Card
The electronic system makes the entire application process quick and hassle-free. These three simple steps wrap up the whole online process: 
Application Form Filling: 
Cameroonians need to fill the application form online. They must ensure that the information is precise and correct. Any misinformation or incorrect details will lead to rejection of the document. 
No Document Upload:
When applying online, applicants need not submit softcopies of any document. They must, however, fill in a valid passport number for the culmination of the application process.
Payment of Fee: 
Finally, it's time to pay the fee. This is done using a credit or debit card. The Tourist Card will soon be emailed to the applicant on the email id given in the form.
To be independent of the email system, travelers must download and print the travel document, if they have the choice.
Printouts of both sides of the Mexico Tourist Card must be taken and kept by the travelers during their trip to the country. They will be inspected by the immigration officers at the airport. 
Important to Remember for Applicants
Mexico Tourist Card allows visiting the country only for tourism. It disallows engaging in any kind of employment or activity that results in payment during this visit. Cameroonians must keep printouts of this travel document safely when they enter the country through any Mexican airport. The online application requires tourists to provide details (Airline Name and Flight Number) of their arrival flight in Mexico.

No Softcopies to be Uploaded
The online system skips the step of submitting any document. Travelers from Cameroon, when applying for a Mexico Tourist Card, must be having the following: 
A passport having 180-day validity since their arrival in Mexico.


Their landing flight details such as airline name and flight number
On Reaching Mexico
For entry into Mexico, Cameroonians will need a Mexico Tourist Card, a visa and a valid passport. The passport validity should not be less than 6 months and also must be the same one used to apply for the visa. The immigration officials at the Mexico Airport will go through these three documents.
The Mexico Visa Application
Those who are traveling from Camaroon to Mexico, as a destination or in transit, need to obligatorily have a valid Mexico Tourist Visa and a Tourist Card. Whether they are in their country of residence or a different country, they can apply for a Mexico visa from a Mexican embassy near them. 
The duration of processing a Mexico visa is different for every embassy. Some embassies may just take two business days, whereas others may take four weeks to process it. Cameroonian applicants must therefore be smart enough to book an appointment with the respective embassy four weeks or more, prior to the planned travel date.
Here are the steps comprised in the Mexico visa application process:
Contact the Mexico embassy to schedule an appointment
Fill the Mexico Visa Application Form
Organize the necessary documents
Submit the online application
Pay visa fees
Applicants can know the time their respective embassy will take to process their visa by referring to its website. Optionally, they can speak to the officials there to find it out. This is because all embassies have different processing deadlines. In reality, some embassies also advise applicants to schedule their appointments at least four weeks before your trip.