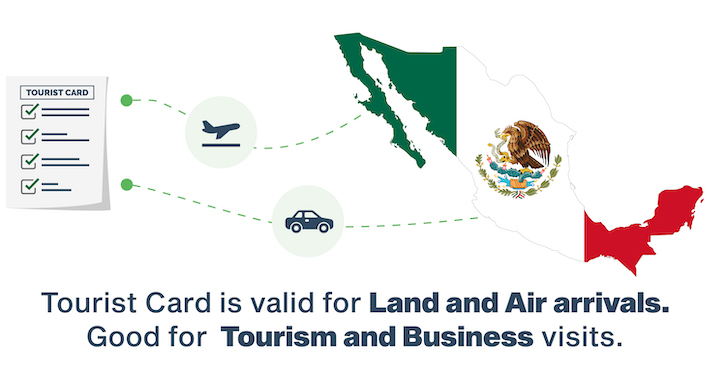 Mexico is majorly all about beach resorts on the Caribbean Sea and the Pacific Ocean. Some of Mexico's beach destinations were once towns that gradually gained popularity as tourist destinations while others were conceived as resort towns from the outset. To have a great time and rejoice in this country of wonders, Burkinabe citizens must
possess a Mexico Tourist Card
, which is required in conjunction with a visa.
The online applying process, which is strongly recommended, makes the procedure to procure a Mexico Tourist Card for Burkina Faso as easy as ABC. The National Immigration Institute regulates the issuance of this travel document, basically for tourism. Travel enthusiasts and visitors from Burkina Faso must have a visa before coming to Mexico. To apply for a visa they may get in touch with the embassy.

Burkinabe citizens can obtain a Mexico Tourist Card if they wish to travel to Mexico by air or land. Using the electronic system established in 2015, travelers can apply for an ETA or Tourist Card online hassle-free. This is sent to the applicant's email ID after its processing.
The time saved during online application can be used to make arrangements for the trip, which would have been otherwise wasted in embassy visits and securing appointments. 

Mexico Tourist Card for Burkinabes – Applying Online
Applying for and acquiring a Tourist Card through the electronic system is an unimaginably problem-free process, which can be understood as follows: 
Enter Details in the Application Form: 
Burkinabes may fill the application form available online. Make no mistakes in filling it. 
Document Uploading Eliminated:
The online form requires no documents to be uploaded. A valid passport number, nevertheless, needs to be entered.
Email ID
: Applicants must enter their operational email ID to receive the Tourist Card on it.
Paying the Fee: 
The applicant must have a valid credit or debit card and use it to pay the fee.
Applicants must keep print copies (both sides) of the Mexico Tourist Card on their trip to Mexico. 
Facts Applicants Must Know
Mexico Tourist Card only permits tourism-oriented visits to the country. This travel document disallows in any paid activities throughout the trip.


Travelers from Burkina Faso must have printouts of both sides of this document (colored or black and white) if they are entering the country.


While applying online, applicants must submit the travel itinerary such as flight numbers.


Your passport validity must not be less than 180 days to apply online.


You can also apply for a Tourist Card within 30 days of your arrival in Mexico.

Document Upload Not Required        
To apply for the Mexico Tourist Card, Burkinabe citizens need not upload any document. However, they must have the following: 
A Burkina Faso passport with a validity of 6 months since their arrival


Airline Name and Flight Number of the traveler to Mexico
Post Arrival Requirements
Burkinabe travelers have to present the following documents to the immigration authorities at the Mexico airport:
Their Mexico Tourist Card
Their visa
Their passport (the same one used while applying online for the Tourist Card)
These documents undergo examination by the immigration officials. The passport should have a validity of at least 6 months. 
This How You Apply For a Mexico Visa
If you are from Burkina Faso and are entering Mexico be it for any reason, even if it falls en route, you must have a valid Mexico Tourist Visa and a Tourist Card. It is possible for Burkinabe citizens to apply for a Mexico visa at a Mexican embassy overseas. The time taken in the processing of a Mexican visa is according to the specific embassy from where the applicant is applying. A few of them just take about two days to process your visa. On the other hand, others may take up to four weeks. Therefore, it is sensible to fix an appointment for a Mexico visa a minimum of weeks before you intend to travel.
It is essential to apply for a Mexico visa at a Mexican embassy in your country (or in a country where you are present). Here is how the application process works for travelers from Burkina Faso:
Connect with the Mexico embassy to set up an appointment
Fill the Mexico Visa Application Form
Gather the crucial documents
Upload the application and pay the fee
It is important that you check the website of the Mexico embassy where you will apply or get in touch with them to just to know the time it will take to process your visa. The reason for this is that not all embassies work at the same speed. One may process your visa within 2 business days, whereas another might take 10 business days. Practically, a few of the embassies suggest that you schedule your appointment at least four weeks before your trip.