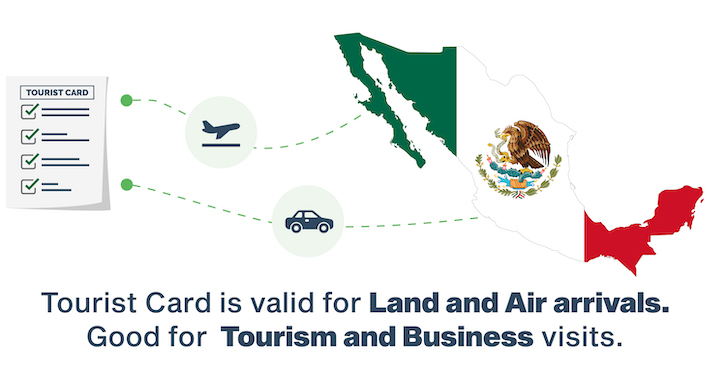 Mexico is a land of color and contrasts. Vivacious beachfronts lead into quiet colonial towns, while resort cities open gateways to jungles ringing with parrots and howler monkeys. For Botswana citizens to take a holiday break to this place of grand mountains, they must acquire a Mexico Tourist Card, in addition to a visa. They can apply online for this travel document. The government body that authorizes and provides this travel document, with the basic intent of tourism, is the National Immigration Institute.
Those applying for the Mexico Tourist Card for Botswana must compulsorily have a visa before they enter Mexico. To apply for the visa, they may contact or visit the embassy.
Botswana citizens need to apply for a Mexico Tourist Card if they decide to travel to Mexico via an on-road vehicle or by a flight. In 2015, the country launched this online application system. Since then, it has been a pleasant experience for tourists to apply for it. The Tourist Card for Mexico is sent to the applicant's email id. By using the online process, they can apply for it from their homes. Also, this mode of applying is strongly recommended.


The Online Method for Citizens from Botswana
The online process of getting a Tourist Card eliminates both, inconvenience and weariness. It comprises the following three steps: 
Fill the Application Form Accurately: 
Botswana travelers must fill the online application form accurately. Prudence is advised here when filling the form because any mistakes can result in its rejection and cancellation. 
No Document Upload:
No documents are required to be uploaded throughout this process.
Passport Number:
The applicant's valid passport number must be entered.
Remit Fee: 
A valid credit or a debit card is to be used to pay the fee.
The Tourist Card is mailed on the ID mentioned in the form.
It is recommended that travelers take prints of both sides of this document. The immigration authorities at the country's airport go through it. 
Important to Know for Mexico Tourist Card Applicants
Travelers must be apprised of the fact that the Mexico Tourist Card only allows them to visit the country as tourists. They are prohibited to engage in any activity that results in payment such as job or professional services. Those travelling from Botswana must carry the printouts that they had earlier taken when they enter the country. While applying online, applicants must provide their flight details.

Process Eliminates the Need to Upload Documents
The online process does not ask for any document to be uploaded. However, travelers must possess the following items: 
A passport with 180 days of validity after their arrival date in the country.
Flight details about their arrival in Mexico, such as airline name and flight number.
Guidelines for Those Arriving in Mexico
Botswana travelers must have a Mexico Tourist Card for problem-free entry into the country. They must remember that they will also require a visa. Before they are allowed entry into the country, the immigration officials will check the visa, a valid passport, and the Tourist Card. The passport present must be valid for 180 days and must also be the same one that was used when applying for the visa.
Applying for a Mexico Visa
Those visiting Mexico, or being there as a transit passenger, imperatively require a valid Mexico Tourist Visa and a Tourist Card. They can apply for a Mexico visa from a Mexican embassy in the country where the applicant hails from or any other country where the applicant is present at the time of applying. The time taken to process a Mexican visa differs from embassy to embassy. 

Applicants from Botswana are advised to get an appointment for a Mexico visa four weeks or more, prior to the planned travel date. The application process can be understood as follows:
Interact with the Mexico embassy to book a meeting
Fill applicant's details in the Mexico Visa Application Form
Gather the necessary documents
Submit the online application
Pay the visa fees
Botswana citizens can get to know when their visa will be processed from the website of their respective Mexico embassy, or they can speak to the officials there about it. The reason for this is that every embassy has a different system of operation. On one hand, one embassy may take just about 2 business days to process a visa, while in another the processing time may approximate 10 business days. Practically speaking, a few embassies suggest that the applicants fix their appointment at least four weeks before your trip.