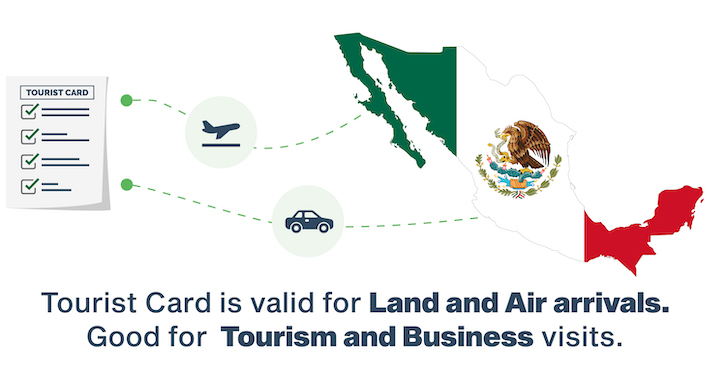 Why visit Mexico for your next holiday?   
Mexico ranks as one of the top-most preferred holiday destinations because of its ultra-popular beach destinations, warm and sunny weather, and scenery to remember. The area boasts a number of fun activities like scuba diving in the largest underwater museum, snorkeling, stingray swims, dolphin swims, etc. 
The beautiful tip of the Yucatán peninsula is home to over 5 million tourists every year, yet it never feels crowded with so much nature to soak in. One other thing that makes it even popular with Belgians is that you don't need to apply for a visa to visit Mexico. All you need is a Mexico Tourist Card which can be applied for online. No need to go anywhere. Win-win!  

What is the process of applying for a Tourist Card for Mexico?
Everything happens online so the process is quite a simple one. No need to visit the embassy or schedule an appointment. Belgian nationals can just log in to the Mexico Tourist Card portal and get their application approved by the National Immigration Institute. The tourist card will then be delivered to their respective email IDs.    
It is however to be noted that you need to take a printout of your tourist card (both sides) before your travel. It is also advised to keep an extra copy of it with you.  
How Can Belgians Apply Online? 
Applying online is a simple 4-step process. Follow these three easy steps to apply for a Tourist Card to Mexico:    
Fill the application form correctly and without any errors.  


 

Since there is no uploading of documents required, all you have to do is put in your passport number.   


Make the payment. You can either choose to pay through credit or debit cards. 
 

 

That's it! You will receive your Tourist Card in your mentioned email-ID. 
Do not forget to take out the printout for both sides of the Tourist Card and show them to the immigration officials whenever asked. It is also mandatory that you have the flight tickets (if you are traveling by air) and all their details for security purposes. You will only be asked to show them at the airport when you arrive from Belgium or wherever you are coming from, and not during the time of application for the tourist card.   
Do we need to upload any documents when applying for Tourist Card Online?    
No documents need to be uploaded for the online application of the Mexican Tourist Card at all. You only need to have a valid Belgium passport and your flight tickets/particulars for when you arrive at the airport. Note: Make sure your passport has a validity of at least 180 days from your date of application and travel. Also, keep your tourist card handy at all times of travel. 



Can we travel to Mexico for a professional or employment opportunity on the basis of the Tourist Card?  
No. The tourist card allows Belgians to visit Mexico on the grounds of tourism only. No professional employment opportunity should be entertained through it.   
What are the documents required on arrival in Mexico?  
All that Belgian tourists need when they arrive in Mexico is a tourist card and a valid passport. Make sure the validity of your passport is at least 180 days from the day of application and travel. Keep the tourist card handy at all times. It is also hereby advised to carry an extra copy of the tourist card for emergency purposes.   
What checklist is to be followed by Belgians traveling to Mexico? 
Make sure you are completed vaccinated and carry along with your daily/emergency medicines. 


Carrying over-the-counter antibiotics and anti-diarrhea medicine is also recommended. 


CDC advises travelers to get vaccinated for hepatitis-A and typhoid before their visit to Mexico.  


Keep a copy of all the essential documents like passport, credit/debit cards with you handy. You can also take a picture of all the required documents on your phone for emergency purposes. 


Carry extra cash than estimated for hospital and emergency use. Peso and dollars are the preferred currencies in Mexico. 


Register your trip with the nearest consulate or embassy in Mexico so that the officials can track you in case of an emergency. 


Travelers are not to indulge in any professional pursuits while traveling via tourist card. 


Keep an extra copy of your tourist card handy. Make sure it is printed from both sides.


Before returning to Belgium, make sure you are completely vaccinated against all the diseases.