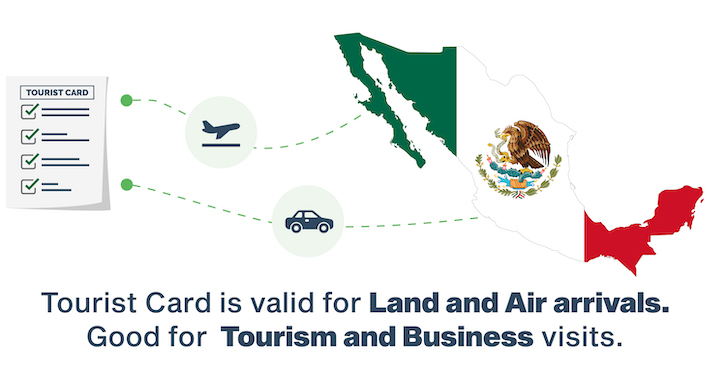 Mexico has been a tourist attraction since the early 19
th
century with its magnificent offerings of cultural festivals, colonial cities, nature reserves and the beach resorts. For Barbadian citizens, who have been thumping with the desire to visit this extraordinary nation,
a Mexico Tourist Card
is required in addition to a visa. Being completely online, the application process is not at all difficult or time-consuming.
This travel document is sanctioned by the National Immigration Institute only for tourism-driven travel. Only one person can travel on one Tourist Card. Travelers from Barbados will not be allowed entry into Mexico without a visa. They must get in touch with the embassy to apply for
the Mexico visa
.
For Bajans to enter Mexico via road or air, a Mexico Tourist Card is mandatory. Since the entire process has gone electronic starting in 2015, it has become easy for tourists to apply online. It is also highly advisable that applicants use the online process to apply. The Tourist Card for Mexico is mailed to the applicants on their email id, cited in the online form. Travelers also have the choice to apply for it, not later than 30 days after they arrive in Mexico.

The Online Application Process for Barbadians
Citizens from Barbados just need to complete the following steps to apply for a Tourist Card using the electronic system: 
Completing the Application Form: 
Travelers are required to enter their complete details in the application form. Once filled, they need to check for discrepancies if any. 
Upload of Documents Not Required:
No documents need to be part of the upload throughout the online application process. A valid passport number, however, must be mentioned in the form.
Fee Payment: 
Once the required details have been filled in, fee must be paid. A credit or a debit card is the mode of this payment. The Tourist Card is mailed to the address given in the form.
Travelers are essentially required to keep with them both sides of the printout of the Mexico Tourist Card, while they travel to Mexico. These are checked by the immigration authorities at the airport. 
Mexico Tourist Card Information That Applicants Must Know
Travel seekers should have the insight that the Mexico Tourist Card permits only tourism-related travel and does not allow travel aimed that any paid activities. Citizens from Barbados must carry print copies of their Mexico Tourist Card to enter the country through any Mexican airport. They are also required to present details such as airline name and flight number of the arrival flight to Mexico.

Uploading Process Requiring No Document
No document is asked for, during the online application process. They would, however, require to keep the following: 
A Barbados passport with a minimum validity of 180 days 


Flight information related to their arrival in Mexico
Papers to be Presented on Arrival
For hassle-free entry into Mexico, citizens from Barbados must carry a Mexico Tourist Card. In addition to this, they should also have a visa. As mentioned earlier, both are principal documents for visitors to present at the Mexican airport. These documents are checked by the immigration officials at the airport. To summarize, the following three documents are checked by the authorities:
A valid passport


The visa


The Tourist Card
Bajans must ensure that the passport they carry is the same that was used while applying for the visa and is valid for 180 days.
Mexico Visa Application
If you are a Barbadian national and are traveling to Mexico, or it is a transit station, a valid Mexico Tourist Visa and a Tourist Card are mandatory. You can apply for a Mexico visa at a Mexican embassy in any foreign country. 
An embassy may process a Mexican visa in two days or four weeks depending on its processing system. Hence applicants must fix an appointment for a Mexico visa at least four weeks before you intend to travel.
Another advantage is that travelers from Barbados can apply for a Mexico visa at a Mexican embassy in their country of origin or any country that they are present in. The application process comprises:
Reaching out to the Mexico embassy to set up an appointment
Filling details in the Mexico Visa Application Form
Compiling the required documents
Providing the application and pay the fee
You must scan through the website of the Mexico embassy where you will apply or get in touch with them to know your visa processing time. That's because not all embassies work at the same pace, and while one might process your visa within 2 working days, another might take 10 working days. In fact, some embassies recommend you schedule your appointment at least four weeks before your trip.