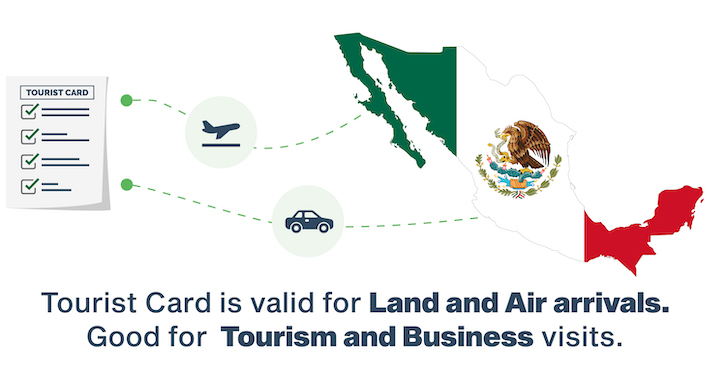 The whole experience about visiting Mexico is the country's cultural treasures, a captivating blend of native population along with colonial influences from Spain that is exhibited in everything from the country's culinary creations to its vibrant musical and dance traditions. Bahraini citizens, who'd love to experience this and much more
require a Mexico Tourist Card
, in addition to a visa.
It is simple and easy to acquire because it can be applied for online. This travel document for Mexico comes from The National Immigration Institute primarily for the purpose of tourism. Travelers will also need a visa before their
entry into Mexico
. For Mexico visa application, they are required to get in touch with the embassy.
If they enter Mexico by air or land, Bahrainis need to have a Mexico Tourist Card. The electronic system implemented in 2015 has made it easy for tourists to apply online. The online process of application is also highly recommended.
Applicants will receive the Tourist Card for Mexico through email. The best part about the online application is that you won't have to visit the embassy or spend time taking an appointment. 

Applying for a Mexico Tourist Card Online for Bahrainis
Applying online using the electronic system is very easy and fast. However, following the 3 steps listed below is important: 
Filling the Application Form: 
Bahrainis will have to fill out the online application form. It is important that you fill the form correctly. 

No Document Upload Needed: The online process does not require any documents to be uploaded. However, a valid passport number will be needed to finalize the form.
Making Payment: 
Finally, you will have to pay the fee through a credit or debit card. Once processed, the Tourist Card will be sent to the email address provided on the form.
Carry printouts of both sides of the Mexico Tourist Card during your trip to Mexico. You will have to show them to the immigration officials at the airport. 
Instructions for Mexico Tourist Card Applicants
Mexico Tourist Card holders are allowed to visit the country only for the purpose of tourism. They are not allowed to engage in any form of employment activities during their stay. Bahrainis should carry printouts of both sides of this documentif they are entering the country through any Mexican airport. When applying online, applicants must submit the details of flight tickets and flight numbers in the application form.

No Documents Are Needed to Be Uploaded
There is no document upload needed for the Mexico Tourist Card. If Bahraini citizens need to apply for it, they will need to have a few details ready: 
A valid passport from Bahrain, which must be valid for 6 months from arrival date.


Flight details pertaining to Arrival in Mexico.
Documents Needed Upon Arrival
Bahrainis will need a Mexico Tourist Card along with a visa to get into Mexico without any hassles. Keep these documents handy as they will be needed once the visitor lands at a Mexican airport. These would be checked by the immigration officials when tourists enter the country. Apart from the visa and a valid passport, travelers may have to show the Tourist Card to the immigration officers. The passport should have a
validity of at least 6 months
, and it should be the same as used during the visa application.
Mexico Visa Application
For the purpose of visiting Mexico, or even to be in transit there, travelers from Bahrain require a valid Mexico Tourist Visa and a Tourist Card. They can apply for a Mexico visa at any Mexican embassy around the world. To process a Mexican visa, a few take around 2 working days whereas others may take up to 10 working days. Therefore, it is better to book an advance appointment with them, weeks before you intend to travel.
Bahrainis can also apply for a Mexico visa at a Mexican embassy in their country (or in the country where they are living). All you need to do is:
Contact the Mexico embassy to set up an appointment
Fill the Mexico Visa Application Form
Arrange and keep ready crucial documents
Submit the application
Remit the fee
You must check the website of the Mexico embassy where you will apply or contact them to learn about how long it will take to process your visa. That's because not all embassies work at the same pace, and while one might process your visa within 2 working days, another might take 10 working days. In fact, some embassies recommend you schedule your appointment at least four weeks before your trip.