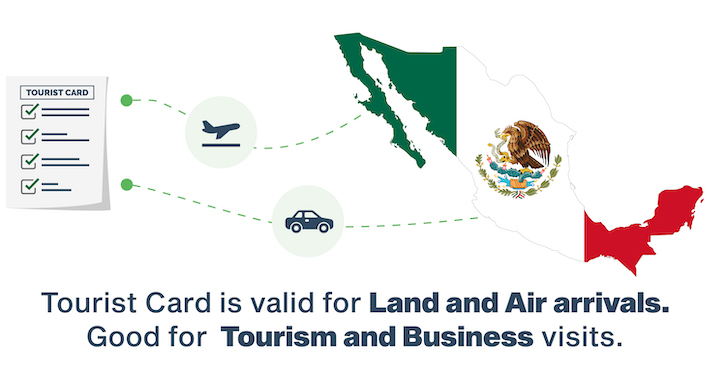 Mexico is a country rich in flora and fauna, as it is spread across climate zones that encompass everything from arid deserts to lush tropical rainforests. For Azerbaijani citizens, who have been waiting patiently to visit this wonderful country,
a Mexico Tourist Card
is a requisite apart from a visa. Acquiring this travel document is both pretty plain and straightforward since it is an online process.
The National
Immigration
Institute grants the Tourist Card for Mexico only to tourists, which is one per person. Visitors from Azerbaijan also need a
visa to enter Mexico
. To apply for the Mexico visa, they suppose to contact the embassy.
Azerbaijanis, on entering Mexico via air or land, must carry a Mexico Tourist Card. With the electronic system made applicable in 2015, tourists can conveniently apply for it online. The Tourist Card for Mexico will be mailed to the applicants on the email which they have mentioned in the online form. They can even apply for it within 30 days of their arrival in Mexico though it is strongly advised that they apply for it online.

Mexico Tourist Card - The Online Application Process for Azerbaijanis
Acquiring a Tourist Card using the electronic system involves only the following three steps: 
Fill up in the Application Form: 
Azerbaijanis must fill the online application form with the appropriate details. Care needs to be taken to ensure that there are no discrepancies in the filled information. 

No Documents to Upload: The online application process does not require any document to be uploaded. Only a valid passport number needs to be filled in the form.
Pay Fee: 
The fee is to be paid after the previous two steps are complete. This payment is to be done using a credit or a debit card. The Tourist Card is emailed to the address given in the form.
Travelers must carry both sides of the printout of the Mexico Tourist Card with them on their way to Mexico. These will be reviewed by the immigration authorities at the airport. 
What Applicants Must Know
Travel aspirants must be aware that the Mexico Tourist Card is only allowed for tourism-related trips and not for trips that involve transactions like employment, profession or any paid activities.
Citizens from Azerbaijan should have a printout of this document when they reach the country via any Mexican airport. They must also provide flight information like airline name and flight number of the arrival flight to Mexico.

Document-free Uploading Process
The online application process needs no documents to be uploaded by Azerbaijani citizens. However, they must be prepared with the following information: 
An Azerbaijan passport that must have a validity of at least 180 days to apply online.


Flight details of their arrival in Mexico.
Essential Documents on Arrival
To enter Mexico without a problem, citizens from Azerbaijan must essentially have a Mexico Tourist Card. However, they will also require a visa. To reiterate, both of these are fundamental for the visitor to carry upon reaching the Mexican airport. The immigration officials go through these travel documents at the airport. Thus the traveler needs to produce three travel documents to be checked by the authorities:
The visa


A valid passport


The Tourist Card
The passport must be the same that was used while applying for the visa and must have a validity of 180 days.
Mexico Visa Application
Travel to Mexico, or even if it is a stopover, mandates a valid Mexico Tourist Visa and a Tourist Card. Azerbaijani travelers can apply for a Mexico visa at any Mexican embassy throughout the world. Every embassy takes different processing time periods for a Mexican visa. Some process it in 2 days and others may take up to four weeks. Therefore, it is sagacious to book an advance appointment with them, weeks before the planned travel.
Citizens from Azerbaijan may apply for a Mexico visa at a Mexican embassy in their country (or in a country where they are at the time of applying). The steps involved in the application process are:
Visiting or contacting the Mexico embassy to set up an appointment
Entering particulars in the Mexico Visa Application Form
Collecting crucial documents
Application submission
Fee payment
Check the website of the Mexico embassy from where you apply or check with them to just to know the time it will take to process your visa since all embassies take different processing time. Some embassies actually advise applicants to schedule their appointments at least a month before their trip.