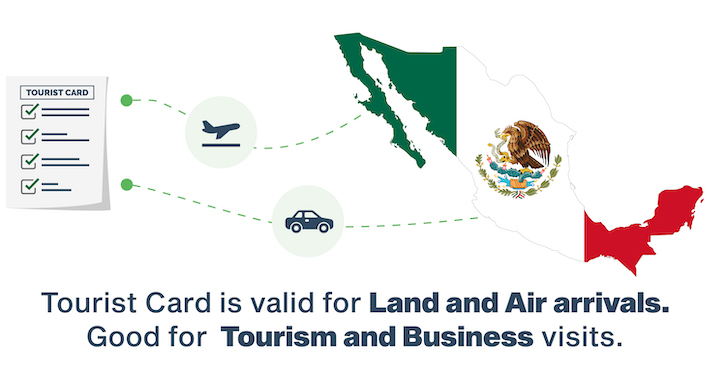 Mexico opens its borders to you with showering friendly gestures that can be practically possible from an amiable host nation. You can make your trip to Mexico an unforgettable experience in countless ways. Prior to preparing for your travel, you must have a visa (if required) and the Mexico Tourist Card (FMM Form). 
The Mexico FMM Form is a paper that is compulsory for foreign nationals to acquire if they are to travel to Mexico. The National Immigration Institute approves and provides this Tourist card, with the objective of tourism.
Visitors may procure the FMM Form either when they reach Mexico, or they can get it online.

The FMM Form in no way can be used in place of a visa; hence, nationals of specific nations may be requiring the Tourist card as well as a Visa to be able to enter Mexico.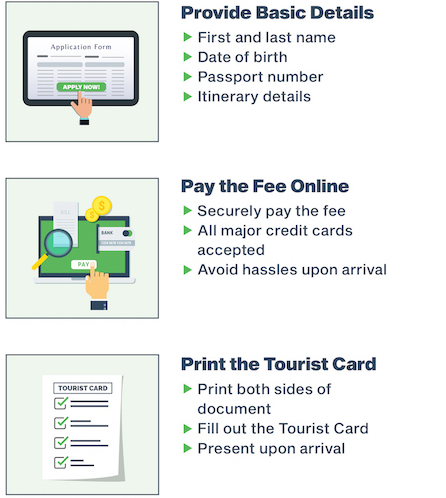 The Mexico Tourist Card versus FMM Form
Both, the Mexico Tourist Card and the FFM Form are one and the same. A few travelers refer to the FMM Form as the Tourist Card and likewise.
Travelers must produce to display their Mexico FMM Form to the immigration officials at the airport to be allowed to gain entry into Mexico.

Cancun Airport Customs Form

The Cancun Customs form is a paper that is handed out by the airlines before landing in Cancun. Dont let the name fool you.
This customs form is needed if you land anywhere in Mexico. The Cancun customs form has become a popular name since Cancun is a frequent destination for visitors.
Filling the FMM Form
Filling Application Form:  The FMM form is simple to fill online by visiting the website natvisa.com. It will not take you more than 5 minutes to apply for the Mexico Tourist Card.
The introductory step is to fill the required particulars for your FMM Form.

With the online process, you save on the time that would have otherwise been spent waiting in queues. Do not forget to ensure that the particulars entered are correct.
Essential Paperwork: Following this, you must keep your passport ready as the passport number among other details, are to be filled in the application form.
Your passport must have a validity of at least 6 months for the successful conclusion of the application form. No documents are to be uploaded when you opt for the online process of applying for the FMM Form.
Paying for it: Finally, you need to make the payment of the fee. You may pay for it using a valid and operational credit or debit card.
A couple of days are required for the documentation following which the Tourist Card will be delivered to you on your email ID.
Form Receipt:  The FMM form will reach you as quickly as half an hour. You may receive it in your email or you may download it. Do not forget to get print copies of the FMM form.
These copies may be either in "color" or in "black & white". You will have to present it to immigration officials on reaching Mexico.
Mexico Customs Form Online (Tourist Card or FMM Form)
Most of the airlines have discontinued the system of doling out the FMM form nowadays. Candidates are strongly advised to apply for the form online. Tourism is the only aim for approving the FMM Form.
Visitors traveling to Mexico on an FMM Form are prohibited to be part of any job-related activity throughout their stay over there.

The customs form is defferent from the FMM form.
Travelers who enter Mexico using any International Airport should essentially carry a hard copy of both sides of their FMM Form. Only people who are reaching Mexico via flight or by road are granted the Mexico FMM Form.
Thus, at the time of applying for the FMM Form to Mexico, applicants should mandatorily mention details of their itinerary.
What Happens After You Apply for the FMM Form?
The form is emailed to the applicants on the email ID they have mentioned in the application. They must take a printout and keep it with their other travel documents.
Is There a Printable FMM Form?
No. The FMM form must be filled out online. Once its filled out online, then it can be printed. The FMM form can only be printed once it has been first filled out online.
Is The FMM Application Availanle in Different Languages?
The form is only available in english. However, some browsers can translate the website into any languages so there is that route if translation is needed.
Know the FMM Form
The FMM Form is exactly the same document as the Tourist Card. A screenshot of it is as follows: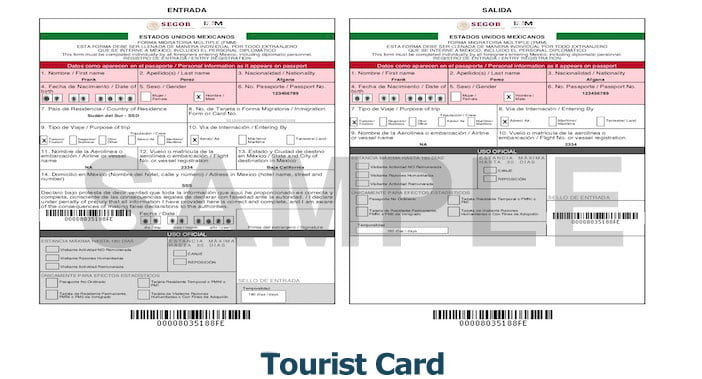 Is a Visa also Necessary to Visit Mexico?
If you are a citizen of a country that needs a visa for entry into Mexico, ascertain you have a print copy of its approved version.

For acquiring a regular Mexican visa, you need to contact the Mexico embassy officials or pay them a visit. Mexican authorities will check the visa document and hard copies of the FMM Form.
Getting Ready for Your Trip to Mexico
You may be in dire need of a Mexican vacation from the dull city life. Nevertheless, in all the action, you must remember to keep specific papers handy.
So that your entry into Mexico is free from any hindrances, be certain that your FMM Form is with you and in a presentable state.
The respective papers will be scrutinized by the immigration officials.

Travelers hailing from certain countries may be required to exhibit their visa and passport besides the FMM Form to be able to easily enter Mexico.

Paperwork Needed to Enter Mexico:
FMM Immigration Form (filled and signed)


Passport (valid for at least 6 months)


Mexican Visa (if required)
Trip Registration with Your Embassy
In the event of an emergency, or in case of an occurrence of a natural catastrophe, a terrorist attack, or civil unrest in the midst of your foreign travel, the best thing would be to approach your nearest embassy or consulate for any support and information.