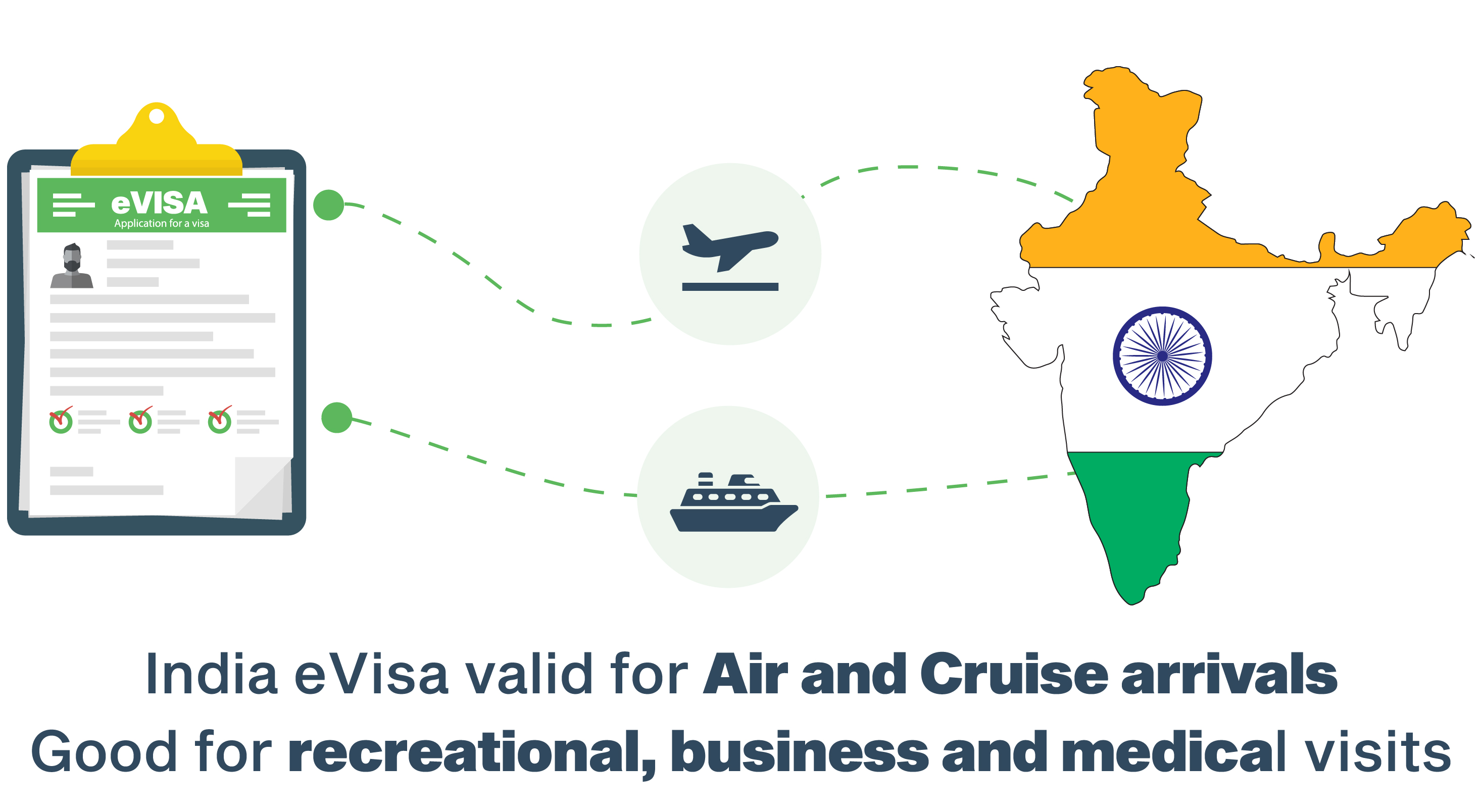 If you are an avid traveler and want to explore a beautiful city rich in heritage, culture, and values then India is a great option. It has a mix of everything from amazing old-world architecture to aromatic food to yoga ashrams and hospitable people.
In every state, the culture varies and every one of them holds a different kind of beauty. Now, if you want to visit India the first thing you need to do is get a visa. There are options to choose from depending on your needs.
For your visit, there are three options you can choose from:
Let's dive into detail on how you can apply for a visa and what every visa entails.
Many people opt for the tourist visa as their main purpose to see the beauty of this country. Some even come to spend time at a yoga ashram and delve into serenity from all over the world!
30 Day Visa for Short Term
In this type of visa, you only get two entries and you can stay in India for a maximum of thirty days from the date your visa has been issued to you.

This type of option is perfect for people who just want to come for a short period. If you need a visa urgently then you can speed up the process by choosing the expedited option.

There are two ways you can get any visa. One is standard processing which means you will get your visa in the normal amount of time. The other one is expedited in which for an additional charge you can get your visa processed faster.
1 Year Visa With Multiple Entries
You are allowed multiple entries through this visa and the visa is valid for one year from the date of issue. The maximum amount of time you can stay in India is for sixty days.

This option is viable for people who have ongoing seminars or want to keep visiting yoga ashrams. It is also great for travel bloggers and people who are coming to India again and again for recreational purposes.
5 Years Visa Allows a 60 Days Stay Each Visit
Even in this type of visa, you are allowed multiple entries and the visa is valid for five years from the date of issue. The maximum amount of time you can stay is sixty days.
This type of visa is good for people who have family in India and they need to make frequent visits to stay in touch with them. It is also perfect if you are an avid traveler and want to explore all of India on and off.
What You Need for a Tourist Visa
A valid credit card to pay the fee


Photograph of your passport page that has all your personal information


A valid passport that should at least be good for the next six months from your arrival


Travel details
What You Need During Your Arrival in India 
As soon as you arrive you will have to show:
Print out of approved tourist visa


Statement to prove you have enough funds for your expenses (not required)


Two or more empty pages in the passport


Proof of return
India Business Visa for Non-Paid Activities
You can apply for this visa if you want to conduct business such as:
Recruiting people


Participating in a business fair or exhibition


Giving a lecture under the GIAN initiative


Joining a project


Setting up a business


Sale or trade of goods


Business meeting
One thing to note is that this visa does not apply to people who want to have a job there. If you are looking for job opportunities in India then once you get them your employer will help you with the visa process.
This is a multiple entry visa which is valid for one year from the date of issue and the maximum you can stay in India on this visa is 180 days for business visits.
Requirements for the India Business Visa 
This is what you will need for your application:
Photograph of yourself


Photo of passport page that shows personal information


Credit card for payment


A business card issued by your employer


Proof of continuing or return travel


A valid passport that is good for six months
Upon arrival, you will be asked to show the same things as required by the tourist visa that is mentioned above.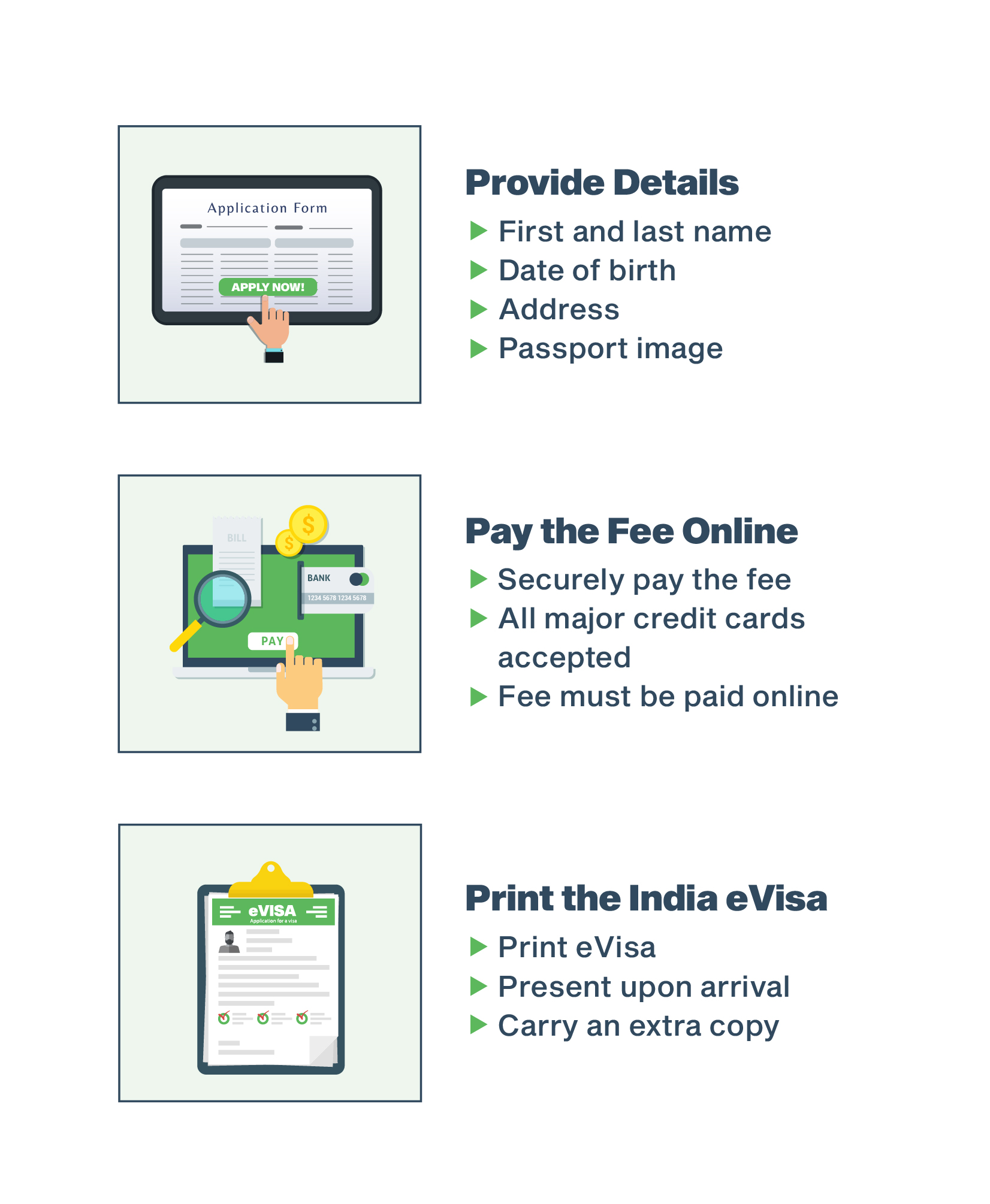 India Medical Visa for Procedures and Examination
If you want to see amazing specialists that don't cost an arm and a leg then you can opt for a medical visa to visit India for this purpose. Many people from all over the world come to get themselves treated at less cost.

For people who are seeking a short term solution or treatment can apply online as this visa is for one year and you will be allowed three entries with a maximum stay of sixty days.

People who are seeking a long term treatment need to apply through the consulate.

If you want to bring someone along for extra help then you can bring two people and they will have to get Medical Attendant visas.
Requirements for an India Medical Visa 
Passport valid for six months


Photo of yourself


Photo of the passport page with your details


Credit card for payment


Letter from a hospital in India that needs to show the medical care you will receive


Traveling details
Upon arrival, you will be asked to show the same things as required by the tourist visa that is mentioned above.


India Visa vs. eVisa
When travelers do research online, it's easy to become confused about the difference between the India visa vs. the eVisa. That occurs when writers refer to the eVisa with the term "visa". 
For travel to India, the eVisa is only available to visitors of certain nationalities. That list is subject to change, so travelers should make sure they have the right one when they apply. 
The eVisa is entirely electronic. Travelers can apply online, the visa is processed electronically, then the traveler is notified of their status via email. 
However, travelers should print off a copy of their accepted eVisa before they travel. This ensures that they can show the correct documentation to enter India if required. 
When applying for a regular visa, travelers will need more documents and they may need to visit an Indian embassy or consulate to get it processed.
In addition, the eVisa is only good for travel to India via air and cruise ships. All other visitors must have a regular visa, even if they are from countries eligible for the eVisa. 
The eVisa allows travel for recreational, business, and medical visits to India. Other types of visits will require visas appropriate to that kind of travel.
Finally, the eVisa is for shorter stays in India than the traditional visa. 
The exact length of stay permitted by either visa depends on the type of visa, the type of travel, and the visitor's nationality.
The eVisa for India is more convenient than the regular visa, but it also has more limits than that visa does. Travelers should choose the option that works best for their specific needs.
If you meet the requirements then applying and getting a visa is a fairly simple process. Your application is first reviewed by us and then forwarded to the Ministry of Home Affairs.
The process is hassle-free so if you want to visit India on one of these visas apply online below.