Validity
Stay
Gov. Fee
Entries
Tourist eVisa
30 Days / 1 Year / 5 Years
30 Days / 60 Days
$25-80 USD
Double / Multiple

Valid for 30 Days / 1 Year / 5 Years

Double / Multiple entry

Government fee $25-80 USD

Business eVisa
1 Year
180 Days
$80 USD
Multiple

Valid for 1 Year

Multiple entry

Government fee $80 USD

Medical eVisa
1 Year
60 Days
$80 USD
Triple

Valid for 1 Year

Triple entry

Government fee $80 USD
For travelers from Canada who have always wanted to visit India, the process of getting a visa is easy. In fact, they can get an Indian visa in just a few simple steps. Some Canadian travelers worry about the visa application process. While it can be difficult for some countries, the truth is that getting an India visa for Canadians isn't hard. Here's what tourists need to know to make their Indian travel dreams come true.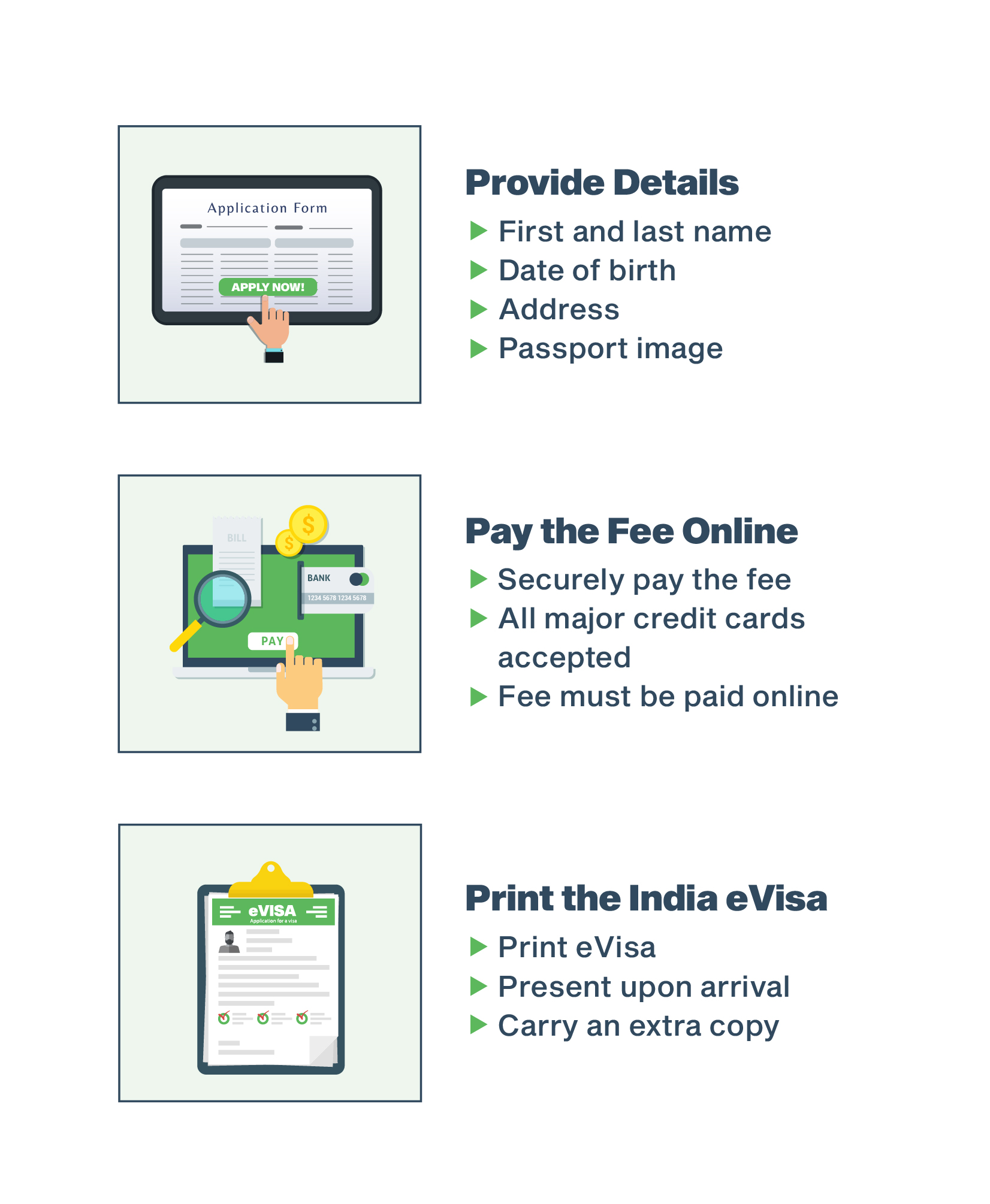 Applying for a Visa to India for Canadians
Start by filling out the online visa application. Natvisa provides this so travelers have a straightforward way to get their visas. Visitors can start the application with a simple click, though it's a good idea to have the following documents handy, as they are necessary to complete the application.
Travelers need not worry, though. They can always save their unfinished visa application and start it again later!
Necessary documents include:
A valid Canadian passport with at least 6 months left on it (from the date of arrival in India)
A photograph of the personal page of this passport, including the photo and personal data
A separate photograph of the traveler that meets the Indian government's specifications (extra passport photos usually work)
Documentation of travel details, particularly arriving and departing flights
A valid credit card to pay the application fees
The directions to apply for the visa online for India are straightforward so it shouldn't take Canadians too long to fill out the application. It's always a good idea to check it twice since the only way to change information is to submit another application and pay the fee again.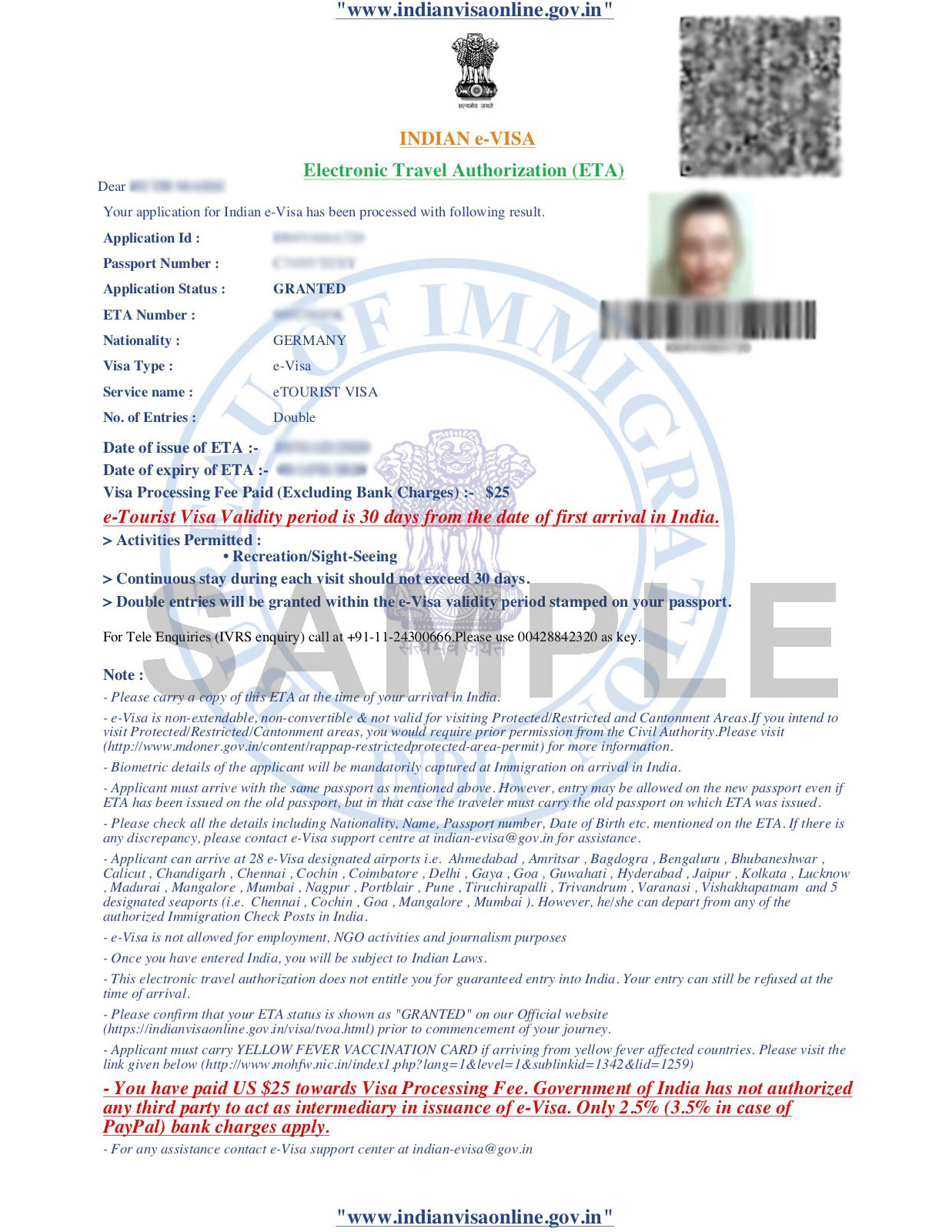 After Visa Application is Submitted
All submitted applications receive a Reference Number. Travelers can use this to check the status of their India eVisa, or they can wait the 1-4 days that it takes to process the visa. Canadian applicants should receive notification that their visa has been granted or rejected via email.
Travelers need to print their granted visas to India so that they can show this documentation upon arrival in India. They will also need to make sure they can show:
Proof of financial support in India, or that they have the funds available to support themselves
Two empty passport pages for stamping by Indian officials
The same passport used to apply for the visa
Documented travel plans, especially an exit flight from India
Travelers who have their visa to India ready to go, as well as the rest of the required paperwork, should find entering India easy. They will still have to provide biometric details to immigration officials, though. They should also remember that this is a tourist visa and it cannot be converted into any other kind of visa. If travelers find that they need to do this, they can visit the Canadian consulate in India for help.
Issues Canadians Face if They Apply Through The Government #1
Canadians seeking to obtain an India eVisa often face a variety of challenges during the application process. One significant issue is the complexity and length of the online application form, which can be confusing and time-consuming for applicants to complete. The form requires extensive personal information, travel details, and documentation, such as a digital copy of the passport, a recent photograph, and sometimes additional supporting documents. Applicants must also pay close attention to the formatting requirements for these documents, as failure to adhere to the prescribed specifications can lead to delays or rejection of the application.
Issues Canadians Face if They Apply Through The Government #2
Another hurdle for Canadians applying for the India eVisa is the processing time, which may be inconsistent and unpredictable. While the advertised processing time is generally 72 hours, applicants may experience delays that can last weeks, depending on various factors such as the volume of applications received and individual case complexity. This uncertainty can be particularly stressful for travelers who have already booked flights and accommodations, as they may need to reschedule or cancel their plans if the eVisa is not approved in time. Furthermore, the limited validity of the eVisa (60 days from the date of entry for tourist visas) may pose additional challenges for travelers who wish to stay longer or make multiple visits within a short period.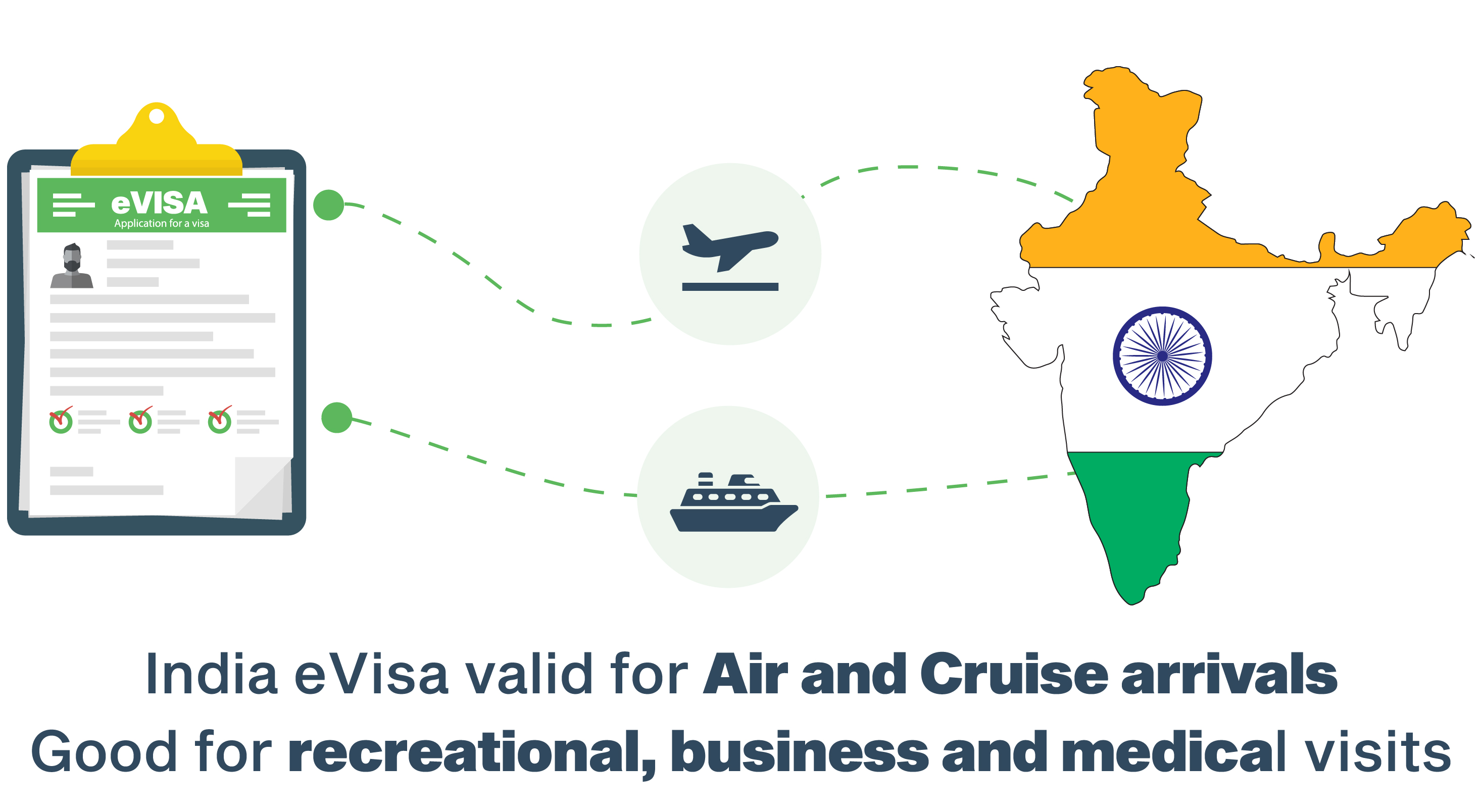 When do Canadian Visit India?
Canadians tend to visit India primarily during the winter months, which span from November to February. This period is considered the most ideal time for tourists to explore the country, as the weather is cooler and more comfortable compared to the sweltering heat and humidity experienced during the Indian summers. Additionally, this time frame offers respite from the harsh Canadian winters, allowing travelers to escape the freezing temperatures and snow back home. During these months, visitors can enjoy a plethora of cultural and religious festivals, such as Diwali, Holi, and Pongal, that showcase the rich heritage and vibrant customs of India. The pleasant weather also provides the perfect opportunity to discover the diverse landscapes and architectural marvels, such as the Taj Mahal, without battling oppressive heat or monsoon rains.
Candian Airlines That Operate India Routes
Several Canadian airlines offer flights from Canada to India, providing passengers with a range of options to suit their travel needs. Air Canada, the country's flag carrier, operates regular non-stop flights between Toronto Pearson International Airport (YYZ) and Indira Gandhi International Airport (DEL) in New Delhi. This route is among the most popular ones, as it connects two major cities and significantly reduces travel time. Other Canadian airlines, such as WestJet, typically operate flights to India with layovers in European or Middle Eastern hubs like London, Paris, or Dubai. Popular routes for these layover flights include departures from cities like Vancouver, Montreal, and Calgary. While direct flights are preferred for their convenience and speed, layover flights can offer more competitive prices and an opportunity to explore additional destinations en route to India.
Conclusion
Visiting India from Canada has never been easier, thanks to the simple eVisa application process and the availability of direct and layover flights from major Canadian cities. By visiting India during the cooler months between November and February, Canadian travelers can fully immerse themselves in the country's rich cultural tapestry, while escaping their own harsh winters. With a wide array of airlines and routes to choose from, Canadians can make their travel dreams a reality and explore the wonders of India either by land or on a cruise.
This content has been reviewed
The content on this page has undergone a thorough review by Rency C D, ensuring its accuracy, relevance, and quality. It's important to always check with relevant authorities as entry policies can change.
See Natvisa content review process.