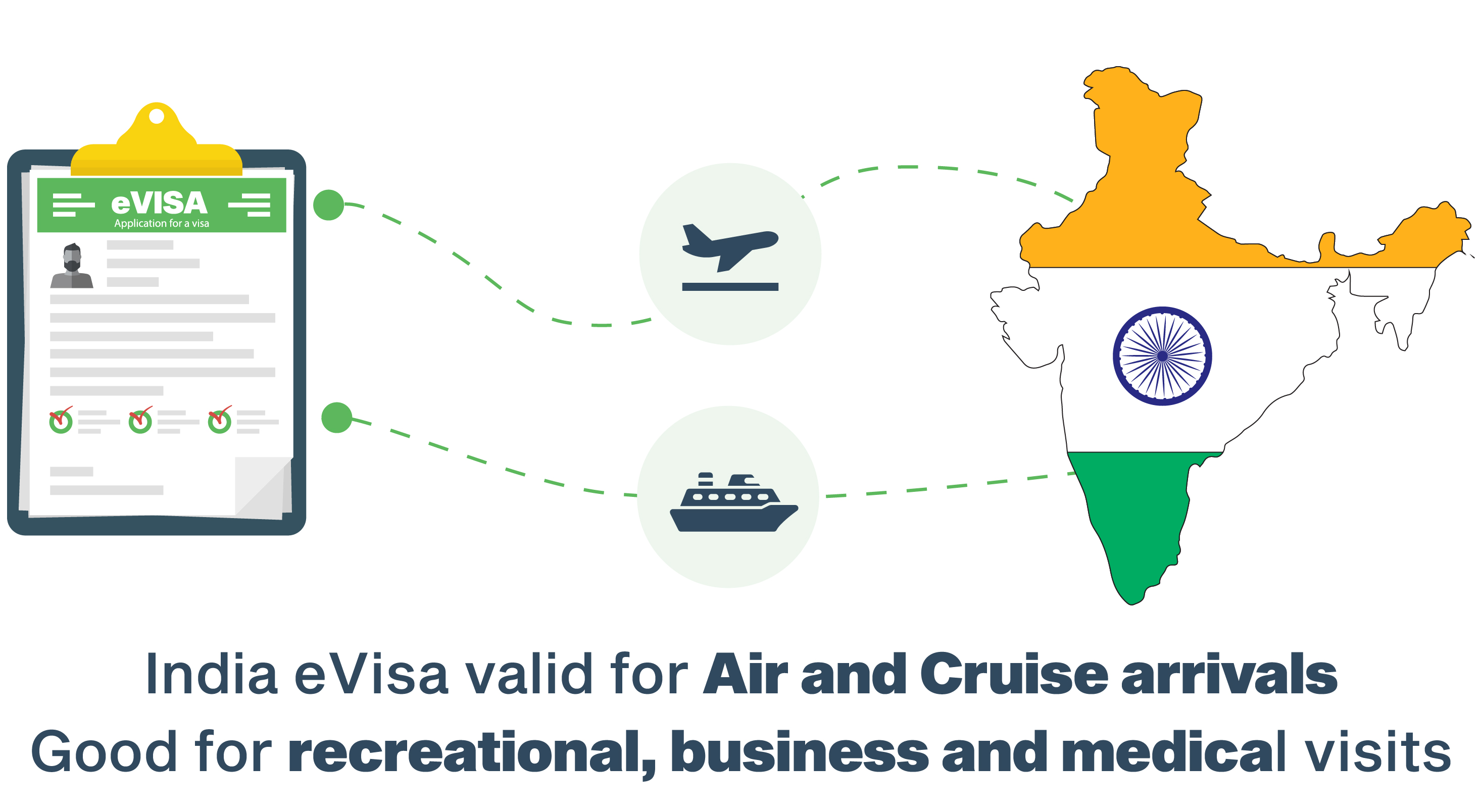 Travelers who have obtained an eVisa to India will want to make sure they follow all of India's rules when entering the country. That way, they will be able to use their visa to India to the utmost and enjoy a wonderful time in the country.
If they do not follow the rules as outlined below, they may struggle to enter India, find themselves unable to enter the country, or spend part of their trip working with the government to stay there rather than traveling.
Allowed Ports of Entry with India Visa 
EVisa holders must enter through an approved air or seaport. They are not allowed to enter via a land crossing.

Approved airports include:

1. Ahmedabad (AMD)
2. Amritsar (ATQ)
3. Bagdogra (IXB)
4. Bengaluru (BLR)
5. Bhubaneshwar (BBI)
6. Calicut (CCJ)
7. Chandigarh (IXC)
8. Chennai (MAA)
9. Cochin (COK)
10. Coimbatore (CJB)
11. Delhi (DEL)
12. Gaya (GAY)
13. Goa (GOI)
14. Guwahati (GAU)
15. Hyderabad (HYD)
16. Jaipur (JAI)
17. Kolkata (CCU)
18. Lucknow (LKO)
19. Madurai Airport (IXM)
20. Mangalore (IXE)
21. Mumbai (BOM)
22. Nagpur (NAG)
23. Portblair (IXZ)
24. Pune (PNQ)
25. Tiruchirapalli (TRZ)
26. Trivandrum (TRV)
27. Varanasi (VNS)
28. Vishakhapatnam (VTZ)

Approved seaports are:

1. Cochin Seaport
2. Chennai Seaport
3. Goa Seaport
4. Mangalore Seaport
5. Mumbai Seaport
These locations are also included in the list of approved exit ports, as well.

Travelers with an eVisa are allowed to exit the country via an approved Check Posts (ICPs).

If a traveler's port of entry changes after the eVisa is granted, he or she may still enter India as long as they do so through another approved port of entry.

If travelers want to enter the country through a port of entry not listed here, they will need to obtain a traditional visa. This takes longer but will allow them the freedom to enter and leave from locations they choose.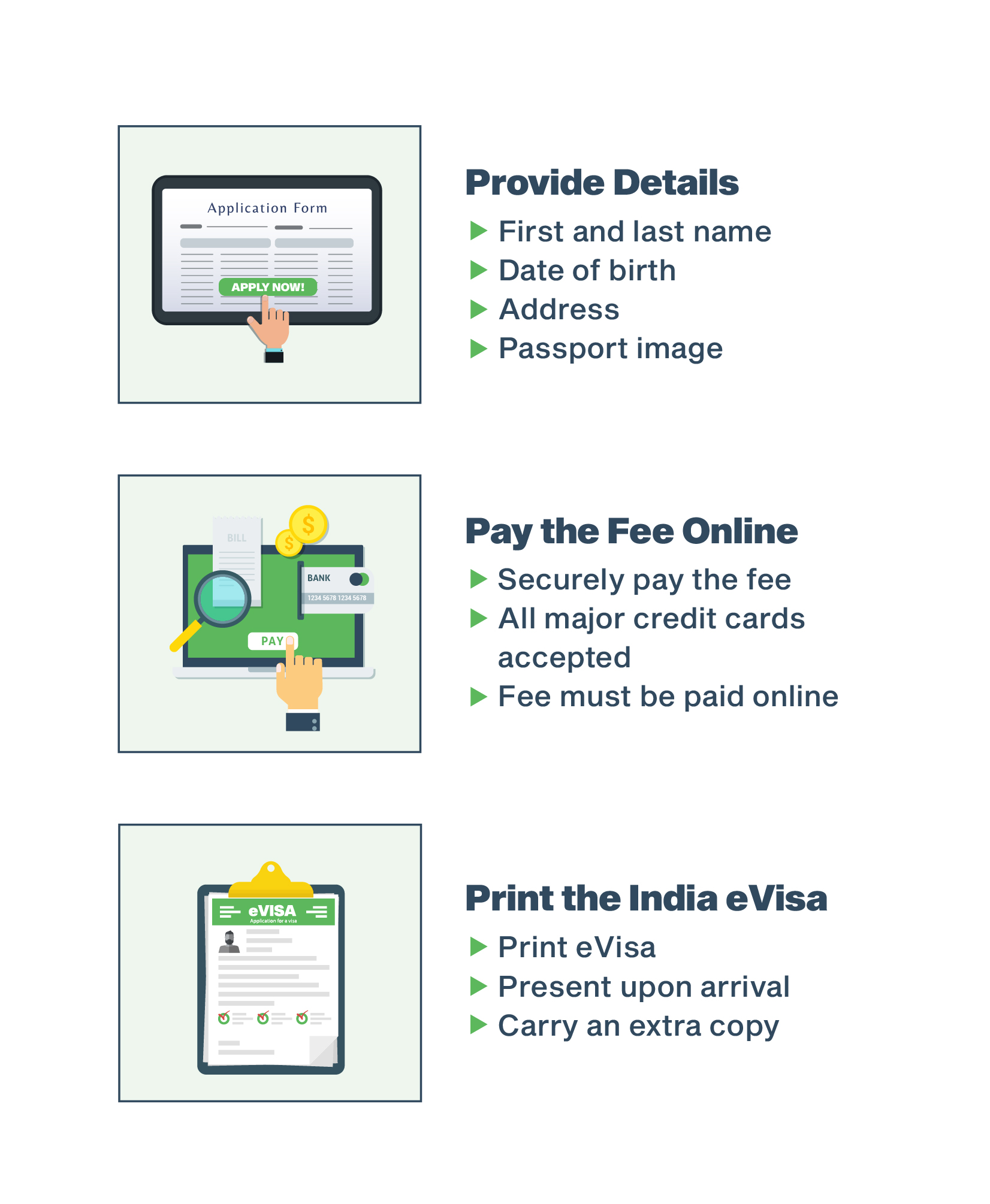 Other Rules for Entering India 
All travelers must have a hard copy of their Visa ready to show Immigration officials when they arrive in the country.
If travelers do not have a physical copy of their granted visa, they may not be permitted entry into India. They may also be required to get a new visa, complete with a separate payment, if they want to come into the country.

In addition to a hard copy of their visa, travelers will need to show:

The exact passport they used to apply for and obtain the Visa. If anything has changed with this document, they will need to get a new Visa before they try to enter India. The passport needs to have at least 2 empty pages and 6 months of validity from the day they come into India.

Proof that they have the financial means to support themselves while in India. They can also show documentation that someone else is covering their expenses while they are in the country.

Proof that they plan to leave India within the time allowed by their India Visa. They will need to have purchased a ticket to show that they plan to exit the country on time.

Proof of their travel plans while within India. This can include hotel reservations, tour reservations, in-country flights, and more.

Once they have shown the necessary documentation, travelers should not have any problems entering India. After they are in the country, they can travel as they desire, seeing everything this wonderful country has to offer. Before long, they will have made all of their India travel dreams come true! Getting an eVisa today allows for travel soon!