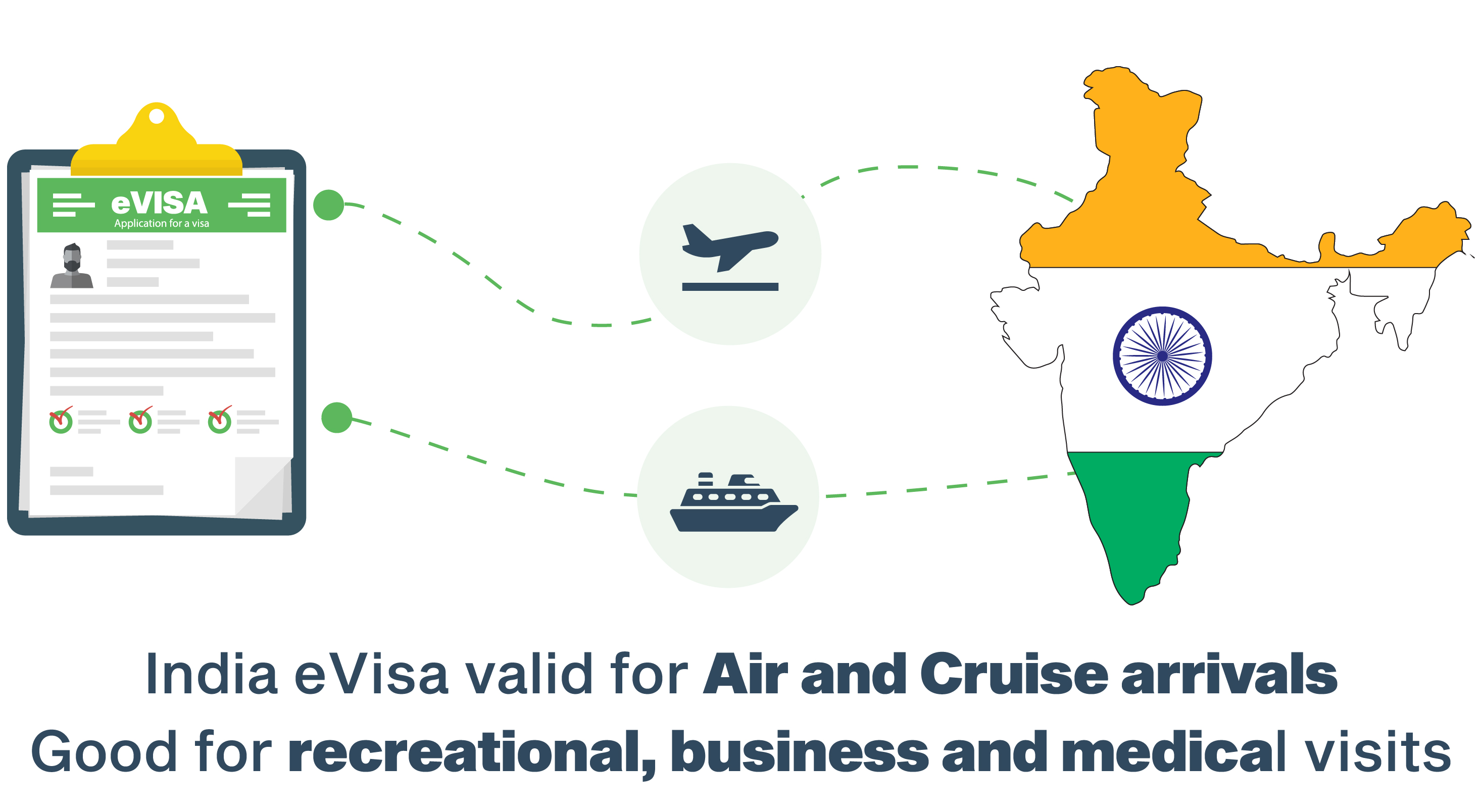 Travelers who have obtained an eVisa to India will want to make sure they follow all of India's rules when entering the country. That way, they will be able to use their visa to India to the utmost and enjoy a wonderful time in the country.
If they do not follow the rules as outlined below, they may struggle to enter India, find themselves unable to enter the country, or spend part of their trip working with the government to stay there rather than traveling.
Allowed Ports of Entry with India Visa 
EVisa holders must enter through an approved air or seaport. They are not allowed to enter via a land crossing.

Approved airports include:

1. Ahmedabad (AMD)
2. Amritsar (ATQ)
3. Bagdogra (IXB)
4. Bengaluru (BLR)
5. Bhubaneshwar (BBI)
6. Calicut (CCJ)
7. Chandigarh (IXC)
8. Chennai (MAA)
9. Cochin (COK)
10. Coimbatore (CJB)
11. Delhi (DEL)
12. Gaya (GAY)
13. Goa (GOI)
14. Guwahati (GAU)
15. Hyderabad (HYD)
16. Jaipur (JAI)

17. Kannur (CNN)
18. Kolkata (CCU)
19. Lucknow (LKO)
20. Madurai Airport (IXM)
21. Mangalore (IXE)
22. Mumbai (BOM)
23. Nagpur (NAG)
24. Portblair (IXZ)
25. Pune (PNQ)
26. Tiruchirapalli (TRZ)
27. Trivandrum (TRV)
28. Varanasi (VNS)
29. Vishakhapatnam (VTZ)

Approved seaports are:

1. Cochin Seaport
2. Chennai Seaport
3. Goa Seaport
4. Mangalore Seaport
5. Mumbai Seaport
These locations are also included in the list of approved exit ports, as well.

Travelers with an eVisa are allowed to exit the country via an approved Check Posts (ICPs).

If a traveler's port of entry changes after the eVisa is granted, he or she may still enter India as long as they do so through another approved port of entry.

If travelers want to enter the country through a port of entry not listed here, they will need to obtain a traditional visa. This takes longer but will allow them the freedom to enter and leave from locations they choose.
Other Rules for Entering India 
All travelers must have a hard copy of their Visa ready to show Immigration officials when they arrive in the country.
If travelers do not have a physical copy of their granted visa, they may not be permitted entry into India. They may also be required to get a new visa, complete with a separate payment, if they want to come into the country.

In addition to a hard copy of their visa, travelers will need to show:

The exact passport they used to apply for and obtain the visa. If anything has changed with this document, they will need to get a new visa before they try to enter India, or bring old passport to show proof of valid visa. The passport needs to have at least 2 empty pages and 6 months of validity from the day they come into India.

Proof that they have the financial means to support themselves while in India. They can also show documentation that someone else is covering their expenses while they are in the country.

Proof that they plan to leave India within the time allowed by their India Visa. They will need to have purchased a ticket to show that they plan to exit the country on time.

Proof of their travel plans while within India. This can include hotel reservations, tour reservations, in-country flights, and more.

Once they have shown the necessary documentation, travelers should not have any problems entering India. After they are in the country, they can travel as they desire, seeing everything this wonderful country has to offer. 
Busiest Airports in India 
India is a vast country and its international airports are some of the busiest in the world. Read on to know more about the busiest international airports in India. 
Indira Gandhi International Airport (DEL) 
One of the most technologically advanced airports in the world, Indira Gandhi International Airport is also the busiest in the country in terms of passenger traffic. Located in India's capital city of New Delhi, the airport is sprawled over 2,066 hectares. 
At present, the airport has three terminals. Delhi airport authorities run complimentary shuttle services between all the terminals at 20 minutes intervals and this service is available 24/7.
The airport also has three runways, one of which is ranked the longest in the country at over 4,400 meters. 
Chhatrapati Shivaji International Airport (BOM) 
This international airport is located in Mumbai, known as the commercial capital of India. Second busiest in terms of domestic as well as international passenger traffic, Mumbai airport can handle as many as 950 flights on average in a day. 
The airport is spread over 750 hectares and is ranked 29th busiest airport in the world. At present, the airport has two terminals, a cargo terminal and two intersecting runways. Both passenger terminals handle international and domestic passenger flights and are located five kilometers apart. 
The only way to commute between these two terminals is taking an airport taxi. 
Kempegowda International Airport (BLR) 
Sprawling over 1,600 hectares, Kempegowda airport is located close to 30 kilometers from Bangalore. It is the third busiest in India in passenger traffic and cargo handling. 
The airport has one terminal that handles both international and domestic flights. The terminal has two runways. 
Rajiv Gandhi International Airport (HYD) 
The fourth busiest airport in passenger traffic, Rajiv Gandhi International Airport is spread over 2,224 hectares and is located in Hyderabad. The airport handled over 12 million passengers in 2022. It has a passenger terminal, a cargo terminal and two runways.   
Netaji Subhas Chandra Bose International Airport (CCU) 
This airport located in Kolkata is ranked fifth busiest in India in passenger traffic. The airport has two terminals and two parallel runways and is the largest air travel hub in eastern India.  
The airport has recently undergone remarkable modernization and has been elected as the Most Improved Airport in the Asia-Pacific region. 
Busiest Seaports in India 
Here's the list of some of the busiest seaports in India. 
Jawaharlal Nehru Port (JNP), Mumbai. 
This is one of India's busiest seaports. JNP is connected to 200 international ports. Starting with only one container terminal, it now has five full-automated container terminals. It handles close to 55% of the country's container traffic. 
One of the main cruise ships that operate from this port is Costa NeoClassica Cruise. Apart from this many international cruise liners visit the post every year. 
Mundra Port, Gujarat
This privately-run seaport in Gujarat has overtaken JNP in container traffic recently. However, this port is majorly used by container ships. It has four container terminals with a total capacity of 7.5 million. 
Cochin Port, Kerala
Kerala is one of the most preferred tourism destinations in India. Cochin Port, located in central Kerala, considers cruise as one of its major businesses.
The port has two dedicated cruise terminals. International cruise lines like Cunard Lines and Royal Caribbean Lines call at the port every year. 
Why aren't Land Entry Points Supported by India eVisa? 
The Indian government operates about nine land ports across the its borders. However, foreign citizens arriving on eVisas cannot use these land ports due to security reasons as the country shares its land borders with nations like China, Pakistan and Afghanistan among others.  
Travelers from neighboring countries can enter the country through land borders only in special circumstances. They can arrive by water and air and that too after thorough security and character verification.   
However, citizens of Bhutan and Nepal can use these land ports to enter India. They don't need a visa and can travel to India with their passports or other identity documents like electoral cards. 
Citizens of Bangladesh with relevant visas can use the land port at Hili to enter India.