An Egypt visa sample gives you a clear picture of what the Egypt visa looks like. Often, we have had people ask questions like "what does the Egypt E-visa look like?" and we think it is only right to explore this topic so that you can know what to expect when you get your Egypt visa online or when you see an Egypt visa online document sample.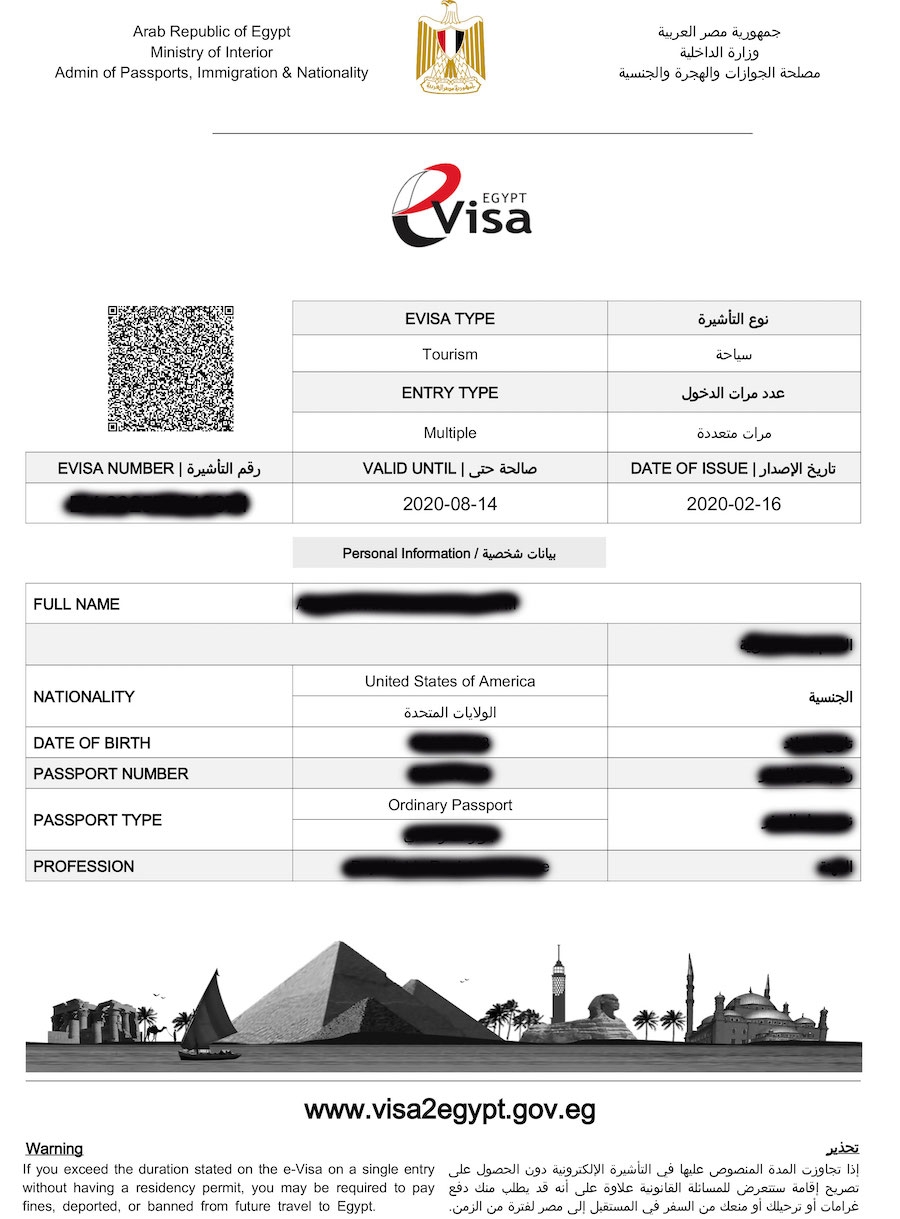 Egypt Visa Online
This is a document that you receive in your mail which you must print out before embarking on your trip to Egypt. It is electronically linked to your passport, and it is the easiest type of visa to obtain.
You can travel to Egypt using this visa or getting a visa on arrival (VOA) when you get to the airport. However, the Egypt visa online is a much better option and a more convenient option than any other type of visa.

See the image above the see a example of the visa to Egypt.
Currently, only 46 countries can apply for Egyptian E-visa. So, before you start thinking of applying, you should check if you are eligible first.
Details That You Will Find on the Document
On an Egypt Visa online document, you will find details such as the name of the visa holder, date of birth, passport number, barcode, visa duration, expiry date, number of entries allowed on the visa, nationality of the visa holder and the price paid for the visa.
All of these details must be on an Egypt visa. So, if and when your visa gets approved, these are the things to check out on your visa.
Applying for an Egypt E-Visa
You must fill an application form you would like to get an Egypt E-Visa. This application form is online, and it will be submitted online too after you have uploaded some necessary documents and made payment.
Once you submit on our platform, we forward your application to the issuing authority, and after a while, you will receive your visa document in your mail. 
The Things You Need For an Egypt E-Visa Application
In addition to your personal information which you will fill out in the application form, below are the other things required for your Egypt E-Visa application: 
Scanned copy of personal details page in your passport.
Last page of your passport.
Applying for the Egypt E-Visa takes below ten minutes, and you can submit your application from the comfort of your home. We will handle the rest of the application for you and send the E-visa document to your email.
You can check out this Egypt visa image below to know what your visa will look like. You can print the Egypt visa online document in either colored or black and white image. You just have to make sure that all the details on the visa are clear.
CONCLUSION
An E-visa offers you numerous benefits over visa on arrival as you can apply easily and also not be stressed when you get to the airport. By using our platform, you can have experts help you with your application and ensure that it is submitted correctly.